Ogier moves to within one of inspiration Loeb with an eighth world rally title in Monza
12:30, 22 Nov 2021
Rallying has been a tale of two Frenchmen for nearly 20 years and on Sunday it was Sebastien Ogier - for so long known as 'little Seb' while Sebastien Loeb was winning nine world titles in a row – that effectively drew a line under his equally astonishing career with an eighth success clinched at Monza in Italy.
Ogier, 37, and co-pilot Julien Ingrassia, who is himself calling it a day after so many years of successful partnership, held off the season-long challenge of his team-mate Elfyn Evans over the three days of the final rally of the campaign, just as they had done 12 months ago.
Over the various stages and speed tests, taking in both mountain roads and the Monza circuit, Ogier in his Toyota Yaris emerged from the final challenge on top of the pile, with Toyota also as expected taking away the manufacturer's prize ahead of Hyundai.
But with Ogier now heading for semi-retirement having previously stated he would be contesting only selected rallies next season including that in Monte Carlo, much of the reaction focused on his huge achievements in the sport, and also reflection on how that level of success compared with his former mentor and inspiration Loeb.
And with Ogier's 54th win, achieved after the scare of clipping a barrier on the circuit on Sunday with a tyre that somehow survived, the series also brought the current era of World Rally Cars to an end after 25 years, with the new hybrid Rally1 cars to be used next season. When Ogier races, his new co-driver will be Benjamin Veillas.
An emotionally and physically drained Ogier said: "I just feel kind of empty right now because it's always an exhausting season. We give so much into it. I really need to go to every single team member and give them my big thanks, because without them we are nothing. They are world champions today as well, we are manufacturer, driver and co-driver champions."
Ogier began the Monza rally knowing that finishing third or higher would be enough to clinch the title ahead of Wales' Evans – and he finished 23 points ahead of his rival, with Belgium's Thierry Neuville finishing third overall after a fourth-place in the rally in Italy.
With Ogier now highly unlikely to add to his eight titles, inevitably the debate is already raging about who is the greatest rally driver of all time. As well as the two Frenchmen that is a conversation that would also include Scotland's Colin McRae, Juha Kankkunen, Carlos Sainz and Tomi Makinen. Spaniard Sainz won a WRC poll last year asking for votes on the greatest rally driver of all time.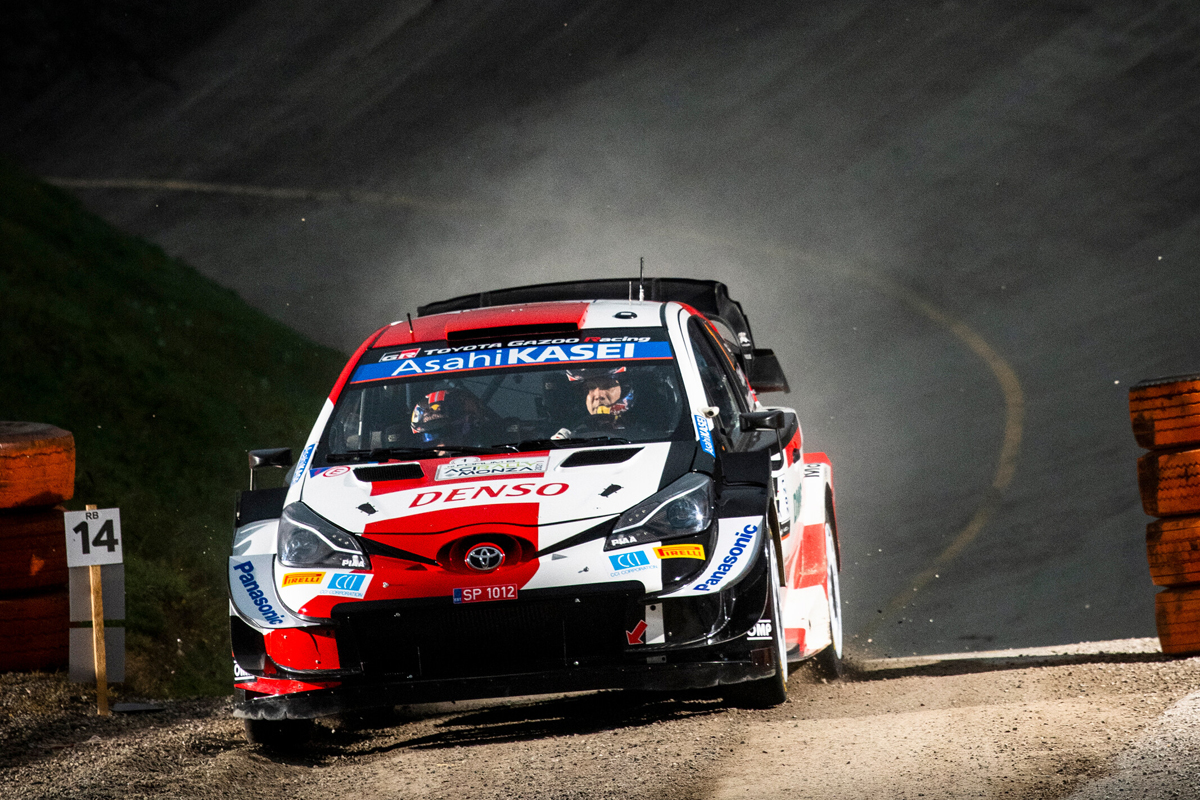 Ogier raced in the same Citroen team as Loeb in 2011, but with the pair both winning five rallies each that season and similarly motivated and desperate for victories, the relationship became professionally unworkable and the former left, going on to fulfil all of his own ambitions.
Ogier's boss at Toyota, Jari-Matti Latvala, was quick to offer his opinion, saying: "Okay, Loeb has more titles, but Ogier was able to win with different manufacturers and different cars."
Xavier Mestelan Pinon, formerly at Citroen Racing and now FIA technical director, said of the pair: "I knew we were letting go of a real diamond when Ogier left. It was painful to let go of such a driver, who had grown up with us, but we had other projects with Loeb.
"Loeb is seen as the perfect son-in-law and Ogier as someone who is a bit hard-headed and withdrawn - perhaps a less sympathetic image in the eyes of the public."
Another equally fascinating discussion is in terms of the most gifted and talented drivers encompassing all disciplines, where do Ogier and rally drivers rank more generally against their counterparts in Formula One, Indy Cars, touring cars and other forms of motorsport?
It is a conundrum that the Race of Champions has made an attempt to sort out over the years by putting drivers from the same disciplines into the same car. The winners of that event have included both Ogier and Loeb, and also Stig Blomqvist, Kankkunnen, Didier Auriol, Sainz, McRae, Makinen, Harri Rovanpera, Marcus Gronholm and Heikki Kovaleinen from rallying.
Touring car driver Mattias Ekstrom also won the competition, along with current IndyCar racer Romain Grosjean, a driver who has tried almost everything, former F1 and now IndyCar driver Juan Pablo Montoya, and F1's David Coulthard and Sebastien Vettel.
The variety of surfaces that rally drivers have to master – road asphalt, gravel, snow and ice – often counts in their favour in any comparison. But F1 legend Kimi Raikkonen received widespread praise for his pace when making a rallying debut, despite rolling his car into a ditch.
And though F1 may be conducted in a more controlled environment the cars themselves and the electronics require a lot of operating, not to mention the obvious point of handling at speeds of up to 200mph and the fitness levels required to cope with the considerable G-forces involved.
But all that remains a great pub argument. As for Ogier, as well as rallying next year he could well take part in the Le Mans 24-hour race, at which Toyota fields cars, and possibly even try the Dakar rally again. There will certainly be new adventures and challenges to come.