The USA has certainly hosted some of the most dramatic Grands Prix in history
08:00, 21 Oct 2021
This weekend the USA Grand Prix returns to the Circuit of the Americas in Texas as Lewis Hamilton and Max Verstappen resume their battle for on-track supremacy. This is a nation that has hosted Grands Prix at ten venues across 70 years and produced some of the finest, craziest and most bizarre races we have ever seen so in anticipation of this weekend's event - we have looked back at five of the best.
Long Beach 1977
Now Americans and Formula One have not shared the most prosperous of relationships over the years but they did deliver a winner on home soil back in 1977. On the tight street circuit in searing heat, the pre-race favourites Carlos Reutemann, James Hunt and Ronnie Peterson all crashed out on turn one allowing Jody Scheckter to take the lead.
Racing rapidly round the tight track, Scheckter was on course to win until a puncture allowed Italian-American Mario Andretti into the lead and in his Lotus 78, he held off Nicki Lauda to secure a historic win.
Long Beach 1983
From 22nd on the grid to top spot on the podium, John Watson's performance at Long Beach goes down as one of the all-time great Formula One performances. His McLaren, along with teammate Niki Lauda, had been out-muscled in qualifying up against the high horsepower frontrunner but when the race began, they began to pick their way through the field.
The pairing scythed their way to second and third place respectively, before Northern Irishman Watson nipped down the inside of the great Lauda in a move that these days would have almost certainly been prevented thanks to 'team orders'. Watson took the race lead to win the final Grand Prix of his career and Lauda secured the most improbable one-two of all time.
This is still the lowest on the grid that an F1 race winner has ever started a Grand Prix and goes down as one of the finest individual performances we have ever seen.
A very happy birthday to ex-racer and commentator, John Watson! 🎂
Nobody has ever won a Grand Prix from as far back as he did
His Long Beach victory for
@McLarenF1
in 1983 came from P22 on the grid! 👀
#F1FastFact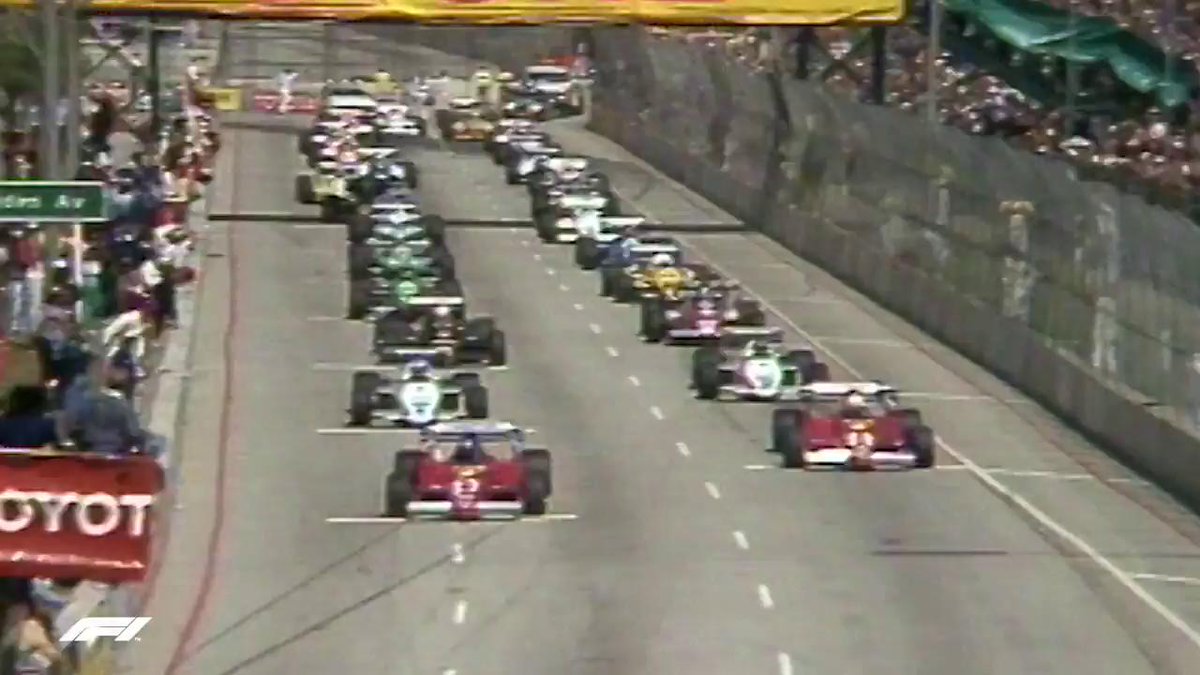 Dallas 1984
There has only ever been one Formula One race in Dallas, Texas and it is not hard to see why. For some reason the organisers believed it would be sensible to hold this race at the peak of summer - where temperatures touched 40 degrees Celsius and the humidity was unbearable.
All of this made for a very unpleasant environment for both the cars and the drivers, while there was even talk of a driver boycott due to the shambolic surface on the track. The race did go ahead however, but 18 cars failed to finish, including Ayrton Senna, as a whole host of mechanical and driver errors unfolded.
Williams' Keke Rosberg, father of Niko, would win the race by using a NASCAR style cooling cap inside his helmet, but the defining image came as Nigel Mansell collapsed with exhaustion on the track, while trying to push his Lotus across the line for a sixth place finish.
Indianapolis 2003
Rain always throws races into chaos, especially when it comes midway through a race. With Michael Schumacher, Juan Pablo Montoya and Kimi Raikkonen all in with a chance of winning the championship heading into the penultimate race, this was always going to be a corker.
Schumacher flew up to fourth place on the opening lap as Montoya's chances of glory disappeared after he crashed into Rubens Barrichello and was handed a drive-through penalty. Then the rain came and caused chaos as most drivers had already pitted for dry tyres, leaving Mark Webber for minnows Jaguar in the lead.
He span off in the rain before Jenson Button led the race until Schumacher eventually swallowed him up with some sensational driving, before Raikkonen fought back to secure second. It was a breathless title battle that Schumacher would eventually win by just two points.
Indianapolis 2005
The most memorable Grand Prix of all time, for all the wrong reasons. In an era where there were two competing tyre manufacturers, Bridgestone and Michelin and teams were only allowed to use one set of tyres per race, it wasn't long before chaos reigned.
2005 USA
Martin Brundle's awkward Grid Walk, where he interviewed Bernie Ecclestone. Solutions such as building a temporary chicane were rebuffed, leaving the sport on the cusp of the unthinkable:
A 6 car race at Indianapolis
#F1
#Indygate
After Ralf Schumacher had crashed out in practice on the banked turn 13, Michelin realised they had a serious issue. Their tyres, which had not been tested to the same extent as Bridgestone's on this track - could not cope with the forces this high speed banked turn (unique in F1) generated and their cars could not race.
Despite desperately trying to find a solution with the FIA, that included adding a chicane and the Michelin running team not scoring any points, it went right to the wire with all teams setting off on the formation lap. However, instead of taking their place on the grid, all seven Michelin teams had to bring their drivers back into the pits and withdraw from the race, leaving just six cars to race.
The crowd were furious and there were no real winners to this one. Luckily competing tyre manufacturers and the 'one set of tyres' rule have both been consigned to the history books.
Lewis Hamilton is 10/11 to win the US Grand Prix with Betfred.