For the first time this season, rain is expected this weekend
11:00, 21 Apr 2022
It's been a bone-dry start to the Formula One season. In Bahrain, Saudi Arabia and Australia, boiling hot temperatures greeted the drivers, with blazing sunshine the order of the day and in the heat, Ferrari stayed cool.
Yet this weekend in Italy, the dark clouds are gathering. For the first time in this marathon season, rain is expected to play a major part in the outcome of the weekend. Now, forgive me for channelling my inner Michael Fish here, but Friday's qualifying is expected to be a wet one, lunchtime showers could impact the Sprint on Saturday, and Sunday's race currently has a 60% chance of rain.
Now Charles Leclerc has already proved he can win in the Melbourne sunshine and the dark evening humidity of Bahrain, but now Ferrari face another challenge, in the place where a win matters more than most.
Imola is just one hour away from the home of Ferrari, Maranello. In fact, the circuit at Imola is now called Autodromo Enzo e Dino Ferrari after the late great founder of the motor racing team. Ferrari around these parts of northern Italy isn't just a brand, it's a religion. The stands will be a sea of red this weekend as Ferrari look to secure their first win at this track since Michael Schumacher won the 'San Marino Grand Prix' in 2006.
Leclerc has already tasted success in Italy at Monza in 2019, to the delight of the home crowd, but victory here would hit even closer to home. It already feels strange that it is just eight months since Carlos Sainz was left praying for rain in Hungary, as his Ferrari struggled to cope with an increase in temperature between FP1 and FP2.
The progress that Ferrari have made between then and now has been staggering, and taken them from midfield pretenders to genuine title contenders in the space of a matter of months. But the three races we have seen so far have all been relatively straight-forward in terms of weather conditions. Given the time and money Ferrari put into developing the F1-75 for this year, it would be surprising to see a dramatic difference in the performance levels this weekend from Ferrari, unless it forces a driver mistake.
Homeward bound 🇮🇹
The team is ready to race in front of the
#Tifosi
at the iconic Imola circuit 👊
For the latest on our
#ImolaGP
weekend, make sure you're following the
@ScuderiaFerrari
channels
Cover art by Valeria Favoccia (Lux) ➡️
#essereFerrari
🔴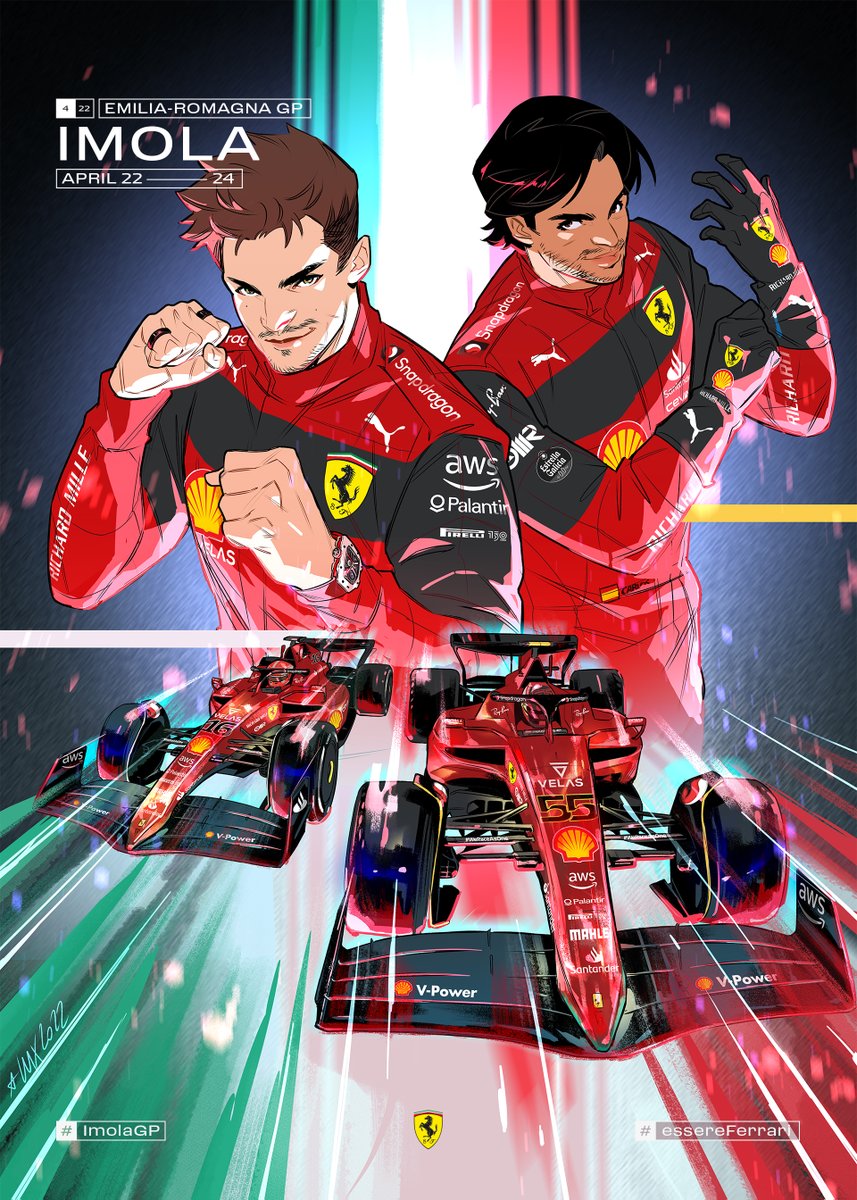 We saw Sainz succumb to the pressure of a poor qualifying session and a slow start in Australia as he crashed out on lap two, but so far Leclerc has been almost unflappable. His giant lead at the top of the Drivers' Championship is too premature to count for anything, but perhaps the rain will bring marked improvements from his title rivals.
Mercedes have been out of sorts for the early part of this campaign and yet George Russell finds himself second in the individual standings. The German manufacturers have always shown consistency in the rain and it was this relentlessness that has won them the past eight Constructors' Championships. Also, they've had a two-week break to go back to the drawing board and finally solve the issues that have plagued them over the opening three races. Lewis Hamilton and co will be hoping to see some level of progress this weekend, but it would be a shock to see them top the podium.
Red Bull however, are closer to Ferrari than anyone else. Only reliability issues have prevented them from adding to their one race win so far and Max Verstappen will be keen to get stuck into the season on a level playing field. Last season he showed he could keep his cool when the rain fell and Red Bull will hope that the rain brings the two Ferrari's back to them in Italy.
This could be a grand homecoming for Ferrari in front of an adoring crowd but both Mercedes and Red Bull will be desperate to rain on their parade.