Luca Brecel won seven frames in a row to beat Ronnie O'Sullivan 13-10 and reach the World Championship semi finals
17:22, 26 Apr 2023
Ronnie O'Sullivan was totally blown away at the Crucible to see his hopes of a record eighth title dashed by Luca Brecel.
Brilliant Belgian Brecel had never won a match at the World Championship in five previous visits - but reeled off a magnificent seven frames in a row to reach the semi-finals with a 13-10 victory.
The Rocket was celebrating the milestone of a record 100th appearance at the Sheffield theatre but world No10 Brecel rained all over his parade with a stunning comeback win.
The 28-year-old Brecel had prepared for this success in novel fashion with an all-day drinking bender back home.
And that came after having already said following his first-round win against Ricky Walden his build-up had been "the worst", with only 15 minutes practice.
Brecel was like O'Sullivan and Judd Trump a child prodigy that had beaten Stephen Hendry, Ken Doherty and Jimmy White in exhibitions at the age of 14.
And the player with 'Free Bird' and 'La Vida Loca' tattoos on his hands possesses a similar prodigious talent to the 47-year-old O'Sullivan, and also a desire to live life on his own terms.
He said: "Luca played unbelievably and he shows you can be relaxed and play wonderful sport. You don't have to be what most people think you have to be.
"I don't think he knows how talented he is – sometimes you can't see your own gift, and others have to see it. He blitzed me today, I missed a few and he smashed me all over the gaff.
"John Higgins and Stephen Hendry have played some mental stuff against me here, but as sessions go that one today from Luca was up there.
"I can't play like that, I have never played like that. There are some great players coming from Belgium, it's like the Belgium football team. If he plays that good, he doesn't need to practice too much.
"I didn't have enough moments this year. Will I win an eighth? I don't know. I'll come here for the next three or four years and maybe have a real go at it at least once. But I'm not as bothered as others about it."
Brecel, who knocked in breaks of 112, 64, 72, 61, 78 and 63 on Wednesday, said: "It's the biggest win of my career – but I thought before the tournament I could win it.
"Before the tournament though my preparation was terrible. I was out partying with my friends, playing Fifa all night, playing darts, and hardly practising.
𝗧𝗛𝗘 𝗕𝗨𝗟𝗟𝗘𝗧 𝗕𝗟𝗜𝗧𝗭𝗘𝗦 𝗧𝗛𝗘 𝗥𝗢𝗖𝗞𝗘𝗧 👀
Luca Brecel reels off 7️⃣ successive frames to seal a remarkable 13-10 victory over reigning champ Ronnie O'Sullivan. 🇧🇪
#CazooWorldChampionship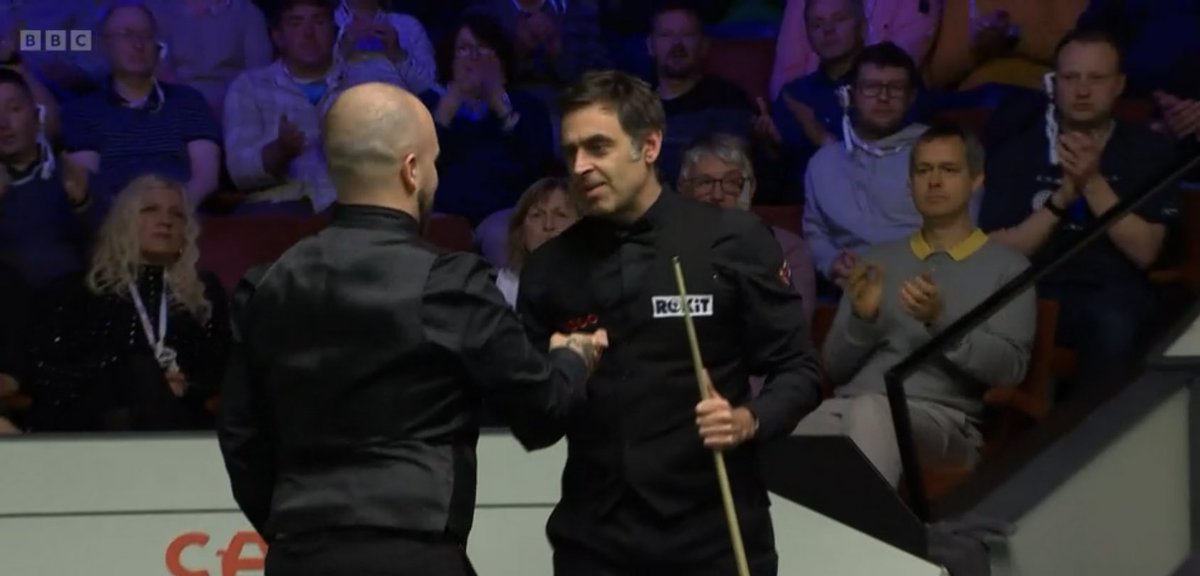 "Even after getting home after the Mark Williams win I was out drinking that day, I went out until 6am the next morning and was drunk as hell.
"I knew the match had to change today, yesterday I kept getting to within two frames and then losing the next one and not getting close.
"Ronnie said at the end 'I hope you win it, you're a great player and great to watch' – all of those things, so that was nice of him.
"I was very mentally fresh for this tournament, and lucky to be playing well. I could easily have been rusty against Ricky Walden in the first round 10-9, but I was actually sharp despite the lack of practice.
"I still find these long games a struggle to cope with, so I have to be free-flowing and go for everything because if I played like Mark Selby I would never stay focused and win these long matches."
BBC commentator John Virgo said: "It's as bad a session as I can remember from Ronnie this morning."
Pundit and seven-time world champion Stephen Hendry will get to share the seven world titles record with O'Sullivan for at least one more season.
The Scot said: "No one in their right minds would have thought Luca would win seven frames in a row against Ronnie today."
But Hendry was full of praise for the inspired Brecel, calling some of his shots as the pressure reached its height "just ridiculous". He added: "I didn't expect him to beat Mark Williams and Ronnie."