Selby is neck and neck with Higgins once again...
19:43, 25 Apr 2023
Mark Selby acknowledges that his Crucible clashes with John Higgins are becoming the stuff of legend.
The pair have eight world titles equally split between them and whoever emerges from the titanic and ongoing quarter-final will stand a great chance of adding to that tally.
World No2 Selby, 39, and 11th-ranked Higgins, 47, are locked at 4-4 after Tuesday's first session going into Wednesday's final two sessions in Sheffield.
It is a sixth meeting on the sport's biggest stage, the same number as Higgins has had against fellow 'Class of 1992' member Ronnie O'Sullivan.
And only Steve Davis and Terry Griffiths, and Stephen Hendry and Jimmy White – both with seven – have met more often in the iconic theatre.
Selby had to play Scot Higgins the first three years he made it to the latter stages – losing in the first round in 2005, getting revenge a year later at the same stage, and then losing the 2007 final.
Selby, who has won his own final against Higgins since in 2017, said: "Playing John at the Crucible is right up there as one of the great challenges in snooker.
"Him, Ronnie O'Sullivan, Mark Williams…they won't be around forever so you cherish the times you do play them now on this kind of stage.
"You don't know if it's the last time you might play them here, so you go out to enjoy it.
"I realise me against John probably is becoming one of the great Crucible match-ups because this is now the sixth time here, very few have met more.
"It is madness really that I played John in each of those first three years that I made it to the Crucible.
"The first year you get here you are so excited you don't mind who you draw. John comes out and you think 'fair enough, one of the greats'.
"Then the next year I'm thinking 'I know more what to expect now – and I really don't want John, or Ronnie, or Williams'. It comes out, I'm playing him again. But I win 10-4.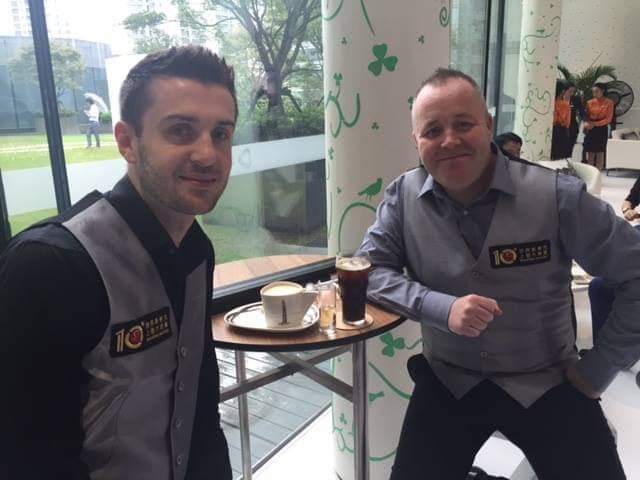 "The final in 2007 against him I was still a qualifier, and I put up a good fight and learned so much from that match. Even though I lost, it was a breakthrough for me.
"Getting to the final got me into the top 16 that year, and at that time I still felt like I had nothing to lose. Then you get to the final and your thoughts change – you want to win.
"But that run gave me the confidence and belief to think 'I have competed on the biggest stage possible against the top players in the game'. A few months later I won the Masters and then the Welsh.
"We have both had streaks at the Crucible – I won three in four years, John won three in five, and more recently than that he got to three finals in a row. Three wins in four is obviously better!"
Meanwhile Higgins' fellow Scot and practice partner Anthony McGill hauled himself back from a big early deficit against tournament sensation Si Jiahui to also stand level at 4-4.
McGill admitted before the quarter-final he spends a lot of time playing and following chess – with that World Championship currently also being contested in Kazakhstan.
And the world No21's hopes of being king of the Crucible castle look much healthier today than when he trailed 4-1 early in the match against the Chinese qualifier and debutant.
McGill, 32, said: "I play a lot of chess, and I am watching the World Championships over in Astana at the moment.
"It's a series of games between the Russian Ian Nepomniachtchi and China's Ding Liren. And it's a good deflection from here. I watch the YoutTube coverage and the reviews of the games.
"It's absolutely similar to snooker though I'd say snooker is even harder. I'm hopeless at playing chess but snooker's harder. You can see a move in chess and play it, in snooker not only do you have to see the shot, you have to execute it as well."