The Sportsman runs through the QB standings heading into game week 7
16:00, 20 Oct 2022
It was not a good week for not-so 'DangeRuss' Wilson or Kyler Murray, but it was for Matt Ryan and Matthew Stafford as they climbed the rankings.
With team's starting their bye-weeks, the quarterbacks who don't play shall be frozen in place. That may work for their benefit and restrict others, but those displaced will just have to up their game.
READ MORE:
As always, we'll state the components that influence whether a player will rise or fall in the rankings. Influential factors accounted for are QB passer rating (QBPR), touchdowns (TD), interceptions (INT) and yardage (yd). The reputation anyone may hold is no longer important.
32. Davis Mills (Houston Texans) - BYE WEEK
31. MULTIPLE QBs (Carolina Panthers) - NON-MOVER
30. Justin Fields (Chicago Bears) - DOWN 2
29. Carson Wentz (Washington Commanders) - DOWN 2
28. Russell Wilson (Denver Broncos) - DOWN 4
27. Jacoby Brissett (Cleveland Browns) - DOWN 7
26. Teddy Bridgewater (Miami Dolphins) - NEW ENTRY
25. Mitch Trubisky (Pittsburgh Steelers) - RE-ENTRY
24. Bailey Zappe (New England Patriots) - UP 1
23. Marcus Mariota (Atlanta Falcons) - UP 3
22. Jared Goff (Detroit Lions) - BYE WEEK
21. Trevor Lawrence (Jacksonville Jaguars) - NON-MOVER
20. Kyler Murray (Arizona Cardinals) - DOWN 8
19. Derek Carr (Las Vegas Raiders) - BYE WEEK
18. Ryan Tannehil (Tennessee Titans) - BYE WEEK
17. Andy Dalton (New Orleans Saints) - DOWN 2
16. Matt Ryan (Indianapolis Colts) - UP 7
15. Cooper Rush (Dallas Cowboys) - DOWN 2
14. Zach Wilson (New York Jets) - UP 3
13. Geno Smith (Seattle Seahawks) - UP 3
Highest passer rating in the NFL (min 150 attempts)
Josh Allen: 109.1
Geno Smith: 108.1
Patrick Mahomes: 106.1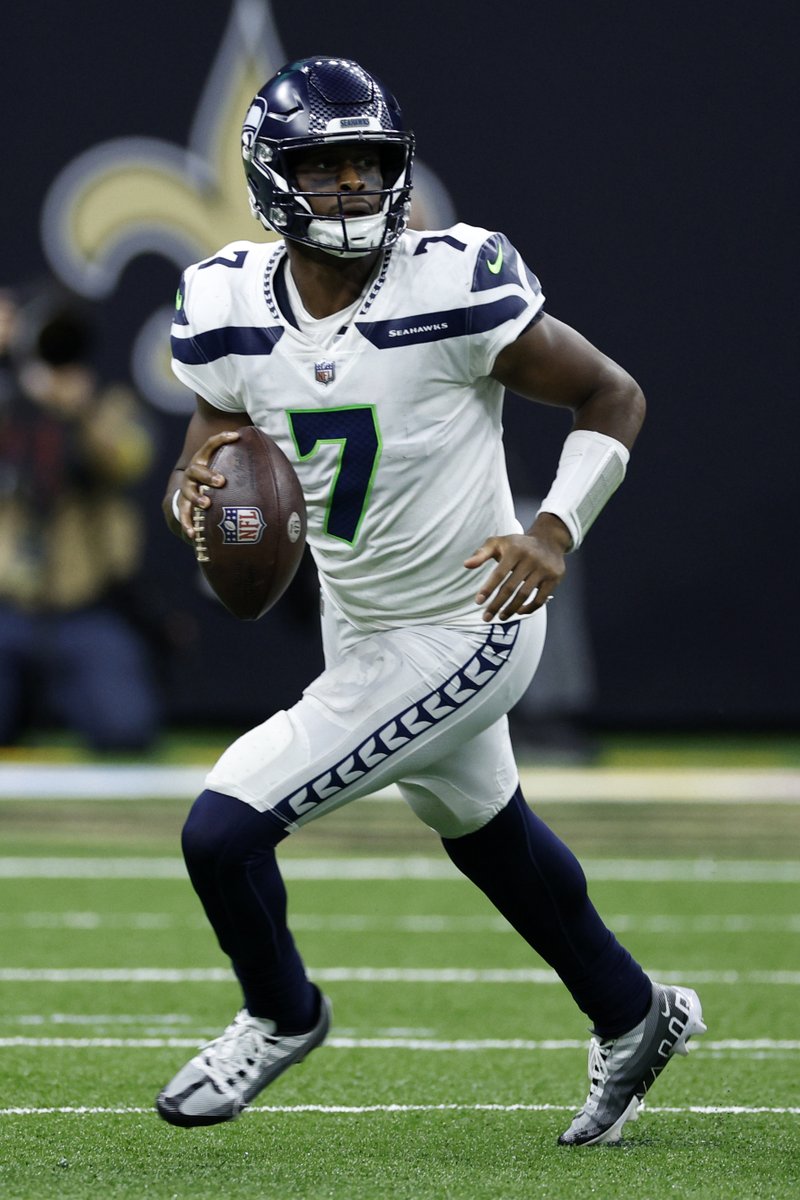 12. Tom Brady (Tampa Bay Buccaneers) - DOWN 4
11. Jimmy Garoppolo (San Francisco 49ers) - NON-MOVER
10. Justin Herbert (Los Angeles Chargers) - DOWN 1
Restricted by some poor play-calling, Justin Herbert attempted 57 throws on Monday night's prime time game against the Denver Broncos. He completed 37 of them (65%) but threw for no touchdowns. He's lucky those around him had a poor week too but he also needs more help with the dodgy play-calling.
9. Aaron Rodgers (Green Bay Packers) - DOWN 2
Aaron Rodgers is racking up yards but his side aren't racking up wins. Green Bay Packers have suffered back-to-back losses for the first time in the Matt LaFleur era at Lambeau Field. Rodgers himself said afterwards that poor execution is holding the Packers back so if he wants to stay in the top ten he should really think about addressing that.
8. Matthew Stafford (Los Angeles Rams) - UP 6
Matthew Stafford is back. Granted he's helped by those around him having a poor week but you can't knock a 253 yard game with a 78% completion rate as his Rams side strolled past a poor Carolina Panthers side 24-10 on the road. He did throw another interception which is disappointing because they are so frequent but we'll let it slide this week.
7. Kirk Cousins (Minnesota Vikings) - UP 3
Kirk Cousins is looking GOOD for the Vikings this season. 175 yards, two touchdowns and another win for his side this week means he's in a good way as the season heads towards its midpoint. His ability to get his side first downs continuously gives his team a chance and it's paying off as Minnesota moves to 5-1.
6. Lamar Jackson (Baltimore Ravens) - DOWN 3
Lamar, Lamar, Lamar. Where do we start? Maybe it's more the coaches, play calling and penalties, but a pass completion rate of just 53% is not acceptable. He might not have the offensive weapons at wide-receiver that other franchises are blessed with but come on now, do better. He drops out of the top three for the first time this season.
5. Daniel Jones (New York Giants) - NON-MOVER
Overshadowed by a monster game from our number four ranked QB, Daniel Jones helped his side continue their fine form with another comeback win as the Giants beat the Ravens 20-24 at the MetLife stadium. Jones completed 70% of his throws for 173 yards and two touchdowns. Keep it up Danny Dimes.
4. Joe Burrow (Cincinnati Bengals) - UP 2
A beautiful 300 yards throwing for Joey B as well as 25 yards rushing, ending the day with 325 all-purpose yards and four touchdowns. We should also add that he's had a 75% completion rate too. Not a bad day in New Orleans for the Bengals quarterback. It's the first time this year that he's broken into our top four. Up next, the Atlanta Falcons.
3. Jalen Hurts (Philadelphia Eagles) - UP 1
Jalen Hurts has broken into the top three, ladies and gentlemen. He's guided the Eagles to 6-0 for the year as Philly defeated the Cowboys last weekend in a 17-26 win in Lincoln Financial field. By no means was it a perfect game for Hurts, throwing just 155 yards with a 60% completion rate, but two touchdowns do sweeten the deal. Nice work Jalen, now let's see if you can stick around.
2. Patrick Mahomes (Kansas City Chiefs) - DOWN 1
Not often do you notch up 338 yards and two touchdowns and come out on the losing side, but unfortunately for Mahomes, he came up short against a resilient Buffalo Bills defence. Unlucky Patrick, dust yourself off and go again next week.
1. Josh Allen (Buffalo Bills) - UP 1
Josh bloody Allen. What a performance. Stepping up in the pocket, escaping the Kansas City rush, fighting for yards, getting crucial first downs to get his side out of trouble. Totalling 329 yards in the air, three touchdowns and a massive statement victory, he claims top spot in rankings.
*18+ | BeGambleAware | Odds Subject To Change