Walmsley is confident that St Helens have the culture and mentality to be victorious this weekend
11:05, 12 Oct 2019
"When you think of somebody with a broken neck there's a lot of stigma with those injuries. It's not just a potential career-ender, it's a life-changer. Thankfully, touch-wood, I've avoided anything like that and I think that I could still be a dad and a partner was the main thing."
It was early 2018 and Alex Walmsley was on a high. He was one of the best props in Super League and a star at St Helens. He had won a Grand Final in 2014 and had recently played in the 2017 World Cup final, where he and his England teammates had pushed Australia all the way in a tight contest.
At 28, Walmsley had the sporting world at his feet. Then came what at first seemed an innocuous injury suffered in a match against Warrington. Scans later revealed the forward had broken his neck.
Suddenly not just his career, but his whole future was in doubt. He underwent surgery and had two metal plates and eight screws inserted into his neck. Months of rehabilitation followed but, finally, at the beginning of 2019 Walmsley returned to the field.
Now, after a string of powerful performances from Walmsley, Saints have reached another Grand Final.
"There was a lot of doubt in regards to my career and whether I could play again going forward," Walmsley says of his injury.
"To find myself back, not just in a good side and I'm playing pretty decent, but to be back at Old Trafford it does make those hard days worthwhile. And there were plenty.
It was a tough journey, it's been a bit of a rollercoaster ride. Hopefully we're on the big dip now and can finish it with style.
St Helens will take on Salford Red Devils in the decider at Old Trafford. The Grand Final is a stage Walmsley knows well, having played off the bench in the victory over Wigan in the 2014 decider.
"I want another one," he says emphatically.
"Being at a club like St Helens, you're surrounded by history. You get reminded of that every day in training. We won a Grand Final in 2014, and we're really looking forward to Saturday. Hopefully we can make history.
"We're a completely different team to how we were in 2014. It feels nice to be back here. But we're not just happy to be here, we want to make sure we get the job done. This is domestically the best team I've played in."
Great to sign off our final home game of the year by booking a trip back to Old Trafford. Thanks to all you fans who have supported us all year... see you at the big one ✌🏼
#COYS
@Saints1890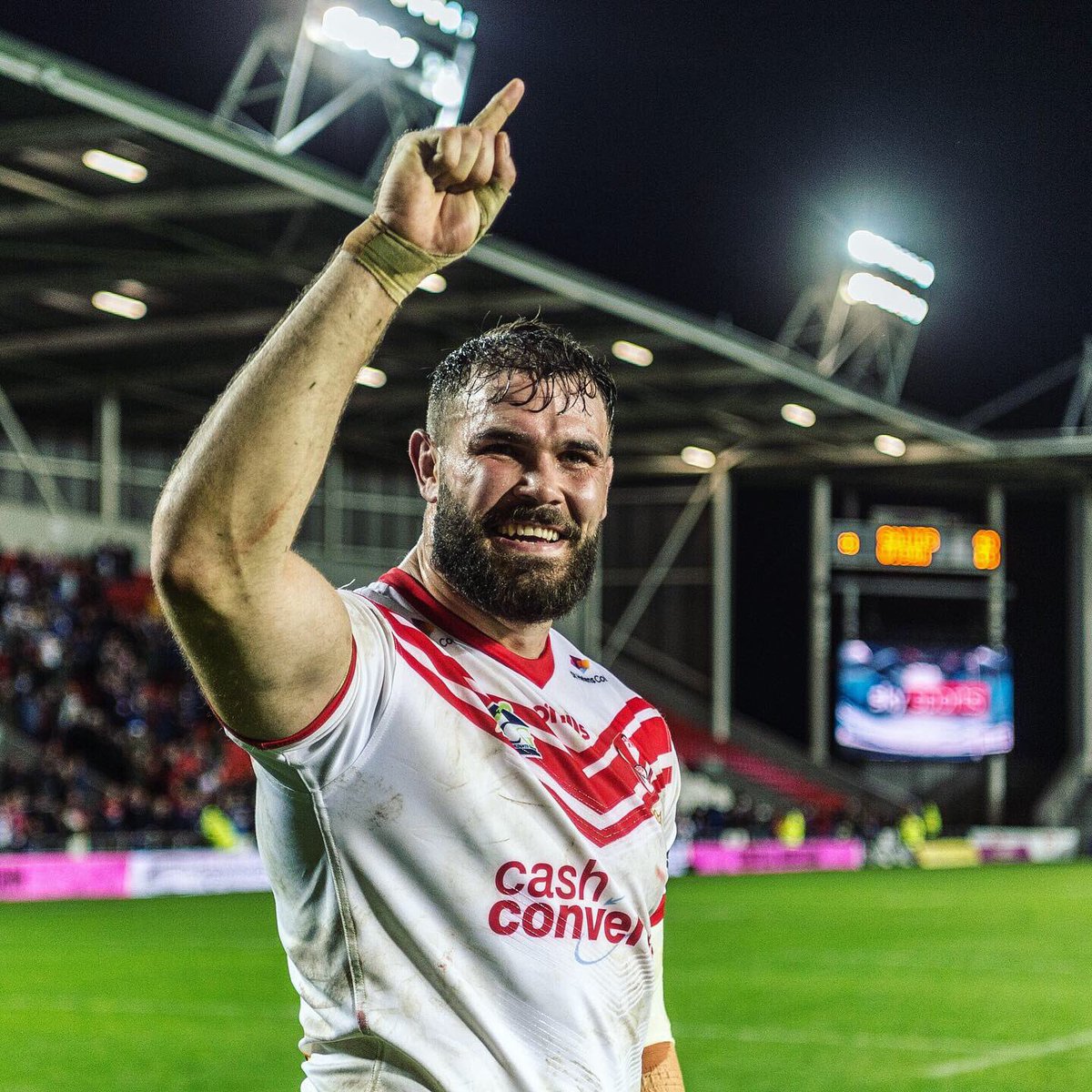 St Helens have been the best team in Super League for the past two years. They have won back-to-back League Leaders' Shields, winning the minor premiership this season by a record 16 points, but they failed to reach the decider 12 months ago. This year they were upset in the Challenge Cup final by Warrington Wolves.
But Walmsley is confident that Saints have the culture and mentality to be victorious at Old Trafford.
"We have such a hard-work ethic and determination," he said.
"We want to work hard for each other. We know we're only as good as how hard we work. We have to make sure we come with that attitude on Saturday. It's going to be a tough game but we're looking forward to it."
It will be a bitter-sweet moment, with the Grand Final being Saints coach Justin Holbrook's last game in charge before taking over at the Gold Coast Titans in the NRL in 2020. Holbrook has made a huge impact at the Red V in his two-and-a-half-year stint, and Walmsley says his team is sending him out as a winner.
"We're devastated he's going," the front-rower admitted.
"He's been given an opportunity he might not get again and we're sorry to see him go. He came to us at a time when St Helens was quite a volatile place to play at. There was very much a divide between the fans and the club, and it was quite hostile. Justin's come in and united the community.
"We're a rugby league town and when there's a separation between the fans and the community with the club, something's gone wrong. Justin's united it all together again. He's not just made us better players but I like to think better people too. He's been unbelievable for us.
"There was quite a big blame culture at the time at the club. He took us all from being victims and made us accountable for what we are as people and players. He's been a joy to play under. I'm gutted to see him go, and hopefully we can do Saturday night for him."