Jack Lisowski is one of snooker's speed merchants – but a renowned grinder has helped him reach the UK Championship quarter-finals.The 30-year-old from Cheltenham beat Iran's Hossein Vafaei 6-4 on Thursday to set up a quickfire shootout with China's Zhao Xintong on Friday at the York Barbican.
And 'Jackpot', the world No15 chasing a first big title having lost all of his six finals to date, revealed he has been getting advice from the 2002 world champion and now retired pedestrian potter Peter Ebdon.
Lisowski said: "I had a chat with Peter the other day on the phone for a few hours. He gave me some things to think about, and as we know was unbelievable mentally. I was thinking about that while I was out there and so didn't really have time to be nervous.
"It was me that called him, I was thinking 'Who can help me' after banging my head against a wall a bit the other week. My practice hasn't been great after being ill and I needed dome sort of spark, so I got his number and gave him a ring.
"It was really interesting to speak to him and he gave me some tips. I hope it's what I needed because I feel I am doing well. The place where it is helping most is when I am sitting in the chair, rather than when I am at the table – the mental side. That is something I have always struggled with, staying positive. And my season hadn't been great until now.
"I hadn't been looking at the draw for this tournament but with all the seeds going out people tell you, so I knew it was Zhao next. That won't be dull, he is my favourite player to watch. He'll be going for everything and I probably will be as well.
"It has been a strange old week, and because the top four are a cut above you know it's not like playing Trump, Robertson or Selby. I don't know why, the conditions are good and tables have been playing nice.
"It's hard to believe some of the results we have seen, but I do feel I have had some luck this week and you start to wonder of maybe it's going to be your week. Frankly I am sick of losing to Trump and Robertson in finals!
"Hossein had a tough last red along the cushion in the last frame – I'd have played safe, and I think a lot of the other players would have as well. I respect his bravery, though luckily for me he missed it. Put if this way, in my chair I wanted him to go for it.
"Maybe that is part of the learning process that we all go through. It is the kind of shot, a Lisowski special, that has seen the pundits have a go at me for in the past!
"But Hossein is such a tough player and so hard to beat that is a really good result for me to get past him. It is great for snooker worldwide and in Iran that he is doing so well.
"It felt like a big game for me with lots of ramifications. I should be in the World Grand Prix now as well as being in the last eight of the UK Championship, our second-biggest tournament."
𝗟𝗜𝗦𝗢𝗪𝗦𝗞𝗜 𝗛𝗜𝗧𝗦 𝗧𝗛𝗘 𝗝𝗔𝗖𝗞𝗣𝗢𝗧 🎰
Jack Lisowski 6️⃣-4️⃣ Hossein Vafaei
The 6️⃣x ranking event runner-up is into his second successive UK QF after seeing off the Prince of Persia.
#UKChampionship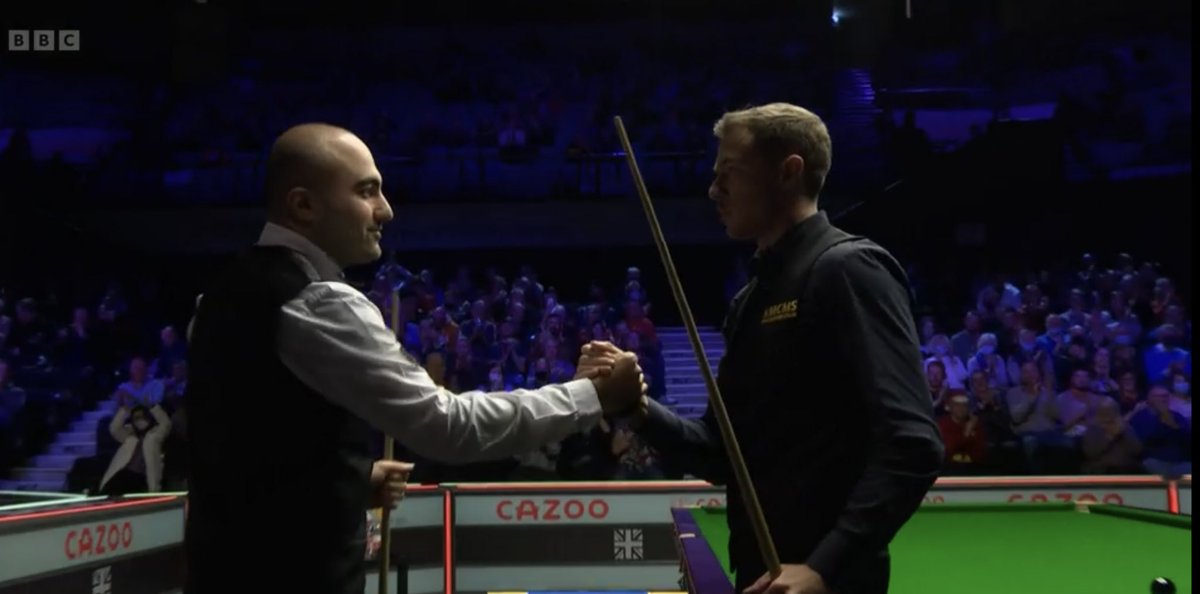 Luca Brecel has looked back to somewhere near his best form in recent weeks, and the 26-year-old Belgian beat veteran Anthony Hamilton 6-1 – and now takes on Anthony McGill for a place in the semi-finals.
The former China Championship winner said: "Anthony is a great player. I have seen some of his games, he hits the ball really well and is a great scorer and very good tactically. It will be very tough, even though I have a good record against him so far.
"But I am feeling confident and relaxed. I didn't do a lot wrong today apart from missing a few balls, and my safety play was good. I think it would be good if myself or maybe a Jack Lisowski could win this, with a nice style that people enjoy watching.
"Sometimes people think I push the boat out with some of my shots, but it is just the way I play and comes naturally. And I think the latter stages of these tournaments brings out the best in me.
"This match was the best I have felt in the whole tournament, and it's funny because I could have been out against Tom Ford. But since being 5-4 down in that one I have won a lot of frames. Knowing you could have been out relaxes you, and I know I have a great chance of getting to a big final."