The Milkman produced one of the great World Championship comebacks to beat Joe Perry 10-9
14:27, 20 Apr 2023
Rob Milkins admitted the infamous Just Stop Oil protest that saw his Crucible match played over four days could even have done him a favour.
The 47-year-old from Gloucester produced one of the great World Championship comebacks to beat Joe Perry 10-9 – roaring back from 7-2 down after the first session.
The planned first session on Monday night had to be abandoned after an activist invaded the arena and threw orange powder across the table.
READ MORE:
And that saw the 'first' session played on Tuesday night, with the finale shifted to yesterday morning's blank space in the schedule – 66 hours after the match began.
However that crucial day off allowed this year's Welsh Open winner Milkins to replace and play in a troublesome tip.
The match even had another false start yesterday as MC Rob Walker called out Perry to a list of the West Country's Milkins' career achievements, dubbing him a 'cider drinker'.
Milkins said: "I actually felt terrible out there in myself anyway at the start of the match, I haven't been here for five years. It can be intimidating, I like the crowds on top if you but it takes getting used to again.
"As it turned out, the delay and the two days until the delayed last session helped me. I have had problems with the cue tip since winning the Welsh Open.
"It wasn't good in that first session, and in the end I was glad to get out 7-2. I went to a place in Sheffield to get it done, and played it in a bit.
"What happened on Monday…in a funny sort of way it done me a favour getting out of there. But it was a terrible thing to happen, and ruined it for everyone. It was so quick, three or four seconds.
"And I felt worst for the audience who had tickets for our match. I had a few friends come up who couldn't stay from Tuesday to Thursday. They only saw my bad first session.
𝗪𝗛𝗔𝗧 𝗔 𝗖𝗢𝗠𝗘𝗕𝗔𝗖𝗞 𝗙𝗥𝗢𝗠 𝗧𝗛𝗘 𝗠𝗜𝗟𝗞𝗠𝗔𝗡 🥛
Robert Milkins has beaten Joe Perry in a deciding frame to reach the Crucible second round!
7-2 down going into the session, he records a brilliant recovery win 👏
#CazooWorldChampionship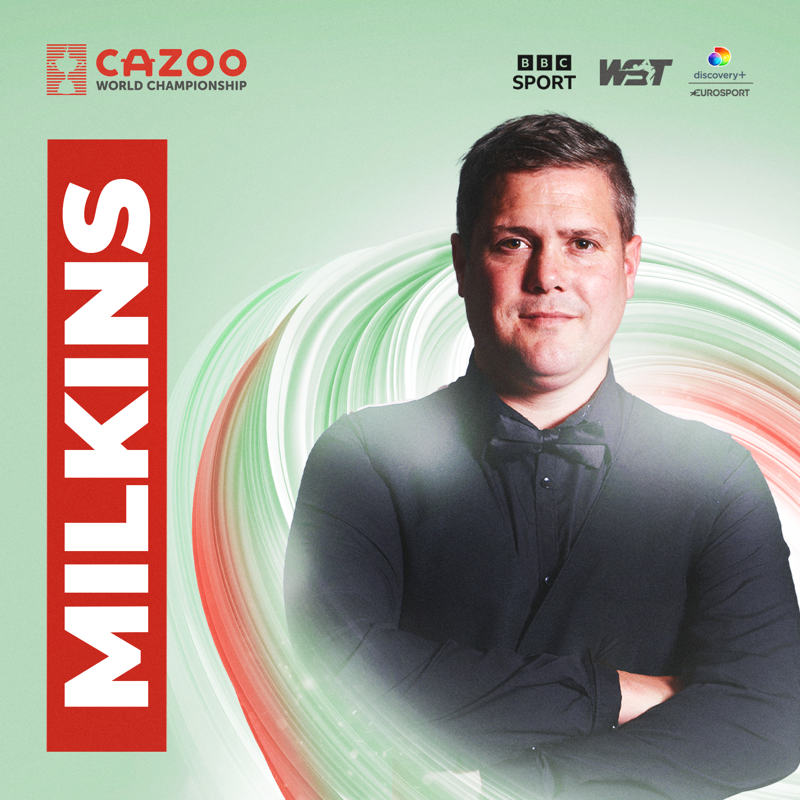 "It was definitely a match of two halves. Joe played well in the first session and I didn't – and it was the other way round today. Once I got back to 7-4 I fancied the job.
"I got 9-8 up and it would have been the biggest nightmare to lose 10-9…I would rather have lost 10-2. But I got a good break to get over the line.
"I am chuffed to bits. I didn't really feel like I had any pressure on me today, and felt it was more about making the score respectable to start with. I was sick to fall 8-4 down, as you can't afford to lose any frames when you are that far behind.
"The crowd got behind me to start with as I was reeling off frames, and I could see it was getting to Joe. It can be a horrible place to be, as it was for me in the first session."
A devastated Perry said: "Look, I lost because I played so badly today. It was a shambles, I started badly, and got worse.
"It wasn't ideal what happened on Monday, and seeing the second session delayed until Thursday – although I don't see what else World Snooker could have done.
"I was a bit shaken up, until you realise your lives aren't in danger – but you don't know that at the time. I wasn't very pleasant, and not something I want to experience again.
"To have that two-day delay wasn't helpful, but I can't use that as an excuse. You are sitting on a 7-2 lead and there was more time to think about it, though I shouldn't as an experienced pro.
"For Rob it was a massive help, he took his tip off after the first session so he gets an extra day to play it in. But these are just facts, and doesn't get away from the main reason – I was rubbish."