The McLaren driver raced against none other than Real Madrid goalkeeper Thibaut Courtois
09:54, 17 Mar 2020
McLaren driver Lando Norris might not have yet reached a podium position or recorded a fastest lap in his tentative Formula One career but the 20-year-old can now claim one brand-spanking new record over his peers, having not let the postponement of the F1 season stop him from racing.
A last-minute cancellation to the scheduled opener of the 2020 season due to the escalation of the coronavirus pandemic put the shutters on the Australian Grand Prix, originally arranged for March 15.
The Bahrain and Vietnam GPs that were due to follow have now been postponed, COVID-19 well and truly disrupting the calendar.
We've discovered a handful of other sports stars diverting their attention elsewhere amidst matters out of their control, putting a jovial spin amongst all the tenebrosity, and Norris is no exception.
Instead, the driver took the time to take part in a virtual event dubbed 'Not the Aus GP', and subsequently helped break records for the social media streaming service 'Twitch' as he raced against drivers online on the imitation of the track he and his fellow competitors had planned to run in Melbourne.
On that March 15, a good number of those now unable to bask in that Oz sunshine at the Albert Park Circuit or watch from TV screens around the world contributed to the 70,000 people who tuned in to see Norris control Virtual Norris, representing the biggest ever numbers for F1 Esports.
Racing in Australia but not actually in Australia. Lights out at 17:45 GMT on
@Twitch
🇦🇺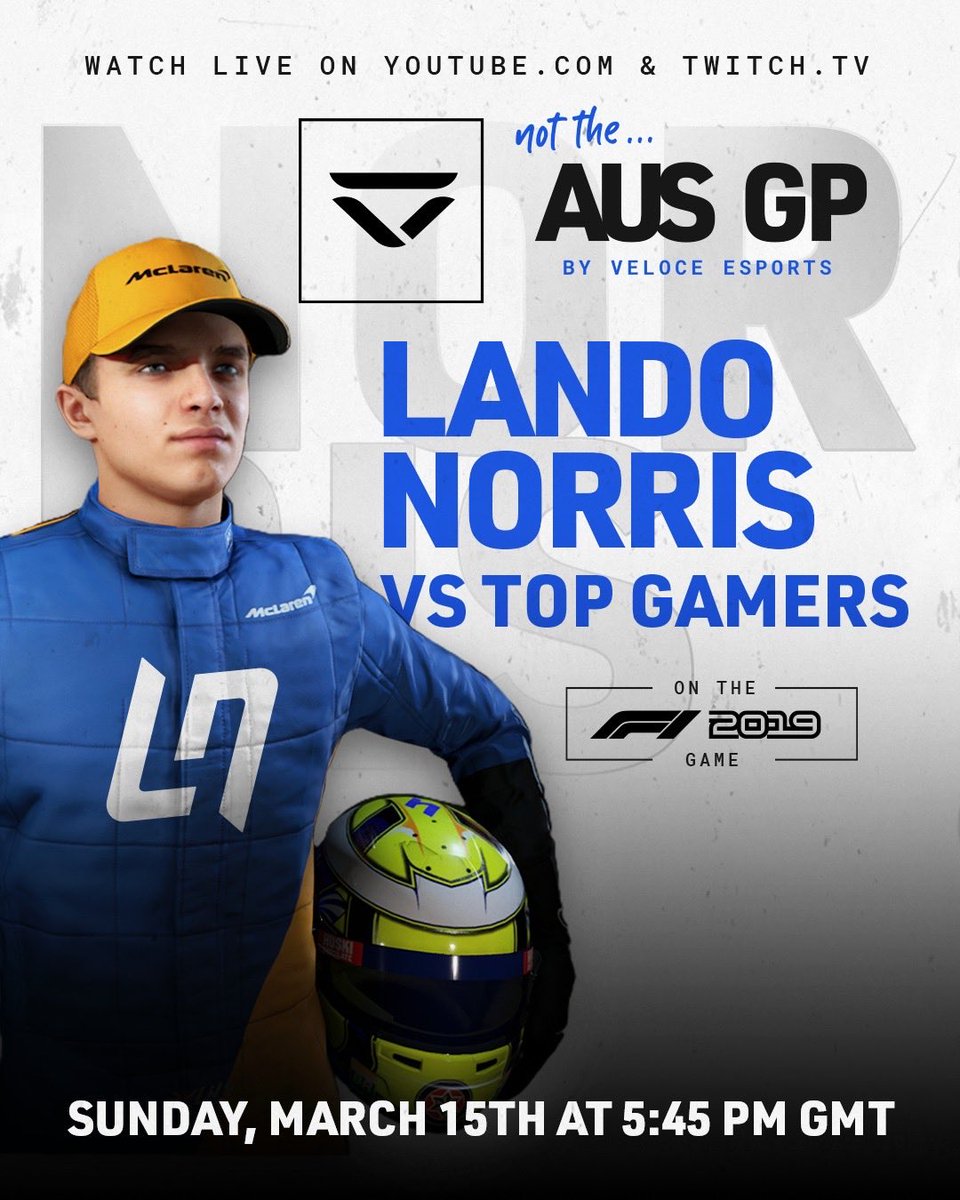 The competition was hosted by Veloce, an esports organisation founded in 2018 and based in London. As one of the leading esports teams in the UK, gamers compete in tournaments across franchises such as F1 Esports, Gran Turismo, Rocket League and§ Project Cars. Around 25 professional gamers and content creators 'across the gaming and esports space' currently play under the Veloce banner.
Norris himself, as a regular gamer away from the real track, can claim around 200,000 followers on the Twitch platform.
"We sat down together and thought people will be without a Formula 1 race and sport in general and they will be staying at home trying to avoid the coronavirus so where better to put on a race than online?" the founder of VeloceEsports Jamie MacLaurin told BBC Sport.
"We got in touch with Lando and he was really interested. Both parties were really excited about continuing and not letting the coronavirus affect things as much as it could and putting a positive spin on what is a negative situation we are all in.
"It is hard to get too positive about it given the circumstances with the coronavirus but what we'd like to do is keep people upbeat and give people something fun to watch.
"This is a huge opportunity for esports because for people who may have been watching the real sport and want to have something to watch and give them that fix, this may be able to provide a bit of that."
Also racing in the event were former F1 drivers Stoffel Vandoorne and Esteban Gutiérrez and, most peculiarly, Real Madrid goalkeeper Thibaut Courtois who has been out of action from plying his usual trade as the La Liga season is put on hold. With Vandoorne, Courtois and Norris all competing, the Belgian flavour of the esprit de corps to keep morale and sporting spirits high shouldn't go unnoticed as Europe is put on lockdown. It may also show that esports could prove to be our salvation.
Unfortunately for Norris however, in the Not The Aus GP he could only finish sixth. Still, it equals his highest-ever finish in an F1 race. Well done Lando!