The Robins became the first senior football side in England to sport an LGBT+ Rainbow Kit
10:30, 23 Aug 2019
In a National League North fixture against Bradford Park Avenue in February 2019 , a historic rainbow exited from the centre of the Main Stand, carved out by ten eye-catchingly attired footballers (and a goalkeeper) out of the Moss Lane tunnel, as the home side Altrincham F.C sported the headline-making six-stripe
Not all stripes are straight...
That began the announcement on January 21 from the sixth-tier side. Two weeks later, the Robins became the first senior football side to wear such a kit on matchday, and promoting the poignant but powerful message that football really needs to be 'v Homophobia' and representing the LGBT+ community.
The special project was part of Altrincham F.C's Inclusion Strategy, which also includes targeting areas for improvement for disabled Fans and Religious Inclusivity, as well as attempting to remove gender and sexuality boundaries. The Greater Manchester side have set the standard in being 'committed to promoting equality, inclusivity and diversity' both in words and actions.
The most surprising - or most telling- issue is that a gesture such as the Rainbow Shirt hadn't happened before. The rainbow has been adorned on Rayo Vallecano and CD Guadalajara shirts but never before has a full kit been devoted to it. Furthermore, Altrincham's F.C. main shirt sponsors, J.Davidson & Sons, allowed their sponsored place on the front of the shirt to be replaced by the Football v Homophobia logo, emphasising the wholehearted commitment the club and its partners made for the cause.
The Robins' mandate reads:
Treating people fairly and with respect

Recognising inequalities exist; by taking steps to address them;

Providing access and opportunities for all members of the community.
The ultimate aim?
'To further eliminate discrimination on the basis of age, disability, sex, gender reassignment, marital or civil partnership status, pregnancy or maternity, ethnicity, religion or belief, or sexual orientation.'
It did, however, go further than that. One only has to do a quick Google to observe the remarkable coverage the shirt and statement made, and how far it reached. The club are still being inundated with requests for the historic jersey; at the end of July, the club even had an order from The Bronx, NYC. Money generated from the sale of the shirt - including those worn during the match versus BPA - has supported the Pride Trust, an LGBTQ charity.
At the time Altrincham F.C director Bill Waterston produced a profound statement to accompany the release of the now-iconic shirt: "We are extremely proud to be able to confirm that all the arrangements are in place for us to celebrate Football v Homophobia month in February by wearing this special kit against Bradford.
"We believe it will be the first time anywhere in the world that a senior football club has worn a kit solely modelled on the LGBT Pride Flag."
Altrincham will, therefore, be creating a small moment of football history.
"To us, it is a big statement. Altrincham Football Club are committed to creating a welcoming environment for all who attend our games, and our support for Football v Homophobia is part of this commitment."
Absolutely impossible for us to reply to every message of support, but thank you to everyone who has stood behind our
#footbALL
🌈 campaign with
@FvHtweets
.
The match shirt auction for
@TheProudTrust
was a huge success, too. Full total released when everything is finalised!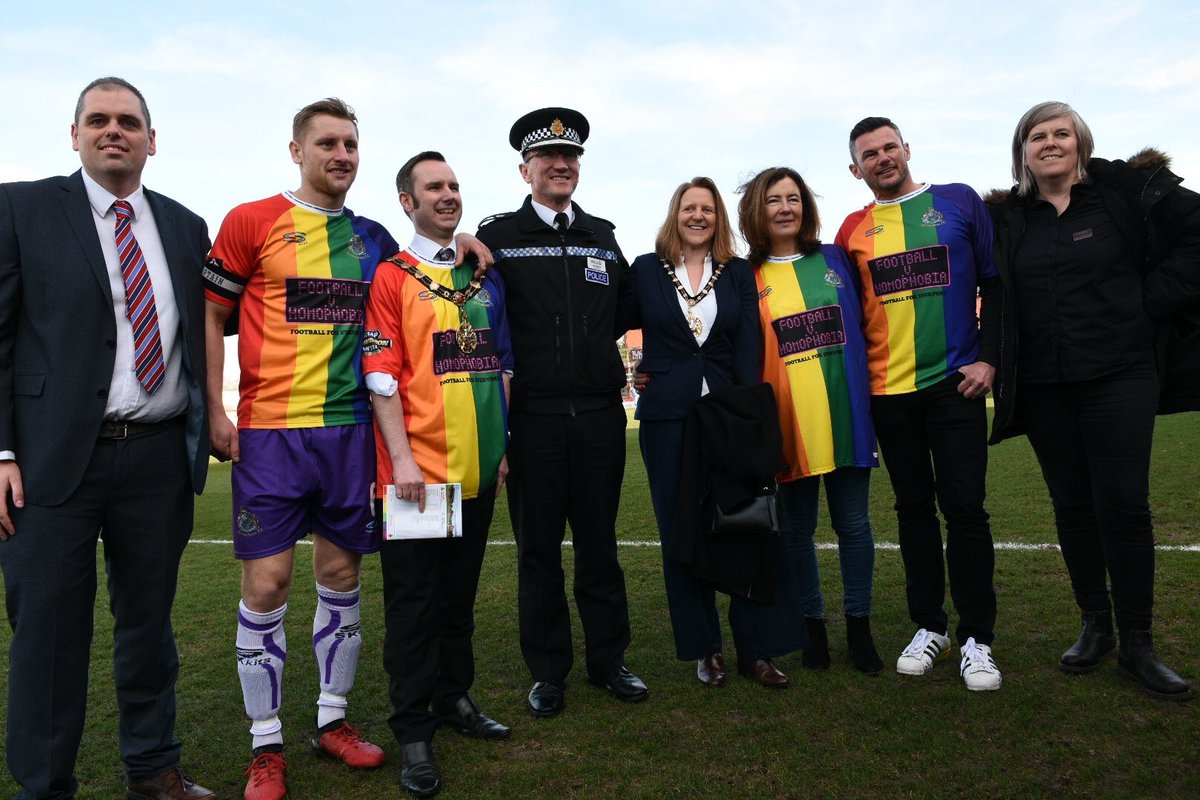 Leading up to Pride Weekend, which takes control of Manchester city centre this late August, Altrincham F.C.'s Inclusion and Diversity officer Jordan Tyms discussed the shirt's impact in the time since and how the project was initially conceived. He said: "The team had already worn the Football v Homophobia t-shirts the year before, as part of the warm-up so we had had some reasonable coverage then and we wanted to go one step further.
"Someone had suggested doing the shirt around August for Pride last year, and then we thought it'd be great to do it for Football v Homophobia. We're quite unique at Altrincham because we have a good relationship with our kit manufacturer (former goalkeeping coach Ian Senior of SKkits) so we put it to the board and said it would be really good for us to do, a great way of showing our support for Football v Homophobia in a unique way that hadn't really been done before.
"The board were happy with it and then we got to work with Ian to come up with some designs; came up with a couple of ideas, and then we thought while we're messing about with designs 'why don't we just use the flag?'.
"We thought we'd have a small impact but we couldn't believe the impact that it had because the flag just took off, and then there was the press coverage and TV coverage.
Tyms suggested that the reason for the shirt's resonance outside of the community was clear:
The shirt wasn't subtle and it wasn't hiding anything.
"Football v Homophobia were supportive of it, and we spoke to J. Davidson - the club sponsors - and they were happy to forgo their sponsorship for the match, enabling us to put the F v H logo on the front.
It's a privilege that the sixth-tier club could afford, and perhaps shows the gulf between leagues in England, for once for the better.
Tyms continued: "If you've got a larger kit manufacturer then you would be worried about sales, and how it represents the shareholders. There'd be more committees, more meetings; you've just got to be brave, and say we're doing it and we'll support it. You've got to have a driver, somebody in the club or somebody on the board has got to think 'actually that's what we're going to commit to - this is our message and this is how we're going to portray it'.
"We had to get FA approval for it, but I think in a smaller club it is easier to get things done, but it is a brave thing to do."
Funds from an auction of the players' shirts worn during the BPA game provided support for The Proud Trust, an LGBT+ youth charity.
Tyms explained: "The Proud Trust was a spinoff; we do a different one-off kit every season for a different cause and auction off the players' shirts. The auction went really well, and raised around £2500, which has helped build an LGBT centre in Manchester.'
"I know we sold to Brazil, Australia and the USA but they're still selling. In the region of 1,000 so far. They are still available online via the club's online shop.'
Altrincham F.C. and Tyms' work has been celebrated. The Robins received a National Game Community Award in November 2018 to recognise their work around inclusion. Since then they have also won the Cheshire FA Community Club Award (in July) and Tyms won the Ian McKellen Award - presented by the great man himself - at the Bolton Pride Awards in May.
Alty have also been nominated for the new Fans For Diversity National Awards which are taking place in September, at Amnesty International in London.
The mission isn't over yet, with many different future projects in the works.
"We're meeting with the Cheshire FA to talk about how we can spread the message with clubs across Cheshire," said Tyms. "Every single person can play their part, obviously there's lots of things at the moment with certain fans directing homophobic abuse and racist abuse and this is to try and empower fans to try and say that this is wrong and that football is an inclusive sport."
And what is Tyms message for the LGBT football fans who might want a break from this weekend's Pride festivities or maybe a pre-sesh at 3pm and may have glanced at the fixture schedule to see that Altrincham F.C have a home match against Darlington on Saturday?
It's a welcoming club, it's a great place to be, and there's great football on show.

Everyone's welcome at Moss Lane.
Thanks to Jordan Tyms and @AltrinchamFCInc
Altrincham FC's Special Edition LGBT+ Replica Shirt can be purchased here.