"Imagine if Coventry City made it to the Premier League and I brought the British title home for Coventry. It would be crazy. Then if we get the fight on the pitch at the CBS, that is another thing. I just need to get people supporting me and behind me, the more people that come and watch me and the more people that get behind me, that stuff can happen.
"As I said, the dream turns into a plan."
River Wilson Bent has big ambitions for the future heading into Saturday's English middleweight title fight against Tyler Denny in his home city. Currently 10-0 in his professional career and the Midlands Area champion, he is now looking to secure a national title in front of not only his home crowd, but a national audience as the card will be shown live on Channel 5.
'River the boxer' as he is known locally, is immensely proud of the city that he is from and is now looking to be part of the City of Culture's sporting rise - as his boyhood football club are currently 4th in the Championship.
"It is just the city that I've grown up in, I'm always backing the city you grow up in," he tells The Sportsman, having been introduced on the CBS pitch at half-time in the Sky Blues' recent 3-2 win over Bristol City.
"In football terms, the first team I ever went to watch was Cov back at Highfield Road. The first game I went to watch they played Torquay. I can't remember what year but I was young. My mum used to work for Coventry Telegraph, so we used to get in the boxes and stuff. I used to love it, sitting in the box with loads of food, loads of drink, and just watching football."
A 4-1 home win against Torquay in 2004 was enough to make Wilson Bent fall in love with the Sky Blues, and now his side are back home and enjoying a resurgence under Mark Robins - even if boxing's rising star isn't getting to as many matches as he would like.
"I go when I can - at the minute I haven't had a weekend off!" he laughs. "It has been non-stop sparring and running but when I do get free time, of course, I am down there. If we can just keep it up man, come on Cov, you do your side and I will do my side. Coming home was the best thing that happened to us and look at the support now - it is crazy. We have got everything going for us - it is just a rising city now. It's a beautiful city."
👑 Two men from the Midlands battle it out for the English Middleweight Title!
📍
@coventryskydome
🗓 Saturday 13th November
🎫 Limited tickets available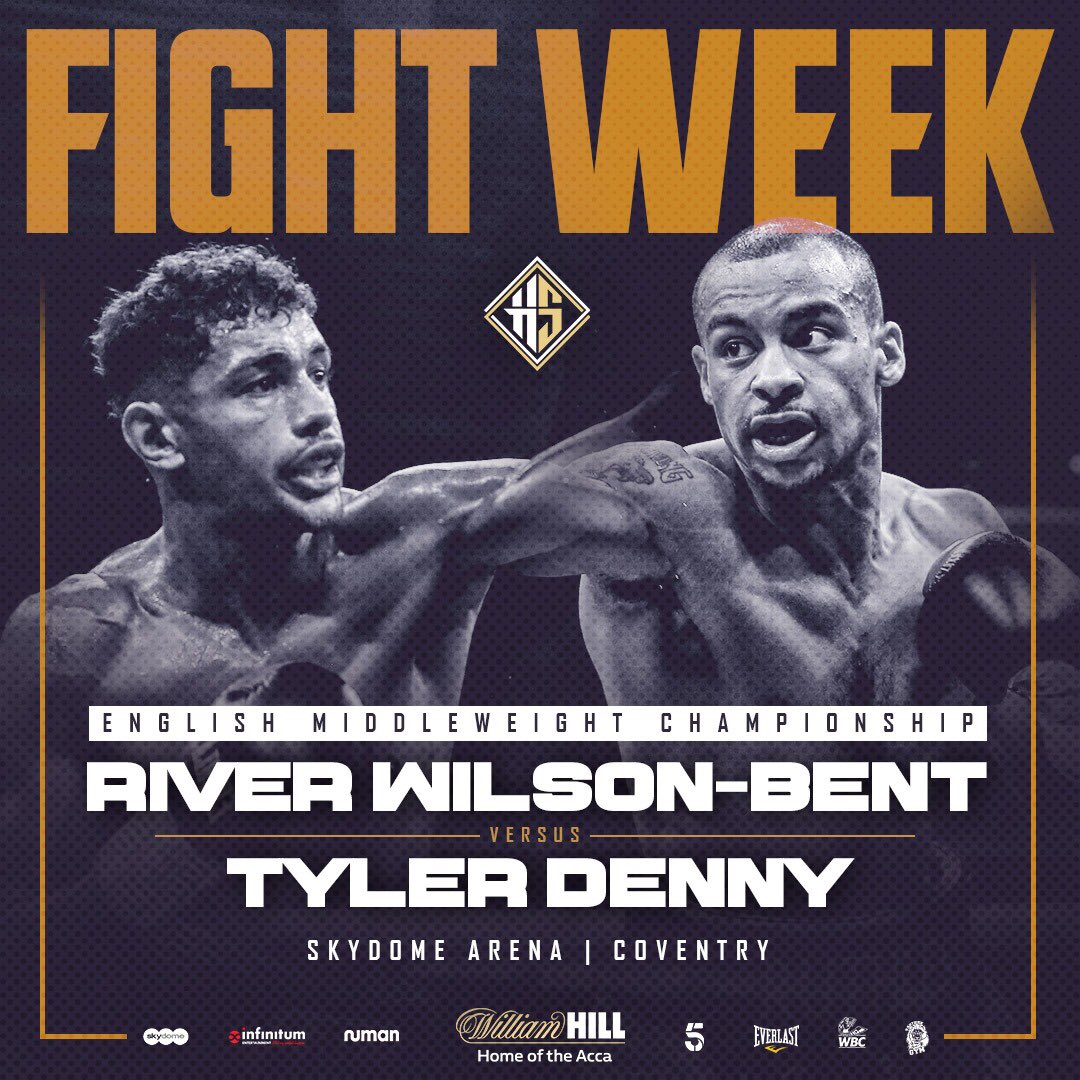 The 27-year-old looked remarkably fresh faced when we caught up with him, given that 11 weeks ago he became a father for the first time, and his child has completely changed his outlook on life.
"My first baby - she's a little star," he says, unable to keep the smile from his face.
"She has changed my mindset, everything I do is for her. Even the little things, things that were important a few months ago mean nothing to me now. It is all about making sure she has a good life and good holidays, she has a roof over her head, that is all that matters to me now. It is that drive that has given me that extra bit of motivation to get out of bed - I already had motivation but she has given me a whole lot more."
However, on fight week, the job in hand takes precedence, as he stays away from home to make sure his sleep is not disturbed.
"It's a different mindset, I'm just trying to focus on winning and punching someone in the face. When I'm thinking about punching someone and not getting punched back I really can't be thinking about my baby! I love her to bits but when it comes to boxing I've got to focus on fight night."
It's been a perfect start for Wilson Bent in the professional ranks, as he beat the unbeaten George Farrell for the Midlands Area title and has now completed his very first camp, having previously been forced to balance his full-time job as a roofer with the sport he loves.
"Getting the opportunity to box under Hennessy Sports and doing it how I did it, knocking the lad out in three rounds, opened all doors for me. Then Channel 5 got hold of me, offered me a contract, so I signed with them.
"Money wise and stuff, it is brilliant, it gives me more time back and I can focus on boxing. This is my very first camp that I have had off work because I do work full-time, but my boss came up to me and said 'look, have seven weeks off, and prepare for this fight.'
"I'm like a different beast because normally I wake up at half four, go for a run, eat my breakfast, go to work for half five, come back from work, sometimes not even eat and go straight to the gym. Come home, eat, sleep and repeat. So it is hard. But you know what, hard days make hard people. But I'm living a nice life at the minute. I get a bit of a lie-in, 7am is when the baby normally wakes up, then the day starts and I crack on with the training."
This professional lifestyle should see a more explosive fighter take to the ring on Saturday night, on the undercard of Shakan Pitters vs Reece Cartwright for the WBC International title. Wilson Bent will take on a tricky southpaw in Denny (13-2-2), and being from Birmingham, this has the makings of a feisty local encounter - but the home favourite is hoping to learn from some of the best.
"I'm watching Roy Jones Jr and just watching how he boxed southpaws and how he gets his feet round to box a southpaw," he says. "Just watching how he manipulates people and uses his jab well against a southpaw. It is a lot of revision at the minute, watching these old school fighters and seeing how they did it."
As for how the fight with Denny will pan out, Wilson Bent believes it will be another stoppage, with five KO's to his name already. "It is going to be a cagey start, as soon as I start flicking my jab out and get in control of him, that is it. There is going to be a big knockout, I am going to get him out of there definitely. Strength wise, I feel I am the bigger and stronger man and I just feel like I will have too much in the tank. Big win and English champion is coming up."
This is a city on the rise. After years of sporting misery, the City of Culture 2021 has a football club knocking on the door of the Premier League and a boxer who has major titles in his sights. No longer a Ghost Town, something special is happening in Coventry.