Warnock will take charge of his 1602nd match in English league football tonight
07:05, 02 Nov 2021
When the whistle blows at Kenilworth Road for Luton Town's home match against Middlesbrough on Tuesday night, the man in the away dugout will have another record to his name. Neil Warnock will manage his 1,602th game for English league clubs, a figure that takes him past Dario Gradi - who spent 26 years in charge at Crewe Alexandra.
This incredible total typifies what a phenomenal servant Warnock has been to the English game over the years, having begun his managerial career with Scarborough in 1986. This isn't the only record that the 72-year-old holds, as he has achieved the most promotions in English football with eight, and also features on our list of the oldest managers to have managed in the Premier League.
For all of the abuse he has received over the years, the footballing community on the whole has become rather fond of Warnock. His love for the game is unwavering, so much so that he simply has not been able to walk away from management - even if he has hinted at it in the past. 14 years ago, having been given the Crystal Palace job, he stated it would be his last in football.
He said the same at Leeds United and at Cardiff City, before claiming he was ready to leave football behind before Steve Gibson gave him a ring.
"I'm very proud to have done this," Warnock told BBC Radio Tees. "I didn't think I would. I owe a lot to Steve Gibson, because I wouldn't have carried on in football if he hadn't made that phone call.
"I had no idea about the record until two weeks ago, and someone has told me I've got another record coming up in about 14 or 15 league games. I've just got to keep my job for a few months and do the best I can."
Not many football managers have the personality to shine during a fly-on-the-wall documentary but 'Warnock', which covers Sheffield United's 2004/05 season, is simply a work of art. It gives us an unfiltered insight into one of the most old-school managers around, yet despite his no nonsense ways, he has still enjoyed success in the modern game.
#Boro
's game against
#Birmingham
will be Neil Warnock's 1601st game as a professional manager in England, equalling the record set by Dario Gradi for the most matches as a manager in English football history! 🤯
Take a bow gaffer 👏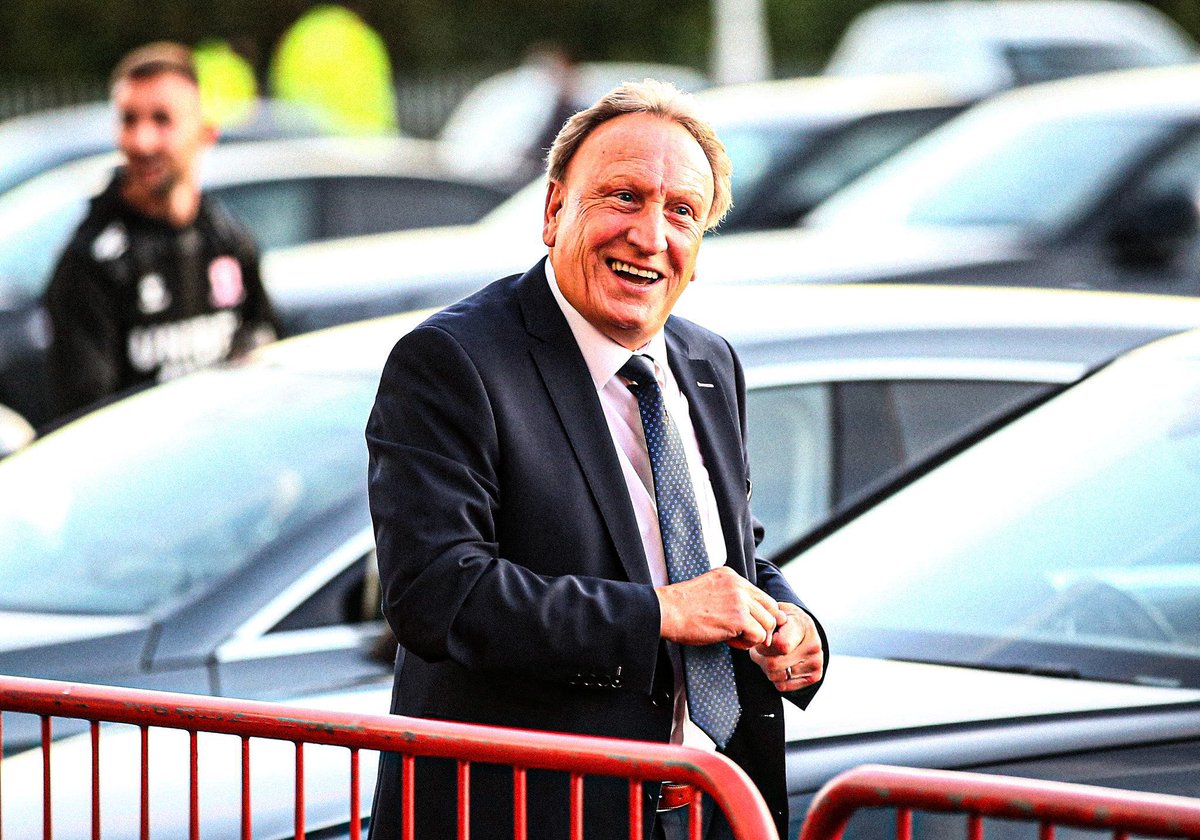 That documentary features the best of Warnock, with quotes that still crop up on social media today. From "You've got to f*cking die to get three points!" to "We're in London aren't we?" - Warnock's unbridled passion and natural hilarity shines through, but his toughness is what has kept him in work for so long.
When it looked like his career was winding down, he saved Rotherham from relegation before leading Cardiff to an improbable promotion. His run-in with rival Nuno Espirito Santo after a Wolves victory also showed him in the heat of battle, and even though he has not been perfect throughout his career - having failed in the Premier League and been in charge of Sheffield United during the embarrassing battle of Bramall Lane - Warnock has always been himself.
He is a passionate fighter, an underrated tactician and a football manager who just cannot walk away from the sport he adores. It's 1,602 not out for Warnock, who is now surely in his 'last job'.