The Spain striker went through a phenomenal spell before his career tailed off
06:55, 19 Oct 2021
'This means more' is Liverpool's oft-derided motto, but when they face Atletico Madrid at the Wanda Metropolitano on Tuesday, for Fernando Torres it really does. The former striker is an Atletico legend and gave the best years of his career to Liverpool, even if his time on Merseyside ended acrimoniously.
It all began in Spain's second tier. Atletico suffered a shock relegation four years after winning the double so the stricken side turned to the teenage Torres, handing him his debut in May 2001. He helped them get promoted to La Liga in 2002, and there he made his breakthrough. Spanish media drooled over a raw but exciting talent, whose speed and directness were his main weapons. At the tender age of 19, he became club captain, their youngest ever, a symbol of hope.
Torres played five seasons with Atletico in La Liga, which was longer than fans expected given the constant transfer links with Europe's elite and his obvious talent. He gave them everything and they gave him as much as they could too, but it wasn't enough. There was no rancour when he left. This was their boy done good, off to make his way in the world. To sit atop it. Atletico had no hope of honours, and Torres needed a better team to fully realise his potential.
He found that in Liverpool, after a £20m move, linking up with Spanish coach Rafa Benitez and midfield maestro Xabi Alonso. Some fans at the Vicente Calderon bore Liverpool shirts, showing their affection for their departed son. Anfield seemed like fate after a photographer spotted Torres playing with 'You'll Never Walk Alone' written on the inside of his captain's armband. In fact, it was part of a pact with friends from his Fuenlabrada hometown, unrelated to Liverpool.
After an impressive first season on Merseyside brought 33 goals in 46 games, Torres struck the winner in the Euro 2008 final as Spain beat Germany. That goal ended his nation's 44-year trophy drought, making him a hero back home. "We are used to watching finals on television, but today we were here and we won," said Torres, high on success.
He had appeared at Euro 2004 and scored at World Cup 2006, but it was only after legendary striker Raul left the scene that he and David Villa blossomed as Spain's strike partnership. Euro 2008 not only kick-started his own international career but marked the start of Spain's era of dominance too. Torres and his golden locks terrorised Premier League defences, but they say nothing gold can stay and so it proved.
Hamstring injuries wormed at him and his performances declined, taking two knee operations in 2010 to try to get ready for the World Cup in South Africa. He made it and Spain triumphed, but he failed to find the net and forcing himself to the limits had taken its toll on his body. In the first few months of the 2010-11 season, he was far from his best. Physically and mentally.
He didn't believe the club were working in the right way to win trophies - a desperate need of his at that point, with no major honours to his name at club level. At the same time, he felt Liverpool didn't trust him, that they thought he was past his peak, even though he was 27. His relationship with the club deteriorated. Chelsea were willing to splash out £50 million on deadline day in January 2011; an accord was struck, angry Liverpool fans burned their replica shirts.
Things got no better at Chelsea initially, where it took him 14 games to get off the mark. Carlo Ancelotti was axed, then Andre Villas-Boas came and went, with both unable to get the best from Torres. Roberto Di Matteo arrived and Torres still laboured, until one magical moment at the Camp Nou. Back on Spanish soil, it was Torres who cemented Chelsea's place in the 2012 Champions League final, rounding Victor Valdes to slide home a last-minute strike against Barcelona.
He finally got his hands on club silverware as an unused substitute in the FA Cup win over Liverpool and appeared from the bench as Chelsea won the Champions League against Bayern Munich in Bavaria. Torres had the success he desperately craved, but not how he envisioned it. It was painful to watch because the memories of him at his prime were so recent and yet so distant at the same time.
In the summer he won with Spain again, at Euro 2012, and under interim coach Benitez in 2012-13 the striker improved, with 22 goals in 64 appearances. It led to another trophy, the Europa League, and Torres scored in the final. It was another golden moment, but he wasn't performing consistently for new coach Jose Mourinho and moved to AC Milan on a two-year loan, which was supposed to take him through to the end of his Chelsea contract. After four disappointing months they made it permanent, so they could immediately dispatch him to Atletico.
[🎂🎉] Happy birthday,
@Torres
! 👏
🗂 Seasons: 9⃣
📚 Games: 4⃣0⃣4⃣
⚽ Goals: 1⃣2⃣9⃣
🏆 Trophies: 1⃣ Europa League
🏠
#StayHome
🔴⚪
#A
úpaAtleti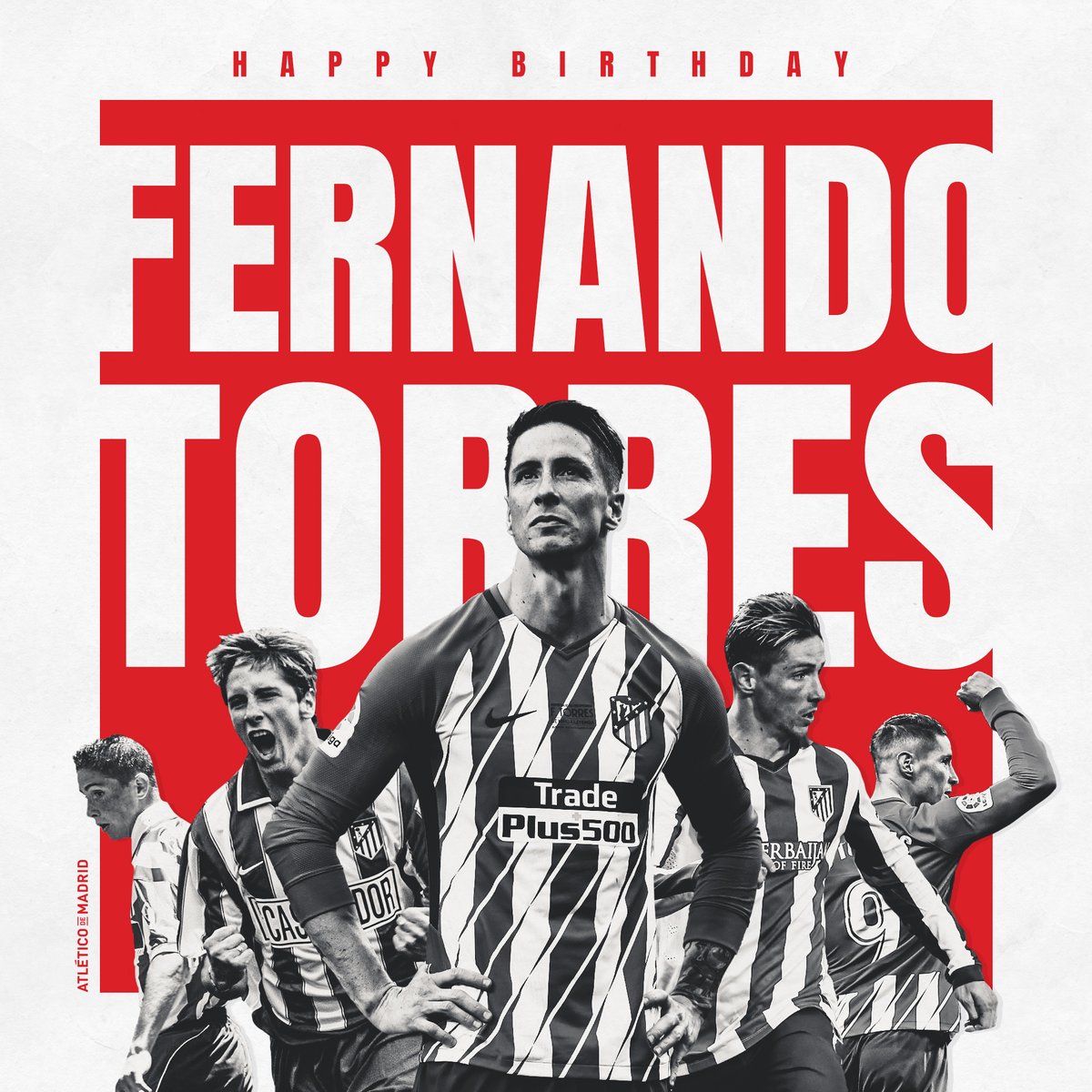 Torres's homecoming was magnificent. "Ever since 24 July 2007, we have all been waiting for this moment," said Atletico president Enrique Cerezo, before nearly 45,000 fans at the Vicente Calderon. They were not stupid. They knew that they weren't getting the teenager who ripped it up before, nor the star he truly became with Spain and Liverpool. Atletico coach Diego Simeone isn't stupid either. "Torres does not come as a saviour," he said. But they were overjoyed at one of their own returning. All clubs value loyalty but at Simeone's Atletico it is fundamental.
"I hope to learn quickly and play when needed, thank you for giving me this opportunity," said Torres, gratefully. He repaid Atletico's faith almost instantly, scoring two against rivals Real Madrid in the Copa del Rey to send Atletico through, and then again in the next round against Barcelona. In February 2016, after a long wait on 99 he hit his 100th goal for Atletico Madrid and handed his shirt to Manuel Brinas, now 84, the man who discovered Torres back as a 10-year-old kid. "No one would feel prouder to have it than him," said Torres.
In April he notched against Barcelona again, this time in the Champions League, with Atletico going on to reach the final. They lost, against rivals Real, and are still without a Champions League trophy. Torres isn't, the most precious pearl obtained on his bittersweet voyage after leaving the Calderon. He was handed two more year-long contracts at Atletico, not out of sentimentality but because Simeone valued his work-rate and his experience.
Finally, he earned a trophy in red and white at the 2018 Europa League final, making an appearance in the 90th minute as Atletico beat Marseille 3-0 in Lyon. Okay, that one was for sentimental reasons, as was captain Gabi inviting him to lift the trophy. It set him free. "Thanks for so much and sorry for [giving] so little," said Torres in his self-deprecating farewell note. He departed that summer for Japanese side Sagan Tosu, where he eventually retired.
At Atletico, Torres is and will forever be a legendary figure. At Liverpool he is one of the greats who threw it all away, but the compilation videos are a reminder of just how good he was during his Anfield peak. The good times are too good to forget.