A 19-9 win did not flatter this young side who can dominate for the next decade
14:00, 27 Sep 2021
Team Europe weren't just beaten at Whistling Straits this weekend, they were demolished. The 19-9 scoreline did not flatter the hosts and despite winning four of the past five tournaments before this year's showdown, it now feels as if the pendulum has truly swung in USA's direction.
For a few positive onlookers, this US victory could be seen as a quick lesson for Europe to learn from before they attempt to bounce back on home soil in Rome in 2023. But the underlying statistics suggest that this is not a flash in the pan win for the USA, and in fact we could be in for a long period of dominance.
This winning team for the hosts contained eight players under the age of 30 and remarkably six rookies, the most in one team since 2008. Yet they didn't play like an inexperienced group, instead the likes of Xander Schauffele and Patrick Cantlay put in remarkable performances which put their side in a commanding lead that Europe simply could not overturn.
This relatively new crop of stars haven't pulled this win out of the bag either. The were rightly favourites for this Ryder Cup and on paper, they are so much stronger than their European counterparts.
Rory McIllroy, who was out of form and suffered heavy defeats in three matches, is well aware of the promise and talent that the US side possesses and fears it could lead to decades of dominance.
"I think the most important thing for the US team is they are a lot of young guys that are great players but have bought into the Ryder Cup," he said after the defeat. "I think that was probably missing in previous generations.
"Having guys like that on the team, they are going to be formidable opposition from now until I'm probably not playing Ryder Cups, whenever that is - in hopefully 20 years' time."
It's coming back 🏆
The USA has clinched the 43rd
#RyderCup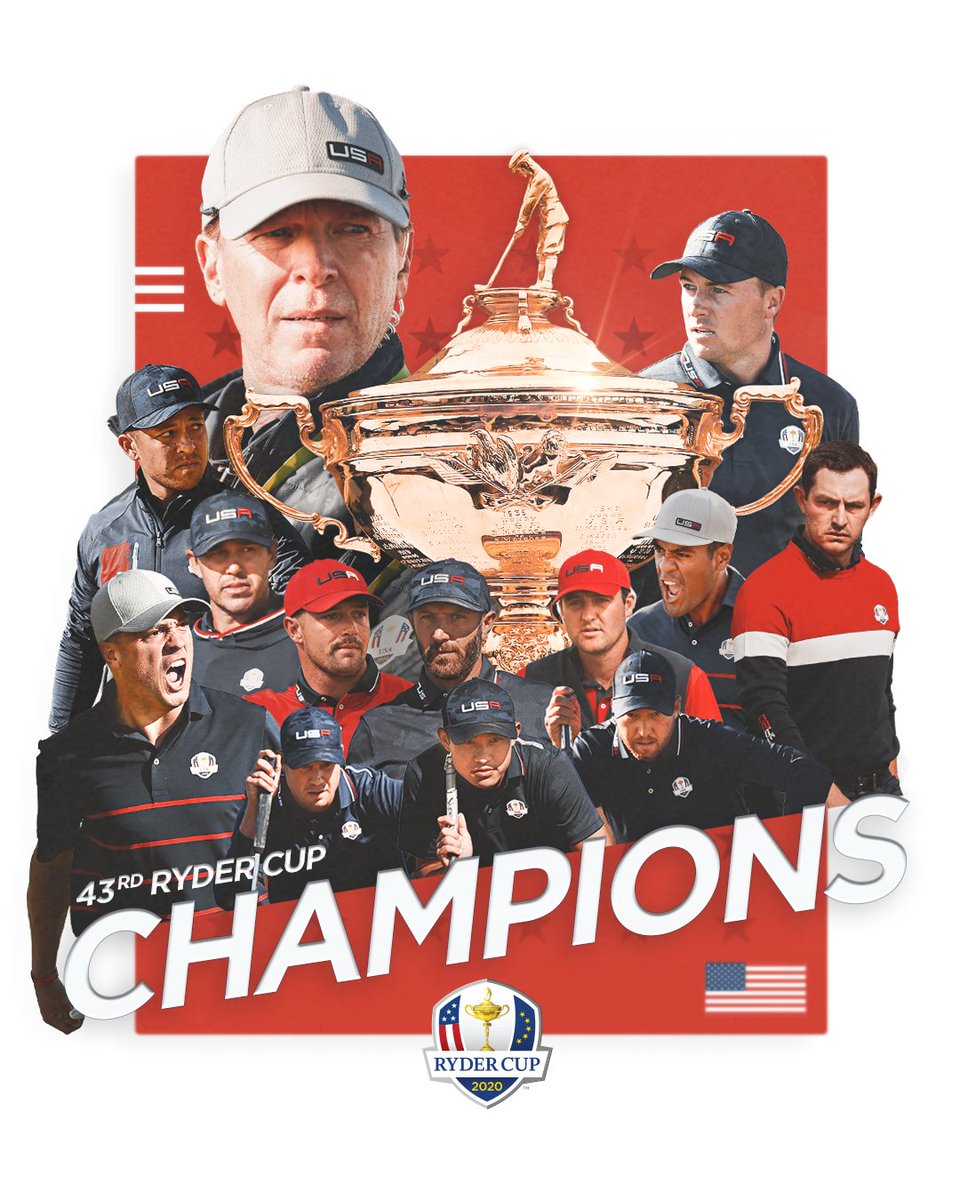 For Europe, Padraig Harrington's big calls backfired. With the benefit of hindsight, Ian Poulter was not the right pick as he severely underperformed, while the absence of Justin Rose was potentially one that could have won his side a few more points. He is likely to pass the captaincy baton on to the next incumbent now, but Europe must regroup if they are to avoid another hammering in two years time.
Jon Rahm is still the world number one, but behind him, there are no European representatives in the top 13 players. What is worse from a British perspective, ten of the top 13 are now American. That's utter domination on paper, so it is no surprise to see that reflected in the Ryder Cup.
For 45-year-old Poulter, his Ryder Cup career looks to have come to an end and this team will have to shake things up for the next tournament. 48-year-old Lee Westwood is another of the old guard who should be moved on to make way for a younger competitor while Paul Casey's place is far from secure.
We saw tears from McIlroy, an awkward hug between Bryson DeChambeau and Brooks Koepka and Team USA showed how to reinvigorate a side with a dominant win. It is not quite the end of an era for Europe, who still boast some incredibly talented individuals, but with this group of players, USA are going to be tough to beat over the next decade.