Before the internet, ClubCall was the only way to find out about the latest comings and goings at your club
10:01, 08 Aug 2021
Imagine a time when the only way of getting your football fix was to head to your nearest newsagent to pick up a copy of Match or Shoot magazine or perhaps even the evening edition of the local paper; then ClubCall came along and changed the way we engage with our favourite club forever.
When ClubCall was launched over 30 years ago it created a huge wave of excitement, leading to supporters hungry for the very latest news on their team picking up the receiver in their thousands to listen to the latest goings on and bringing them closer to their club than ever before.
Bursting onto the scene in 1986 as a club-by-club telephone information service by BT Supercall following deregulation of the telecoms industry, ClubCall enabled fans to listen to a telephone news service dedicated purely to their team, keeping them up to date with all the goings on and even allowing them to hear full match commentaries.
Leading clubs in the then First Division wasted no time in signing-up on a revenue share basis, whereby they received a percentage of income from the calls to their official information line which quickly proved popular among fans who could hear club news, interviews and commentary on the telephone by ringing an 0898 prefixed number.
Such was its popularity that ClubCall soon expand to cover 72 teams in England and Scotland with clubs falling over themselves to be part of a new and exciting information sharing platform listened to by millions.
Local reporters provided an at-the-ground news gathering service, which was then fed back to ClubCall's headquarters in London where it was updated by a team of editors before being broadcast to thousands of fans across the nation - as long as they were willing to pay.
Meanwhile, on match days, fans and enthusiasts were drafted in to commentate on games for those who couldn't make the action in the days before wall-to-wall TV coverage; one such reporter was Match of the Day's very own Jonathan Pearce.
Those who now get their football fix free at the click of a mouse or the swipe of a smartphone may find it hard to believe but ClubCall was generating some serious amounts of money by the end of the decade in what was a turbulent time for English football.
Attendances had fallen sharply in the mid-1980s with a number of tragedies tarnishing the name of the game while TV companies had all but turned their backs on the national game, meaning increasingly hard-up clubs were prepared to try anything when it came to generating revenue.
By the end of the 1987/88 season, ClubCall had received 12 million calls, each costing callers between 25p and 38p per minute and for those sides at the top end of the First Division, such as Liverpool, Manchester United and Arsenal, they could expect around 2,500 calls a day.
In fact such were the numbers of calls that in the summer of 1989 - after one of the most exciting title races in history between Liverpool and Arsenal – it was estimated that the service was pouring as much into football's coffers as Barclays' sponsorship of the country's top tier.
In 1991 BT sold ClubCall to Ladbrokes at a time when the premium rate telephone market was flourishing with the bookmaker seeing it as an opportunity to associate its brand with football, which was becoming an increasingly important betting medium prior to the formation of the Premier League in 1992.
CLUBCALL From 1989/90, very expensive to use.
First appeared in 1986.
@FootballArchive
@MemorabiliaMal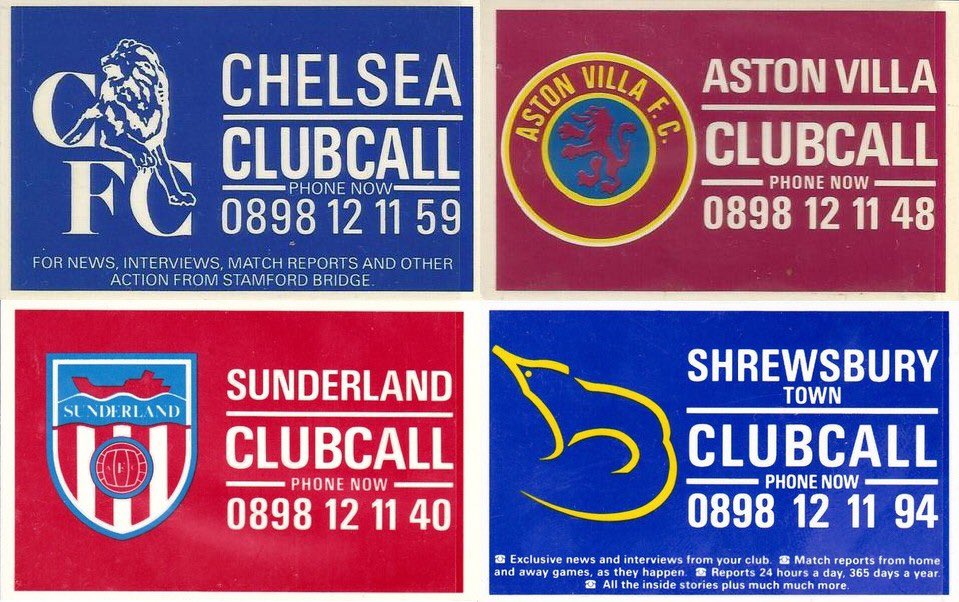 Around the same time a competitor called 'Teamtalk' was launched as an independent telephone service by ex-ClubCall editor Ian Holding which latterly went on to attract a huge internet audience by the end of the decade before being listed on the London Stock Exchange in April 2000 at the height of the tech-stock boom.
Clever marketing techniques would often see ClubCall running advertising teaser campaigns on Teletext which would urge fans to call up (after checking with the bill payer of course) in order to find out who their team's latest transfer target was; only to be told that the "London based star" interested in a move was actually a trainee at Barnet who was available on a free.
However, due to the fact that the clubs themselves were seeing very handsome returns for their information with over-eager supporters willing to pay for the latest news, they often saved their scoops for ClubCall rather than offer them to the tabloid red tops of which they had little or no control.
Alex Ferguson was always keen that Manchester United fans got all the latest from Old Trafford direct while Ian Wright once told Arsenal ClubCall that referee David Ellery was a "little Hitler."
When Gerry Francis walked-out as manager of Queens Park Rangers in 1994 his first interview was with Rangers ClubCall and just a few days later, when Ron Atkinson was fired by Aston Villa; you know who broke the news to the supporters.
The service wasn't without its hiccups though, which often provided some of the highlights of an otherwise smoothly run operation. In 1998 Wimbledon boss Joe Kinnear reeled off a string of expletives when journalists accused his side of being relegation fodder only for the outburst to be sent live down the phone line to thousands of shocked listeners.
Another blunder saw the home phone number of an employee being printed on advertising hoardings at Walsall in a pre-season friendly while QPR chairman Robert Thompson once forgot to hang up after calling ClubCall following a midweek match and ran up a bill of around £500.
Trying to explain to my Son about life before the internet and when the only way to find limited club news was via the joy that was Sheffield Wednesday Clubcall
#SWFC
😩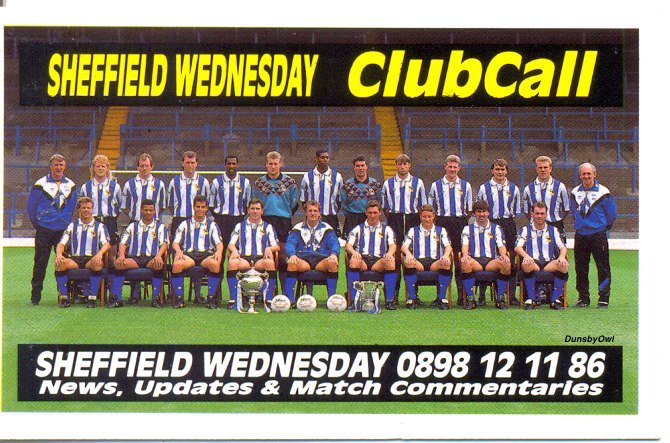 As the 2000s dawned the writing appeared to be on the wall for ClubCall, however, as the popularity of the internet and the availability of broadband spelt the end for its business model in the same way that downloads and DVDs did for Our Price's records sales and Blockbuster's video rental market.
In 2001, Glasgow-based Thus plc, who had purchased the business in 1999, wanted to focus on building sales of phone and internet services to the corporate sector and sold ClubCall and its other consumer brands to mobile media firm iTouch for £3.5 million.
A change of approach due to the perceived lack of interest in telephone news services meant that in 2004 iTouch began focusing its efforts on reporter-based content for the web and in 2008 ClubCall were sold to Independent Content Services Ltd (owned by a certain Mr Holding) as a provider for mobile and the internet in addition to his telephone service.
It may be difficult to comprehend now but for anyone who knew their team's number off by heart, or those who sat through seemingly endless musical introductions and reporters pausing at every available opportunity before reading the headlines, just to gain the slightest sliver of news on their club's daily dealings; it's easy to understand why so many of us were hung up on Clubcall back in the day.