Christian Eriksen was bought by Spurs in 2013 for £11m
12:11, 07 Aug 2019
Mere days before the end of the 2019 summer transfer window, a familiar player raised their head to capture their own fair share of the gossip column inches.
With the procurement of Harry Maguire at the beginning of August in a world record £80m deal for a defender, Manchester United marched to the front of the Premier League spending pack, ahead of the 2019/20 season.
Christian Eriksen was once again linked with a move to the Red Devils, the reports appearing around 48 hours before the transfer deadline. Eriksen has a year left on his current contract at Tottenham Hotspur, having last signed an extension in 2016.
The predicament was clear - Spurs would have to run the risk of seeing the Dane leave on a free less than a year later, with his contract ending on June 30, 2020.
Speculation about the high-profile figures of Paulo Dybala and Bruno Fernandes moving to North London produced the hypothesis of Spurs requiring funds which would be generated by an Eriksen sale. Eriksen is currently the 19th highest assist provider in Premier League history.
When a deal between Manchester United and Tottenham Hotspur has come into fruition, both parties have had a relatively successful recent history in players moving from N17 to the Theatre of Dreams.
For the failed Luka Modric or Toby Alderweireld bids that perpetuate in memory, there's a Dimitar Berbatov or a Michael Carrick.
At the beginning of 2018, Michael Carrick was offered a place in the Red Devils dug-out by Ole Gunnar Solskjaer's predecessor Jose Mourinho, following Carrick's retirement as a player and continuing his long-standing association with the club.
Carrick had spent 12 years as a Manchester United man preceded by two years as a Lilywhite. In total, United had to spend over £18million to bring the midfielder from Spurs, at the time regarded as fairly gargantuan expenditure, particularly for a rather unglamourous signing.
The majority of Carrick's autobiography 'Between The Lines' speaks warmly of his many achievements at Manchester United, and the pride and privilege that came with wearing the shirt, walking out at Old Trafford, and establishing an affiliation with the fanbase - something that would have been thought unlikely at the time of his initial moving from London to Manchester.
🔴 Michael Carrick...
- Champions Leagues: 🏆
- Premier Leagues: 🏆🏆🏆🏆🏆
- Europa Leagues: 🏆
- FA Cups: 🏆
- League Cups: 🏆🏆🏆
- Club World Cups: 🏆
CLUB LEGEND 💯
#MUNWAT
#MUFC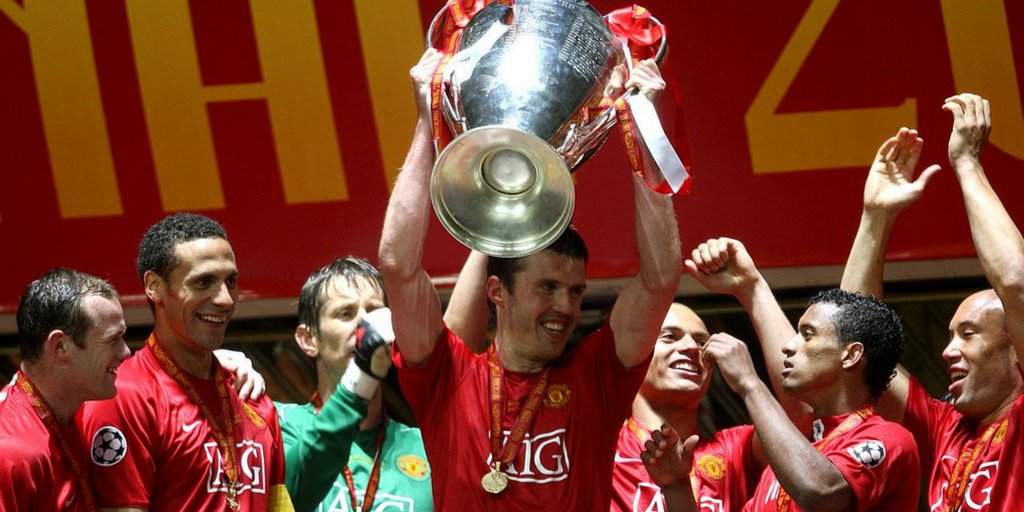 As of August 2019, he is Manchester United's sixth-most capped player in Premier League history. Not only did he claim every single major piece of silverware at the highest level, but reached the apex of his career by being made skipper.
In 2008 Dimitar Berbatov was purchased by newly-crowned European champions Manchester United, despite the advances of the newly-loaded noisy neighbours smarming after a blockbuster takeover by the Abu Dhabi Group.
The Bulgarian cost £30.75m, a singular figure that was narrowly beaten that same summer by Manchester City's £32.5m alternative signing Robinho. However, when taken into account the inclusion of Frazier Campbell moving to White Hart Lane as part of the deal, on loan, the price of the two is even likely to be more similar, a result of the characteristically tough bargaining of Spurs chairman Daniel Levy.
Berbatov, a silkily sharp striker, was at odds with pundits, commentators, and - of course - rival fans throughout his Manchester United career, fending off criticism for his rather blasé but nevertheless charismatically attractive approach to the game, blessed with a Michelangelo-esque delicacy of a first touch.
The forward memorably provided a hattrick in a 3-2 win over United's perennial rivals Liverpool, at the beginning of a season in which he would share the Premier League Golden Boot with Carlos Tevez of Manchester City for most goals scored in a single campaign. Berbatov left Manchester United in 2012, with two league titles, and a League Cup.
His individual glory as a United player is however slightly eclipsed by another Spurs alumni.
Going back slightly further, Teddy Sheringham intersected a seven-year association with Tottenham Hotspur with several seasons at Manchester United. Sheringham was signed by Sir Alex Ferguson from Spurs in 1997 (following Eric Cantona's retirement) in a £3.5m deal and would go on to have an integral - or rather, memorable - part in the historic continental Treble won by Manchester United in 1999. Sheringham was awarded the Sir Matt Busby Player of the Year in 2001 having finished top-goalscorer that season.
His debut four years earlier for the then-Premier League champions however began with ignominy, missing a penalty against the club he had just signed from: Spurs.
There have been several more eccentric characters to have worn both the White and the Red over the years, including Garth Crooks, former South China captain Chris McGrath and anti-vegan vigilante Alan Brazil.
Eriksen may never play for Manchester United. The lack of transparency to the public of a transfer negotiation makes it entirely unclear as to which party is ultimately responsible. However there are evidently several luminaries who the brilliant playmaker could look to who have travelled down the Red Devil Road and perhaps pondered as to just what could have been.