Pit lane presenter Jennie Gow looks forward to a fascinating season of racing
06:55, 09 Mar 2020
The fireworks are exploding overhead, the music is pumping from the PA system and Lewis Hamilton, along with his Mercedes team, have just won the title again. I dash towards the pit wall with my microphone at the ready and pounce on the first team member I see – Mercedes' technical director, James Allison.
His smile says it all. This is a team who have fought hard to win and are enjoying the sweet spot but it's not long until our attentions turn from the celebrations in Abu Dhabi to the fight for more… Can Mercedes do this again next year? Can they dominate another season in Formula One? James is his usual humble self and says, "The team will have to work hard if they're to stay ahead of the chasing pack".
Fast-forward three months and Mercedes release a video explaining their new 2020 car – the W11. They haven't stood still, knowing they have the best car on the grid (they've won six world titles in a row). Instead they have developed the car so that the front, the middle and the rear are all an improvement on last year's car.
The gauntlet has been thrown down. Can anyone do anything to better the brilliant Benz?
It took just two days of testing in Barcelona for their innovation and desire for continued success to be presented on the circuit. Lewis Hamilton was driving with his familiar style when, all of a sudden, the Mercedes steering wheel moved. I'm not talking left and right, I'm talking forwards as the driver approached a corner and backwards as he accelerated out. Paddock whispers turned into shouts of excitement as the news rippled through F1 – Mercedes had brought something to the game that could potentially be a game changer.
DAS ist good…
The team finally introduced us officially to DAS at the end of the day – the Dual Axis Steering system will help balance the compromise between straight-line speed and cornering and could see the team being able to manage their tyres so well that they could feasibly move even further ahead of their rivals.
I hear groans already from F1 fans, fearing another season of Mercedes domination. But until the season starts to unfold it's impossible to tell what effect DAS will have for Mercedes, and there are plenty of other storylines to keep us enthralled.
Ferrari will seek further clarification from the FIA over the legality of Mercedes' innovative DAS system.
#F1
#F1Testing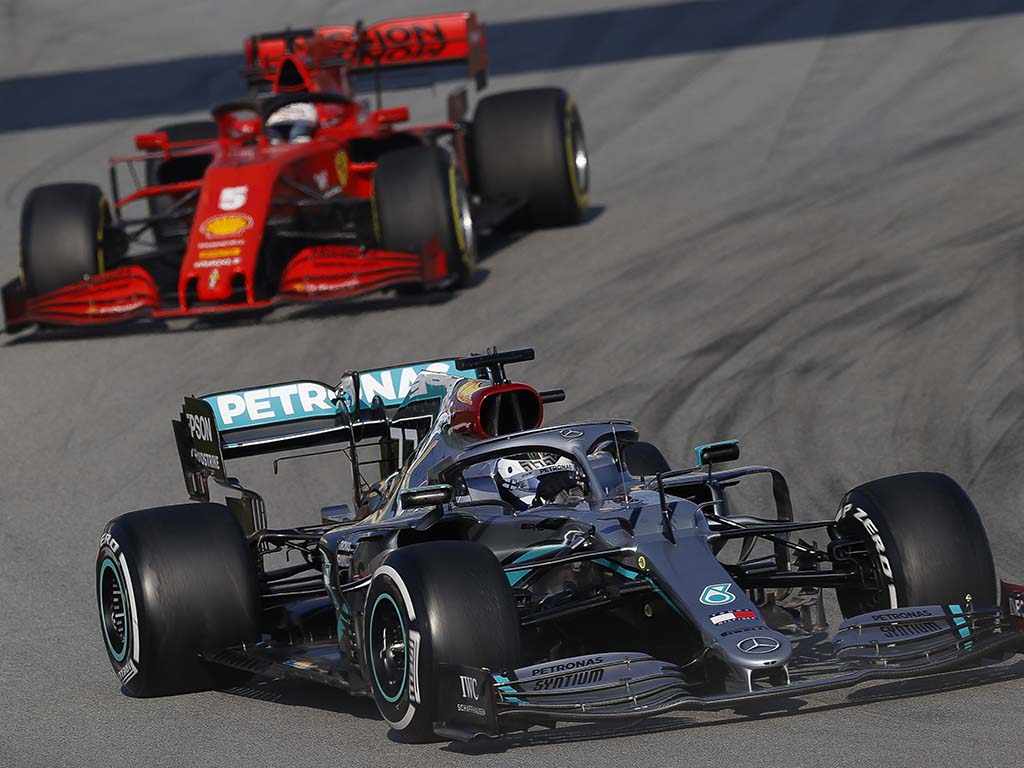 Ferrari have been cleared of any wrongdoing last season with their fuel flow, and the FIA came out with a statement right at the end of testing saying an agreement had been made between the two parties going forward – but what does that mean? There are certainly lots of questions to be asked going forward and many of the other teams up and down the paddock seem displeased with the wording of the FIA statement.
Whatever the situation, the Ferrari report card at the end of 2019 read 'Must do better'. This is arguably the richest team in motorsport but they haven't won a title since 2008. With a four-time world champion in Sebastian Vettel and the slightly mercurial Charles Leclerc as his teammate, one could argue they have the strongest driver line up on the grid. But can the two of them play nicely this season and bring home the win?
Last year saw incident after incident as Vettel and Leclerc battled to be the best. Leclerc came out on top (marginally), but another year spent playing second fiddle to his teammate and surely Vettel will look to leave F1. What joy would there be for a title winner to be a number two? Leclerc has proven in his first year with Ferrari that he has what it takes to challenge Vettel, but can he keep that up in his second year and maybe even challenge Lewis Hamilton and co if he has the car beneath him to do so?
In the winter break Leclerc decided to go skydiving without permission from Ferrari – a bold move as he isn't insured to do anything more dangerous than say boo to a goose, but the Monegasque rationalised that if something went wrong it would be too late for anyone to complain! That sums up Charles – he doesn't conform and he won't always listen to orders but, my word, it makes him an exciting and unpredictable talent.
The other young gun chomping at the bit for his chance to win the championship is Max Verstappen. He told me at the end of last season, "If I'm in the right car, I will win." Of course, every driver believes they are the best given the best car, but there is something about Verstappen which makes me believe him. Whether it's the glint in his eye, his surefootedness or the air that you inherit from being the son of an F1 driver (his father is Jos Verstappen), when Max says one day he will win – I think he probably will.
The next generation are certainly lining Lewis up in their sights. They're hungry for success and they, like so many at home, are bored of Mercedes being brilliant and dominating the sport.
Toro Rosso have morphed into Alpha Tauri (for correct pronunciation think The Only Way Is Essex – TOWIE) and their car is pretty awesome to look at. It was voted the fans' favourite livery with its striking black and white.
Meanwhile Renault will try to make amends for a shabby season in 2019 and give drivers Daniel Ricciardo (who seemed to spend most of his off-season singing) and Estaban Ocon a car that can compete. A big automotive brand like Renault can't languish in the midfield, they must get on top of their issues and start to position themselves for 2021.
While Lewis Hamilton will try to catch the headlines as he attempts to win his seventh title – equalling the all-time record of the great Michael Schumacher – the subplot will be about next year. A whole new set of regulations are set to be introduced in 2021 which many hope will make the sport super-competitive and bring about a real battle of the best drivers and cars.
It could mean the end of Mercedes' domination, and it will mean the cars look radically different.
Most of all, maybe, just maybe, we'll be in a situation where sometimes, just sometimes, the underdog might win, and while many cheer on Lewis and his phenomenal achievements – he surely is one of the best sporting successes we have had in the UK – there are many who would like to see someone else get a chance. At the very least, Hamilton being pushed to the very limits of his talent would be a start.
Whatever happens this season, you can be sure that along the way there will be plenty of glitz, glamour and intrigue.