'For some people, the football club has been as much of a part of their life as any family member'
13:04, 09 Sep 2019
Those who attend football in the lower leagues, in particular, understand what goes on during the 90 minutes is by no means the entirety of the experience. It's about routine. Everyone has their own, but a Saturday home match usually means the same thing repeated 38 times, as their club fulfils its home fixtures.
The morning is all about anticipation, killing time before noon means it's time for lunch or to set off to a local pub as the atmosphere builds. As others stick to their matchday rituals, you see the same people on the way, call in at the same local shop, or stop at the same programme seller every single week.
Waiting for team news, the discussion centres around the manager's choices, with either disappointment or delight. You might think his choice to bench the usual striker is a bad one, but your mate is adamant it'll put him in his place to spend a week out of the starting lineup.
Everyone who walks through the turnstiles is there for the same reason - to see their team win. Yet it is the sense of community that binds these people together. They come from all backgrounds. Some are wealthy, some are not, some are young, some are not, children, parents, grandparents.
They are not the same, yet they cheer together, laugh together, and sometimes cry together, through good times and bad, they are there for each other. To experience both joy and pain in a group setting helps to find our common humanity and negates the divisions that usually separate us.
We ditch our natural cynicism when we hug a random stranger after a goal in the 90th minute, and it feels good. The joy comes from belonging to something that is bigger than ourselves as individuals.
This is why there was an outpouring of sympathy from the wider football community as Bury FC were expelled from the EFL on August 27. At that moment, their entire fanbase had lost what was sacred to them, as well as everything that came with it - their connection to the community, their routines and even their friends.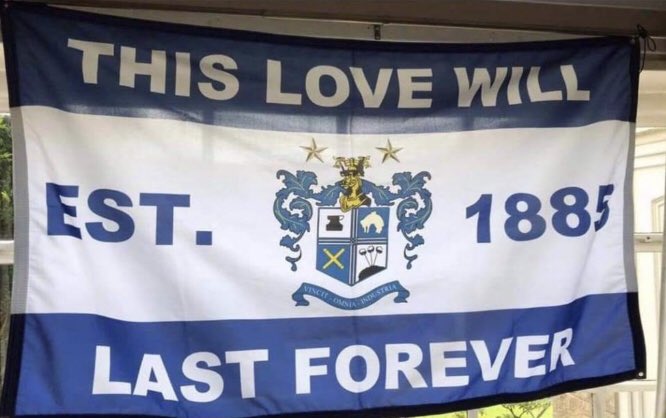 Many had lost their jobs, and local businesses will have to cope without the much-needed extra revenue that's generated when Bury play at home. Those within the club may have worked in football, but none benefited from the astronomical sums of money that exist at the very top level of the game.
For many, the feeling of loss when the deadline passed without anyone to save the club resembled the grief experienced upon the sudden death of a loved one, disbelief, emptiness and shock.
Indeed, the thought of memories shared at Gigg Lane with relatives who've since passed must've brought back that sense of agony at their departing, as the tradition of attending matches would no longer continue.
"My grandma and my mum were both Bury fans, and the former had just come back from a holiday in Torquay, so it was decided that it would be fitting if the first time I attended a Bury match was against them. It was on a Tuesday night, a few weeks before the end of the season," Shakers fan Peter Taylor told The Sportsman. "It was a 1-1 draw, infact I didn't actually witness a win until the following campaign, but from the start there was just something almost imperceptible that made going seem like home - quite a comforting feeling that I still remember a quarter of a century on."
For some people, the football club has been as much of a part of their life as any family member, attending the matches since before they even went to school.
"I first went to a Bury game when I was three-years-old, with my dad," supporter Jamie Hoyle recalls.
"I haven't looked back since. It's definitely a family and community thing for me. What happens on the pitch is, of course, important, but I'm a Bury fan because it's part of my heritage. I'm proud of our history, and proud of our town, I wouldn't have it any other way.
"On Saturday, August 31, the Shakers were supposed to host Doncaster Rovers at Gigg Lane, however there was no team left to support. "It was absolutely devastating," continued Jamie. "I went to the ground on Wednesday morning ahead of some media appearances, and I just wept.
"Bury has been such a huge part of my life for as long as I can remember, I haven't known a time where I haven't had a Bury game to go to, or look forward to. To lose that is heart-breaking, not just for me but for our community as a whole. Football is about so much more than 90 minutes on a Saturday, and I fear for our town now that has been taken away."
For this Northern team, there's no light at the end of the tunnel, with no decision on whether they can be resurrected. However, their supporters will keep working to ensure there's at least something to cheer, for themselves and for future generations.
"I'm going to keep fighting for some sort of football club in Bury, be it re-entry to League Two next season or nestled in the North West Counties,"insisted Jamie, who has made a short film on YouTube about what Bury FC means for the area.
"This town needs a football club, it's a powerful thing to have thousands of people from all walks of life congregate together on a Saturday afternoon, and for Bury to lose that forever would be unthinkable. We owe it to ourselves and to our town to keep working towards that goal."