The terrifyingly addictive management simulator is released next week
17:00, 17 Nov 2019
Football Manager 2020 is officially released on 19 November but users have been able to play the beta version of the game for two weeks, to mixed reviews. While the latest instalment of the Sports Interactive franchise includes many minor tweaks that have improved overall gameplay, there is a growing sense that Football Manager has become a little bit stale, lacking major innovations for several years.
So we've come up with three ideas for future iterations of the game that would each represent a major revamp on how users interact with the FM world. But first, here's a rundown of the three best new features you can expect from Football Manager 2020.
New Features
Development Centre
There is a whole new section this year to keep track of your young players, including those out on loan and those working their way through the ranks at your club. There aren't too many elements of the Development Centre that are strictly new, but compiling data in one convenient place does make it easier to develop players and juggle your duties. The aim is to put player development front and centre, which makes sense given the number of gamers who enjoy unearthing wonderkids.
From one screen, users can see a list of all their young prospects and how they are getting on. Their overall progress is clearly displayed in a line graph, allowing you to quickly understand if that 16-year-old striker is benefitting from being around second-string players or simply rotting in the reserves.
Club Vision
Having a long-term vision has never been more important for the modern manager; projects, adhering to the specific and perceived 'Way' of the club, are vital for supporters in this day and age. That's why the new 'Club Vision' is a welcome addition, albeit yet another example of a marquee FM feature that is more of a tweak than an overhaul.
Throughout your time in management you will have to adhere to board expectations, as usual, only this time there is a 'club culture' and '5 year plan' on which your achievements will be judged. Long-term targets mean building for the future, giving managers more time to cultivate a project – but less choice in how you get there. Some boards will expect attacking football, for example, and your ability to live up to this will affect your world standing – as well as future employment.
Development Centre 💪
Take full control of your youth team operations in a new all-encompassing hub. Nurture your young stars from the moment they arrive until they're ready for first-team action
#FM20Touch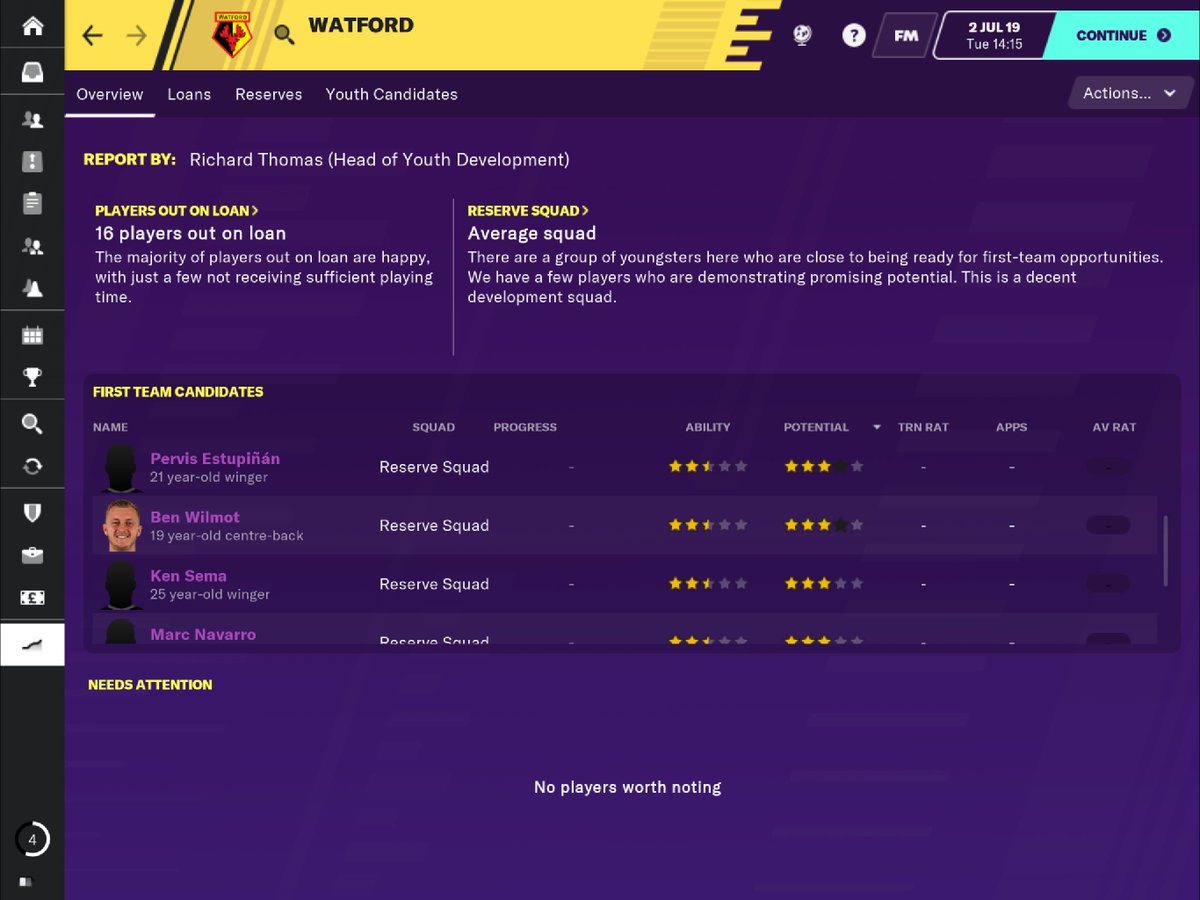 Improved assistant feedback means tactics are slightly better
Although somewhat buried on the FM website, there are a couple of important tweaks made to how your coaching team will assist tactically. If your individual or specific team instructions change too much from the defaults attached to the 'tactical style' selected in the tactics creator, then your assistant will warn you and suggest fixes. This is a helpful way to keep track of your overall cohesion, and a much needed insight into exactly how the game's match engine works.
Secondly, you can now select any square on the tactics pitch, right-clicking to find out what your strengths and weaknesses are in this zone. Again, it all helps to make the myriad tactical instructions a little more understandable.
Features we want to see
A huge online/community revamp
Not many people play Football Manager online, which is almost unheard of in modern video gaming. It is about time Sports Interactive introduce gameplay that links the community together, in both small and large ways.
Using the FIFA Ultimate Team model could work, with players bought and sold online to create fantasy teams that then face each other online in a league system. There should also be an option to use your current team from a local save in one-off games online, as well as an option for the community to create their own Challenges, uploading them online with a database for others to explore.
Once the community gets involved in creating and sharing content, all sorts of mini-games could be discovered – for instance a 'legends' database, or, for example, a recreated 1995/96 season in which you get the chance to see out Newcastle's 12-point lead at the top of the Premier League.
Finally, how about an ordinary campaign mode but with online integration? Your own team's story remains local, but for every league fixture you are matched up with another gamer using that club.
You and your assistant when you win Manager of the Month after struggling all season.
More complex interactions with the virtual world
One of the most important parts of football management is psychology; dealing with egos, creating a culture, motivating through slumps and keeping minds focused through purple patches. It is bizarre, then, that this is so tediously simple on Football Manager. Player interactions are minimal, and can be entirely ignored, while team talks and press conferences have been set to the same four or five stock responses for years.
It would be a welcome change to have a dynamic, multifaceted half-time in which individual issues arise, different coaches offer varying feedback, and the captain gets involved. A squad of 25 men ought to be a complex social space, but right now it is lifeless.
As part of improving active engagement in the virtual world, users should also be able to post on the in-game social media (a feature most of us currently ignore). Fan engagement, fallings out between players, and wider media narratives are conspicuously absent.
More help integrating stats and improving tactics
Although there are plenty of sliders on the tactics screen, it isn't always clear how these impact the game – unless you watch the full 90 minute match and take copious notes; to be a master tactician you need to treat FM20 like it's real life, and few us have the time or inclination for this.
There is a simple solution that would revolutionise how we play Football Manager. There should be a tactical highlights package released after each game, giving users a chance to view 3D examples of tactical strengths and weaknesses from the game – not unlike how Wyscout operates. Furthermore, your scouts should give more specific advice about upcoming opponents; try crosses from deep on the left flank because their right winger doesn't track back, for example.
It is just too difficult to know exactly what worked, exactly which tactical tweak made the difference when only watching key highlights. A more clued-in assistant could give advice that allows us to navigate the sliders and know which of our actions are impacting performance.
Football Manager 2020 is released on November 19.