The army vet has achieved all sorts since suffering life-changing injuries
06:56, 24 Feb 2020
"Everything slows down. I can clearly remember lights. Like darkness and then a white light. And then coming out of that again and suddenly all the noise and all the chaos was then present again. That's when I realised something bad had just happened."
British para-cyclist Jaco van Gass is recalling the most harrowing incident of his life, a firefight that would change his path forever. As a member of the Parachute Regiment in the British Army, he was doing his second tour of Afghanistan and was just two weeks away from returning home when disaster struck.
"We were deploying on what would have been one of our last missions for that tour. It was a very successful operation," Van Gass tells The Sportsman. "We had gained intel on an improvised exploding device (IED) facilitator - a guy who sold both suicide vests and IEDs - and we had been after him for some time."
With the culprit caught and devices disabled, spirits were high as the platoon made their way back to where helicopters would meet them and return them to base. However, they came across a Taliban stronghold they were unaware of and a massive firefight ensued. In the early hours of his 23rd birthday, Jaco was being shot at. Positioned next to a machine gunner lighting up the night sky with flames, he was a target for the Taliban.
"The first rocket-propelled grenade came over our heads and exploded in the distance," he continues. "Then the second one was fired low. That was the one that headed towards me and I knew it was going to be close. At this stage I was on one knee, giving covering fire to my sniper partner, when this rocket headed my way and exploded right next to me.
"I can just remember the sound of this rocket getting louder and then a very, very big bang next to me. I think there is a couple of seconds of confusion and a gap that I can't remember, but it felt like a very long time which is actually just a couple of seconds between being hit and waking up again. The blast blew me about five metres away from my original position and immediately severed my left arm and a big chunk of my left leg was blown off.
"I woke up quite dazed and confused but I knew about my arm once I came to and I saw the damage to that. You don't feel pain immediately, your body is in shock so everything went quite slowly. You're trying to comprehend what just happened, then slowly the pain starts kicking in. I couldn't feel the arm much because the nerves are so confused. It was blown clean off, but I also sustained quite a lot of injuries to my leg."
Opinions are the cheapest commodity in life because we all have one and are entitled to one!
Let's not forget what Price Harry has done for thousands of people all around the world...he made a huge difference in my life and I will be forever great full to him.
#PrinceHarry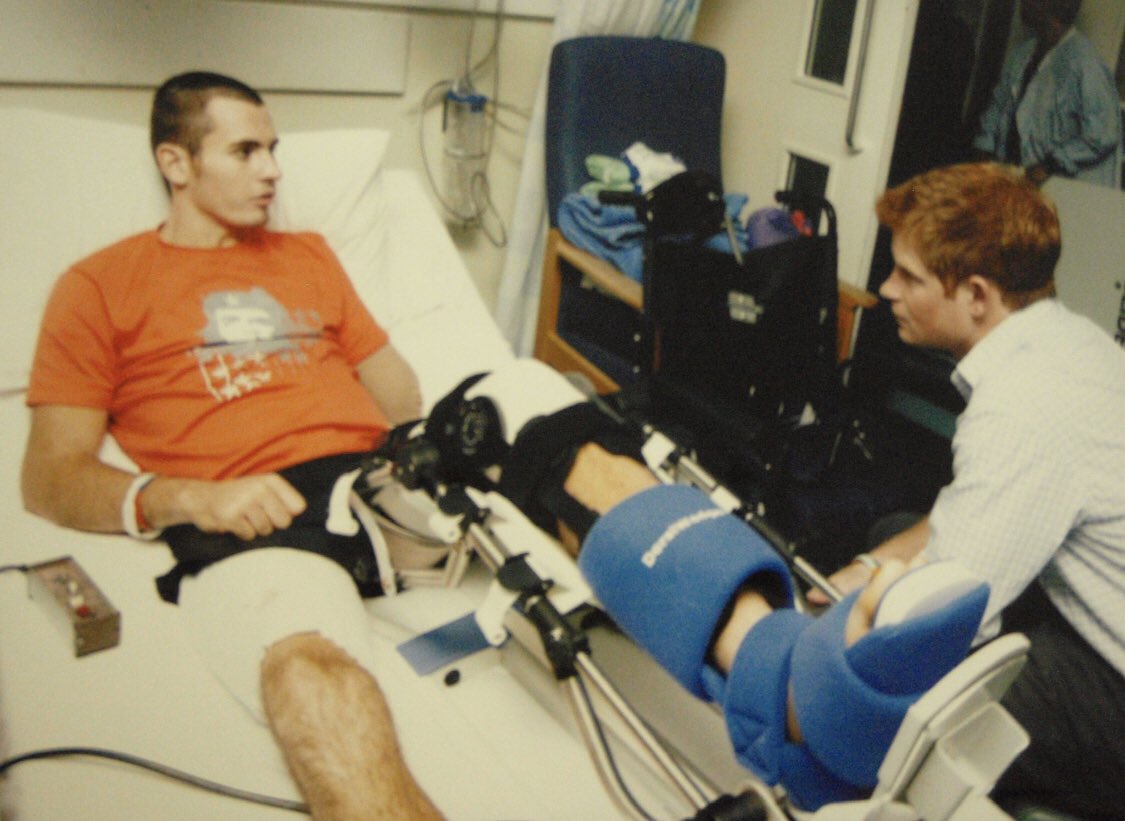 Jaco attempted to stop the blood flow by putting on a tourniquet but he simply could not do it up tight enough. After receiving help from teammates and medics on the ground, he was taken to the safety of the helicopter with the aid of protection from air support. There, he was given life-saving treatment by an on-board doctor before losing consciousness.
"I was in and out of consciousness until we landed and, the next thing I knew, I woke up six or seven days later out of an induced coma in a hospital in Birmingham. I thought 'great, from Afghanistan to Birmingham, from one s**thole to another,'" he laughs.
It took 12 operations for Jaco to be able to walk again, a slow process which tested his mental strength. After a lengthy period of recovery, Jaco began rebuilding and setting big targets. He first learnt to walk, then he learnt to ski, and from there he pushed himself further and further. A half marathon in Kenya? Done. A marine marathon wearing full army kit? Completed it.
A chance meeting in a gym with an old friend from the parachute regiment would reinvigorate his chances of going to the North Pole after initially being denied the opportunity due to the severity of his injuries. Two years after becoming an amputee he set off for the most northerly point on the planet.
"I learned on the trip that it is okay to ask for help. It was a big lesson which is amazing and I still apply it to my life today," Jaco adds. "As a soldier, and especially a paratrooper, we are very independent. I wanted to show the world that I was okay, that I will deal with this injury. But when you are in such a harsh environment and it is -42C you need to be quick and it is okay to ask for help."
For six days of the trip, Jaco was joined by patron of the 'Walking with the Wounded' charity and armed forces supporter, Prince Harry."He is just a wonderful guy, so passionate about the work he does and obviously especially for the armed forces. It was really great having him there, and it felt like we had lost a team member when he needed to fly back halfway through the expedition. But we were extremely grateful for him to give his time and attention to what we were doing."
Two weeks after setting off, Jaco became the first arm amputee to reach the North Pole, something that had seemed impossible two years previously.
"It was quite emotional. Absolute joy, I was a bit blown away," he recalls proudly of that special moment.
"We had achieved something extraordinary. A lot of people within the polar community would say we wouldn't be able to do it. The distance we wanted to do was too far. The fact we wanted to do it unsupported with the injuries we carried was never going to happen. To prove them wrong was nice. To prove to people in the military and civilian life - to show them that life can go on after injury or illness, to try and inspire them was something amazing."
That would have been enough for most people, but his remarkable story does not end there. A trip to the top of Mount Everest was cut short due to bad weather just six days before 11 people were killed on the mountain in another avalanche. Despite the obvious dangers, it hasn't put off the irrepressible Jaco.
"It was definitely the right decision to be made and we will just try again at some point," he says. "It is still a great passion, it is still the box to tick. I definitely want to go back and have another go."
Another "hugely inspirational" moment for our intrepid explorer came as he was chosen to carry the Olympic torch ahead of London 2012. From that moment he decided he wanted to become a Paralympian, and the very next day headed off to take part in the Ironman UK event in Bolton.
His cycling was so strong that he was taken on by the British cycling team with the aim of qualifying for the Rio 2016 Paralympics. After four years of training and sacrifice, Britain had just five spaces for male Paralympic cyclists on the team and 15 medal hopes. Despite everything, Jaco did not make the cut.
"It was very difficult to deal with. I totally fell out of love with it. The regime is so strict, everything is monitored. You are always riding at a certain speed, cadence or power output. If you don't do something right there are questions asked.
"I took a little break but I never stopped cycling. I put my Garmin away and rode my bike for fun. Myself and four friends bike-packed. We cycled 1500km through Patagonia. The Paralympics is once in a lifetime, the other stuff we can go back and do again. But I actually decided that it was time for that," he explains of his decision to split with British Cycling in favour of greater independence.
He has since climbed the highest peak in South America, raced across the United States on his bike and become the first disabled person to complete the Cape Epic, an eight-day mountain bike race in South Africa.
"I would win a race or do well and that would qualify me to represent GB at World Championship level. I would come away from most of those with medals. Then I would go my own way again and do whatever I wanted once the competition was over."
With Tokyo looming and that nagging desire to become a Paralympian still lingering, Jaco decided in October 2019 to rejoin the team with all of the support they can offer. Just a few months later that decision appeared to be vindicated as he became world champion in the Kilo, Omnium and Scratch events on the track. With only the Kilo an event at the Paralympics, he is not yet guaranteed a spot on the plane. He will know for certain in July, but all his focus is on that gold medal.
"I don't want to go to the Paralympics just for the fun of it," he insists. "I want to go and I want to do the very best I can, and that means targeting that gold medal. It is purely not about partaking, I'm there to win."
Jaco possesses bucketloads of determination and one of the biggest hearts in sport. His achievements seem endless, from the North Pole to Everest, Patagonia to South Africa he has almost conquered it all. But there is still a burning desire to top all of that in Tokyo.
"I can't specifically place one achievement above the others, but Paralympic gold would surpass everything. Definitely."