What did we learn from Amazon's first delivery?
12:48, 04 Dec 2019
The Premier League has finally landed in the future.
Football's new internet era began on Tuesday as Amazon Prime's top-flight coverage was launched, giving fans the ability to stream games (legally) for the very first time in the Premier League's 28-year history.
With the Sky and BT duopoly broken, there were some interesting new differences in Amazon's first delivery. Although some people experienced slight technical difficulties with their internet streams, overall we think Amazon got a lot of things right on the night...
Subtle branding
Unlike several of their competitors, Amazon branding was not forced down our throats from the very first minute and this was certainly a step that Prime had intentionally taken. Football fans now no longer care where they watch their football, just that they can watch it and have an enjoyable experience while doing so. Simple.
This lack of channel loyalty means companies really don't have to splash their branding everywhere and it made for quite a refreshing change to enjoy a simplified football experience. If the product is there, people will come, no matter what channel it is on.
Perfect Pundits
It was clean-cut, refreshing viewing with some familiar faces bolstered by some intriguing guests. Gabby Logan was brilliant as usual hosting the Burnley v Man City match while Eilidh Barbour steered us through Crystal Palace v Bournemouth match with ease.
The pundits were also comfortingly familiar. Thierry Henry, Nigel de Jong and Roberto Martinez nestled away in a studio, protected from the biting Lancashire cold, while Michael Owen, Lee Dixon and Eniola Aluko broadcasted from Selhurst Park. Strangely for those guys, nothing had changed. A similar studio, the same job, just a different employer.
The real difference came in the commentary booth, where we were treated to the incomparable tones of Peter Drury, the most enthusiastic commentator in the business. His description of Rodri's thunderbolt: "He has given that 'THE LOT'" only certified his status and made us wish he could follow us around on a daily basis, giving the more mundane moments his customary lift.
"One sugar... Oh he's made it two! That is simply sensational, he is the king of the teabags!"
Top Tech
Once the games began, the Americans really began to flex their muscles. The fact that the goals and highlights were clipped up instantly for you to watch on a side tab was fantastic, as was the ability to go back to where you had left off, rather than picking up live.
As an interface, it was usable and easy on the eye while the technology behind it was impressive. With the quality of commentary a constant gripe for the modern football fan, the ability to turn the commentators off while still enjoying the match sounds was revolutionary. This sort of technology is the way forward in football and gives not only more choice but also instant gratification for the fan watching at home.
Good Timing
It may be simple, but moving kick-off times to 7:30pm and 8:15pm means that you can watch one game and then flick over to the other game for the second half, something that many fans will be doing for the Merseyside derby on Wednesday. Essentially, even if you only have one screen available, you can now watch one-and-a-half games rather than a single match.
On Wednesday there are a remarkable six games on, and with the ability to watch on up to six devices you could theoretically watch them all. It sounds simple, but these kick-off times mean you can watch even more football and, like the Swiss flag, that is a big plus.
Our
#PLonPrime
offering today! 🙌
⌚️ Coverage from 18:30
➡️ Live and exclusive for UK
#PrimeVideo
members: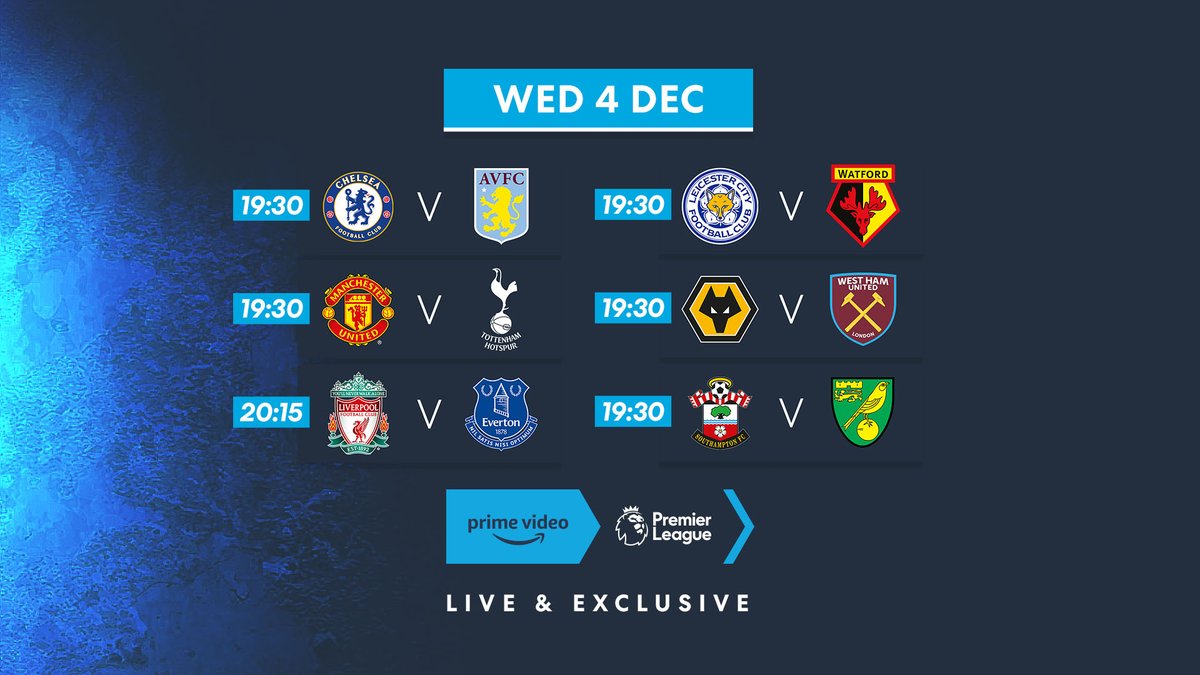 And the things that need some work….
All of the positives we have listed have been for the fan at home, with little regard for those travelling to the matches in person. Will any Norwich fans be able to get down to Southampton for a 7.30 pm kick-off after work? What about the Newcastle supporters looking to get back at a reasonable hour from Thursday's 8:15 kick-off at Sheffield United? Without fans in the ground, the product is not the same and neither is the sport as a whole.
The technological delay also caused real issues for some fans at home. With some streams about a minute behind real-time, spectators on social media were discovering goals had happened way before they had witnessed them on their screens.
As an avid viewer of streams such as NOW TV and Sky Go, the only way to get around this is simply not to go on your phone during matches and fully immerse yourself in the game, but in this era of second-screening, some people just cannot help it. If Amazon are serious about becoming one of the top broadcasters this simply will not do and this lag time must be severely trimmed.
That will be something to keep an eye out for during the games on Wednesday and Thursday, so too the Boxing Day fixtures which will be screened on Amazon. If they do sort out all of these issues then they have an extremely good product on their hands, but that may not necessarily be a good thing for football. When the experience at home becomes better than the one at the stadium we have a serious problem on our hands.
There were more positives than negatives it would seem, though, on Amazon's first big night out.