The 28-year-old has revealed just how close to the breadline he came before hitting it big
06:55, 12 Dec 2019
Nathan Aspinall surpassed all expectations in 2019. As a 500/1 outsider, the Stockport native reached the PDC World Darts Championship semi-finals, pocketing a life-changing £100,000 in prize money.
Months earlier he had been saved by a bank transfer worth one pence.
The 2020 edition of the tournament begins on Thursday, and the 28-year-old will be hoping to build on his success of 12 months ago. But no matter how things pan out at Alexandra Palace, Aspinall should never again find himself in the position he found himself before his dazzling debut on the world stage.
"Last year, I was down to my last £20. That's all I had to my name, and I'm not going to lie: It was a big worry," Aspinall told The Mirror recently.
"I have two daughters, aged eight and two, and I was going into games thinking: 'If I hit this double, I win £1,000 and that pays a month's rent.' That's how bad it was.
"I had quit my job as a trainee accountant but I wasn't performing well, I wasn't getting results.
"When you are effectively playing for the survival of your family there's so much pressure.
"I remember it clearly: I had £21.98 in the bank and I wanted to use a cash machine in a Holiday Inn hotel which charged £1.99 to make a cash withdrawal.
A mate transferred a penny into my account so I could withdraw £20 - I went to the tournament and won £10,000.
🐍🎰 18 months ago, Nathan Aspinall lost his tour card and was close to to giving up darts.
Since then he's got to a World Championship semi, won the UK Open and last night won his first ever
#WorldSeries
event, the US Masters in Las Vegas.
The rise continues
#RiseOfTheAsp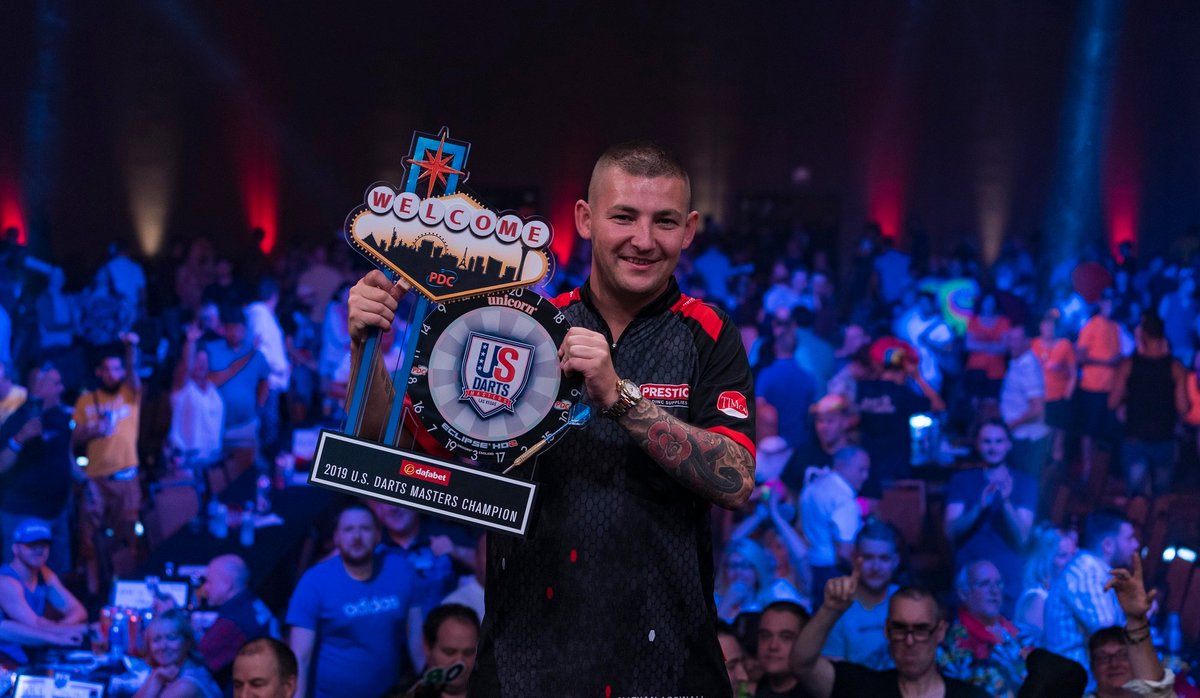 'The Asp' has since gone on to make the most of not only his friend's penny loan but also his own decision to quit football at a young age.
A former schoolboy goalkeeper scouted by Manchester United, Aspinall threw the gloves away to eventually take up the arrows professionally.
So when he secured that win in Barnsley in September 2018 - his first Players' Championship success which qualified him for the world finals for the first time, his career change had been well and truly justified.
Then at the 2019 World Championship, Aspinall stunned the darts public by reversing a two-set deficit to knock out the Grand Slam champion and world number six Gerwyn Price, getting the rowdy crowd on his side in the process.
"The crowd got on his back and I hit the winning double 16," Aspinall told The Sportsman. "The feeling was brilliant because it was just an adrenaline-fuelled game. There were so many emotions through those five sets and it was finally nice to beat a big name on stage.
"I hit the winning double and I was so proud of myself because I had battled. I was down but I never gave up."
Despite the hardship that Aspinall had suffered to support his family, the actual pot was far from the forefront of his mind
"[The second round prize money] £15,000 for me was big, let alone what I actually ended up winning. I had done my job...everything after that was a bonus and I didn't once ever think about the prize money."
He then went on to win three more contests, including taking down Brendan Dolan in the last eight, taking his total prize fund to an even £100,000.
That has certainly allowed Aspinall to live in more comfort than the hand-to-mouth existence he was verging on in the not-too-distant past, and he has continued to make a name for himself as one of the rising stars of the sport.
"To reach that semi-final was beyond my wildest dreams."
And now I don't have to worry about where the next meal is coming from.
Aspinall, who is seeded 12th at this year's Championship, made Price suffer again on his way to claiming the 2019 UK Open crown in March, narrowly defeating the Welshman 11-9 before beating Rob Cross in the final for another £100k.
We just hope he gave his mate that penny back!