The Toffees interim boss enjoyed a fairytale day in charge of the Blues against Chelsea
13:40, 10 Dec 2019
Duncan Ferguson is the Evertonian engima.
The new Toffees caretaker manager is one of the most fascinating characters in the game and returned to the Premier League's consciousness on Saturday as he proudly led his beloved Blues out of the relegation zone with a memorable 3-1 victory over Chelsea.
Idolised by the Everton faithful, particularly those of a certain age who grew up watching him tower over defenders and bullet headers into the net, 'Big Dunc' has always stood out. However, there has always been a veil of mystery shrouding the former number nine.
While his brush with the law in the mid-90s was highly publicised, Ferguson rarely gave interviews during his playing career.
Later, having hung up his boots, so distraught he was to leave Everton, he moved to Spain and kept himself out of the public eye.
The 6'4" Scot's love affair with the blue half of Merseyside began in 1994 when he scored a typically Duncan header against fierce rivals Liverpool on his Goodison Park debut having joined on loan from Rangers. Ferguson also lifted the FA Cup with Everton in the summer of 1995.
However, it was during his stint at Barlinnie prison in October 1995, that the bond was truly forged.
Incarcerated after headbutting Raith Rovers defender John McStay while playing for the Gers, Ferguson was boosted by hundreds of Evertonians writing to their new idol during his time behind bars, including a nine-year-old Wayne Rooney.
"He went to jail, wrongly so in my eyes," the ex-England skipper told Amazon Prime recently. The rare nature of his conviction coming from an on-field altercation was lost on few in football.
Duncan wrote back. He wrote back to hundreds who took the time to support their hero in his hour of need.
Duncan Ferguson takes caretaker charge of
@Everton
🔵
A nine-year-old
@WayneRooney
once wrote to him in prison - and received a reply 📝
#BOTN
Ferguson returned to Everton on his release and he repaid the favour with countless important goals.
His passion for the shirt sometimes spilled over though, and altercations with Steffen Freund, Pascal Chimbonda and Fredi Bobic have gone down in folklore.
Eight red cards is a record he holds jointly with Patrick Vieira and Richard Dunne.
Duncan could handle himself. In 2001, when two burglars attempted to rob his house, Ferguson was able to apprehend one who subsequently spent three days in hospital.
Two years later, another brave and stupid individual was caught attempting to steal from Ferguson's home and he too had to be treated by medical staff.
However, despite his fiery temper frightening opposition players into submission, he was a supremely talented footballer too.
Unstoppable in the air, he was the ultimate target man, taking the ball down on his chest while caressing it with his left foot as he held it up expertly and brought others into the game.
As well as being a brilliant player, he's an even better person.
From hospital visits to see poorly fans, taking time out to have a kickabout with young supporters in their back garden, to donating a coach to the Variety Children's Charity and £65,000 to Everton In The Community from his testimonial proceeds, Ferguson cares deeply about the people of the city.
"I clicked with them right away," he said in an interview with the Daily Mail. "I've got a lot of good friends who are still my friends here.
"That's what makes this city such a great city and makes these fans such special people. Very loyal and hard-working, that's how I'd describe the Everton people.
Duncan Ferguson showing off all his pigeons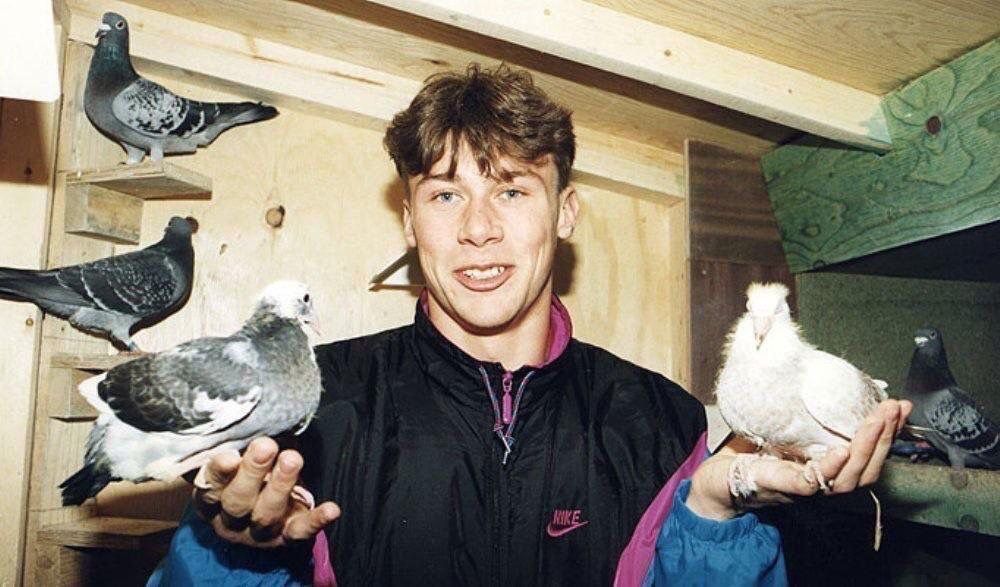 During his pomp as a player, Blues would proudly sing 'Duncan had a pigeon,' as he was a keen pigeon-fancier.
Bellowing that his birds would fly over Anfield (you can probably guess the rest) some of the most iconic images of Dunc feature him and his pigeons.
It only adds to the narrative that striker Richarlison does a pigeon dance when he scores and powered home a header in the Toffees' win against Chelsea. Dominic Calvert-Lewin, wearing the number-nine shirt synonymous with Ferguson, scored a brace too. It said it all that he raced to celebrate with 'The Big Man' on the touchline.
Saturday felt like 'Everton' again, fans have proclaimed. For so long now, under the final years of Roberto Martinez, Ronald Koeman and the recently-sacked Marco Silva, the team has not played the Toffees way.
Aggressive pressing, grit, determination, the Blues were in Chelsea's faces from the get-go.
Inspired by former manager and friend Howard Kendall, the greatest manager in Goodison history who handed Ferguson the captaincy, the interim boss wore a watch belonging to his ex-gaffer who passed away in 2015.
"I have the wristband and I have the watch, which doesnae actually work," he revealed after the game. "It's Howard Kendall's. Lily [Howard's widow] came down and gave it to me to put on my wrist and wear it. I was in between tracksuit and suit and things like that. Lily gave it to my wife this morning."
On the other wrist, sat his royal blue 'Everton' sweatband. So many connections to the club, so much meaning.
It was an emotional and poignant day in the history of the club.
It was Everton. It was Duncan Ferguson.