The 28-year old is a professional coach, manager, athlete, and husband.
11:30, 17 Apr 2020
The Big Island, Hawaii. You're staring out over the serene azure seascape of Kailua Bay, the shadow of Mount Hualālai none too distant. You've gone numb. It's the day of the race. A couple of thousand other determined athletes surround you. They've trained to breach the Pacific Ocean.
Jump in, you've got a 2.4-mile (3.86 km) swim ahead of you. Perhaps you'll be joined by a sea-turtle, a dolphin. Or shark. Climbing out of the water, no time to take a breather or shake off that odd jellyfish sting. That was merely the aperitif. You've got to complete a 112-mile (180.25 km) bicycle ride, exerting yourself on a route longer than the road from Antwerp to Amsterdam. After accomplishing a distance that bests more than half the stages of the Tour de France, you're rewarded with a 26.22-mile (42.20 km) run for your efforts.
You're at the birthplace of the modern day triathlon, the IronMan World Championships. To stand any chance in competition at this level you need to be equal parts merman, Merckx, and Mercury.
Reece Barclay, 28, is a British professional IronMan triathlete and coach. A former professional swimmer, Reece specialises in the long distance races and has been competing for the past five years. Studying sports science at the University of Hertfordshire, he met his future wife Lucy. Turns out, Lucy isn't half-bad at the odd triathlon every now and then either. Only learning to ride a bike in 2014, and reacting to narrowly missing out on a place in Team GB, she has finished with silver in the last three IronMan World Championships.
At university, Reece and Lucy were both part of the swimming set-up but the love for the sport had gone.
"She had narrowly missed out on the 2012 Olympic Games and I was struggling to balance my studies and maintain a high level of sport participation," Reece tells The Sportsman, "We needed a change.
"That's when we decided to participate in an Ironman. We were both fit from swimming but had no experience in cycling or running. We knew that something as big as that event would force our commitment and take it seriously so we signed up to our first one, which was Ironman UK in 2014. I was 23. Lucy was 20.
"I think we were a bit naïve as to how much of a challenge it would be at the time."
Due to his background in sport and education choices, Reece was aware of the importance of nutrition and how to prepare for such a long race. But the naivety was more to do with the equipment and the sheer financial costs.
"We didn't even own a bike. We had assumed we'd be able to do it on a mountain bike. We were very wrong. It was a steep learning curve."
When Reece and Lucy first turned professional in 2016 they had to race back-to-back in order to earn a living. During that time they 'raced across the world', jumping on a plane, on to the next event.
Without adequate sponsorship however, Reece was also working night-shifts in order to subsidise the money that the couple didn't have at the time, also taking on the full-time coaching position for his wife and negotiating with potential sponsors.

Reece was effectively balancing four roles: coach, manager, athlete, and husband.
Feels like déjà vu saying this but immensely proud of
@LucyAnneCharles
for putting together an incredible performance, thanks to all the teammates for getting the🌟race ready
#TeamCharlesBarclay
📸@TalbotCox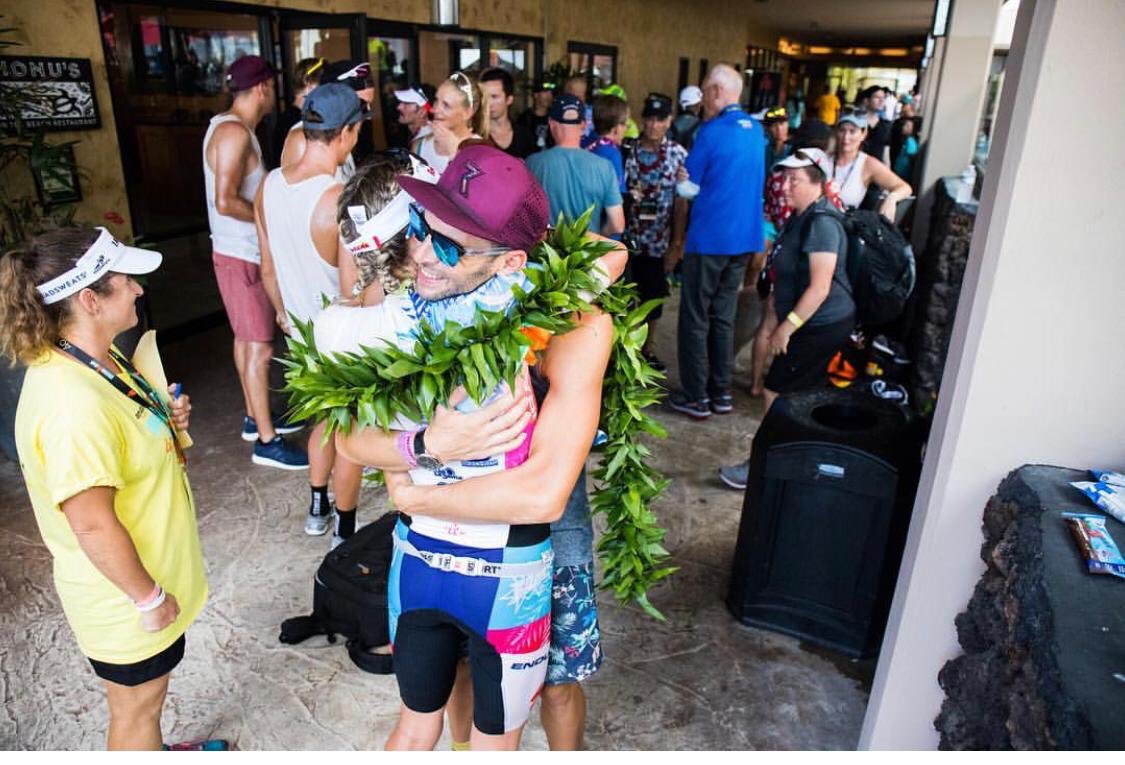 Reece won his first Age Group race in his second year and holds three Ironman World Championship Kona qualifications. In 2018, however, Lucy broke the swim course record and secured the second fastest female time in the history of the competition. In 2019, she led the race for a mammoth seven hours and 30 minutes.

"Lucy is in a different league to me," Reece declares, "What she has done has been unprecedented, across the spectrum of sport in general. After finishing second on consecutive occasions, she's still motivated to win that World Championship. She is an inspiration to everyone, including myself."
It is a massive eye-opener to see just how dedicated professional triathletes are. Three different sports, therefore three different areas to be professional about. Every part of your training, your life, is dictated by preparation and recovery.

"You can train all the hours under the Sun but if you're not recovering with the right amount of protein, stretching, the right hydration levels, eight hours of sleep there is no way you can expect your body to perform the way you want it to perform," says Reece, the biggest difference between a professional and an Age-group Athlete is everything outside of training.

"I can't stress enough the importance of nutrition and diet in that. You hear people say that you need to recover strong from a session. But it also starts long before that. If I've got a hard, long session in the week, I'll be thinking about what is going to be my nutritional strategy two or three days prior to that.
"If I have a hard bike workout on the Wednesday but if I've lifted weights on the Monday I'll know that I'd need to be topping up with my Optimum Nutrition whey protein quite regularly in that period after my weight session all throughout the day on Tuesday, so come the hard workout my legs are adequately prepared and ready to go again hard.

"Triathletes are about routine."
Reece states that, like most athletes, the adherence to routine derives from an intrinsic desire to always want to be better than when you woke up in the morning: "I've never been satisfied with a result for long."

Reece is also in the third year of his partnership with Optimum Nutrition (ON), one of the most highly regarded sports nutrition brands in the world, and now works as an ambassador for the company. ON manufactures an award-winning range of nutritional bars, protein powders, ready-to-drink sports drinks, vitamins and essential minerals, which Reece himself incorporates into his training programme.
"From the outset they wanted a professional athlete who has at the beginning stages of their career and I fitted that remit. They put their faith in me and they've been fuelling me since then. The relationship has just grown and grown."
Reece has transversed the globe in order to fulfil his dedication and passion for the sport. The ultimate question lies: how would he invent his dream triathlon?

"I've been very fortunate to have raced on near enough every continent on the planet," he says, "The swim section would take place in Hawaii. It's like swimming in a fish tank, crystal clear water. You don't even feel like you're in a race, more like just enjoying a big aquarium. The bike would be an Alp climb, and then finish off with the London Marathon."

The results from his recent training across the winter have shown that Reece is in better shape than ever and is now capable of challenging at the very top level.
"My goals remain clear. I want to qualify for the World Championships and be competitive."
"I'm ready to prove that a long block of work does pay off."
Find out more about Reece Barclay here.