The club from the Moldovan first division is causing quite a stir in Europe this season
17:16, 19 Oct 2021
On the surface, it has been the underdog story of the Champions League so far. Never before has a club from Moldova, the poorest country on the continent, qualified for the Champions League group stages and having broken that barrier with an emotive play-off win, Sheriff Tiraspol have set the group stages alight.
Sheriff's win at the Santiago Bernabeu over 13-time European champions Real Madrid will go down in the history of this competition as one of its greatest shocks and the club now has a serious chance of qualifying having secured two wins out of two. Tonight, another giant of the European game awaits as they face Inter Milan at the San Siro, knowing that a win would put them in a superb position to reach the last 16.
But despite all the excitement that the newbies have generated, there lies an uncomfortable truth to this underdog story, and a whole different face to the football club that have made the neutral smile so far this term.
Essentially, this is a team playing in Europe's premier competition from an unrecognised state. Transnistria, also known as Trans-Dniester, is a breakaway republic of Moldova that lies on the east bank of the river Dniester. Just 25 miles wide, it includes the capital of the state Tiraspol, and its football team.
Although UEFA does not recognise it and neither does the UN, in every other conceivable way it is its own state and for many, the last remaining part of the Soviet Union. It has its own currency, the Transnistrian ruble, its own government and its own flag, made up of the hammer and sickle motif of the former USSR. That same flag is seen upon government buildings while a statue of former president Vladimir Lenin watches on.
The self-recognised country even has its own military and phone signals from Moldova that do not register here, but what has this got to do with football and the Champions League? Well, Sheriff Tiraspol still play their football in the Moldovan first division, and it is hardly a level playing field. In the poorest country in Europe, teams often play in fields not stadiums, and are watched on by a handful of fans.
Not Sheriff. They have built a $200m training facility and stadium which looks so out of place in a league where money is scarce. When other clubs can only play local players, Sheriff have relied on bringing in African and South Americans, earning up to $15,000 a week in an attempt to reach the Champions League. This season they finally succeeded.
⚽️✍️...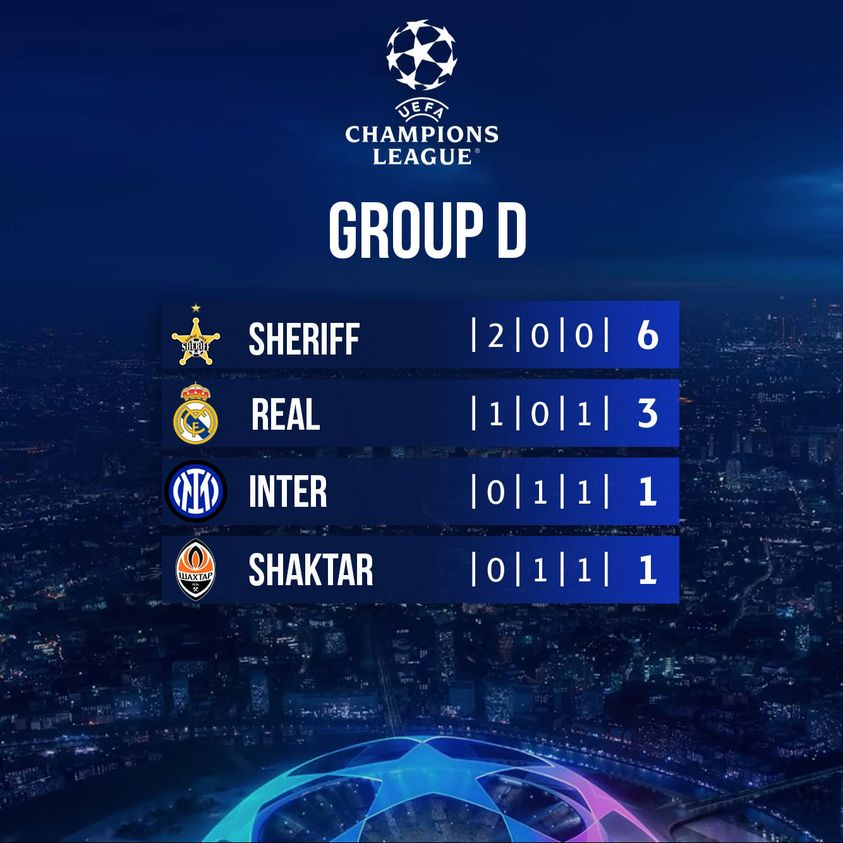 Players are paid so little at other clubs that this league has often been targeted by match fixers. A report by the Moldovan anti-corruption division concluded that at least 20 matches had been targeted by gambling syndicates in a bid to secure a result - with impoverished players taking relatively small amounts of money to play their part.
But the way Sheriff accumulate their wealth is the real sticking point. Transnistria has its own private economy, and Sheriff - founded by two KGB agents in the early 90s as the state fought to gain independence from Moldova - holds huge influence over the area.
From petrol stations to supermarkets, TV stations to banking, everything you can think of in modern day life Sheriff controls in Transnistria. Their badge is everywhere. Sheriff's own political party, Obnovlenie - Renewal, even won a majority in the local parliament elections in 2020.
Combine that with the region's questionable smuggling record, which has according to the New York Times, made it a haven for illicit activities such as drug-trafficking, and you have a picture of a contentious state that is entirely set up to fund a football club. If you live there, it is very difficult not to put money in the pockets of those running the richest club in the land and as a result, they have won 20 of the 22 league titles they have contested.
Moldova's governing body however has an unusual relationship with the club. As their facilities are so much more advanced than the rest of the country's, the national (Moldova) team now play the majority of their matches there, despite having to go through customs checkpoints to make it to Transnistria.
The Moldovan Football Federation even helped the club out in their quest for Champions League success by relaxing home grown quota laws, and it is a source of pride for some in the country that Real Madrid and Inter Milan are visiting Moldova - even if the giants are visiting a state that classes itself as independent.
The Champions League spotlight will once again shine on Sheriff Tiraspol and what that group of players achieve on the pitch should be commended from a sporting perspective. But the other side of Sheriff is a dark one.