The famous former Man Utd stars have overseen four promotions in five years so far
11:00, 29 Dec 2019
To football fans around the world Salford City have been on a fairytale journey that has yet to stop. Four promotions in five years have been secured since five Manchester United legends - Ryan Giggs, the Nevilles, Nicky Butt and Paul Scholes – took over the tiny club.
This May they reached the Football League for the first time. For the 79-year-old club, which had previously plodded along in non-league for its entire history and has always been in the shadow of the neighbouring global giant that is the Red Devils, it was heady stuff.
But they're not done yet. Salford are already are eyeing up a promotion push to break into League One in 2020, and only a fool would rule them out. This is a club that reeks of ambition and aspiration, and it all starts with their famous owners.
The profiles of the six – David Beckham joined the ownership group in January – guarantee that they will never be satisfied, nor out of the spotlight. It also means that, to many local rivals, the Ammies are a new club to hate.
Salford City defender Cameron Burgess says it is exactly the kind of environment, where success is demanded, that players thrive on.
"You want to be the one to maintain it, not the one to stop it," Burgess explains to The Sportsman.
"The pressure's on to do that, but it's a nice pressure. At the same time with the high-profile owners everyone wants to be beat us, hate us a little bit. It's a good incentive if you like. Everyone, whether they love you or hate you, wants to keep an eye on what you're doing as a club. So it's quite nice to be involved in.
"It's a pretty ambitious club to be fair. It's high standards, especially on the field with the people off it who are involved. It's a pretty well-run club that is very ambitious, as you can see from the outside, and it's all about getting the results and getting the club where the fans and the directors want us to be."
FULL TIME |
WE ARE GOING UP, SAY WE ARE GOING UP!
Salford City have been promoted to
@SkyBetLeagueTwo
for the first time in our history!
#WeAreSalford
🦁🔴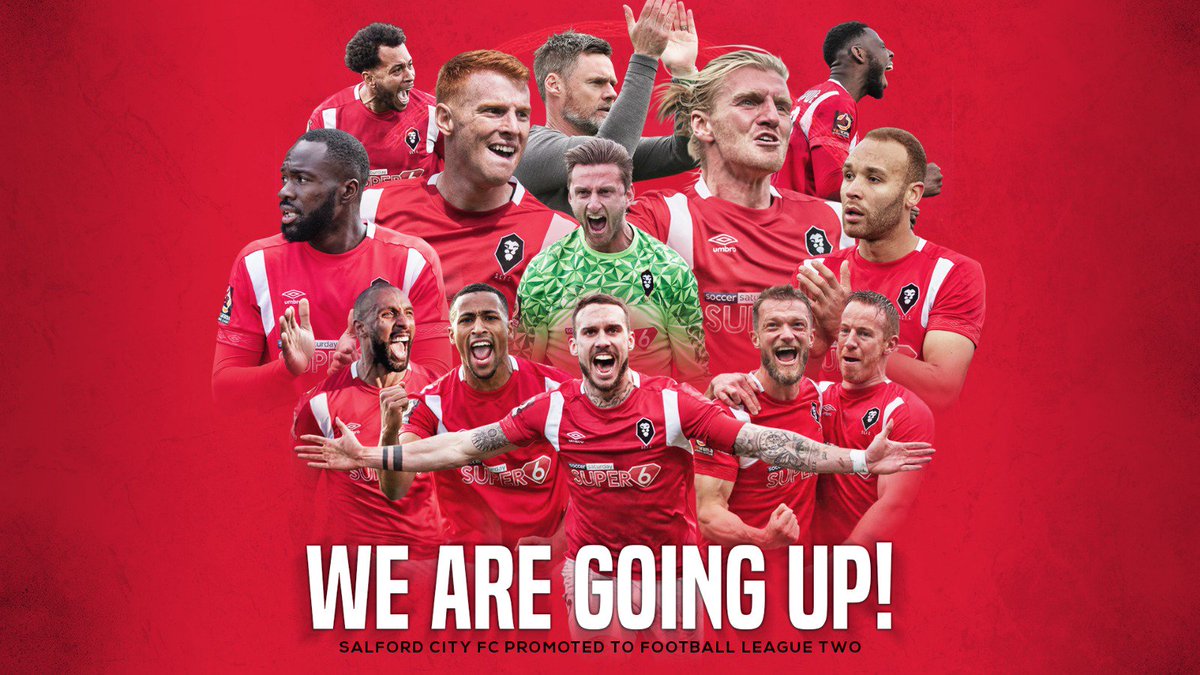 Burgess, who has spent time at Fulham, Scunthorpe United, Bury, Oldham Athletic, Cheltenham Town and Ross County, watched the rise of Salford from afar for many years. A television series on the BBC, and latterly on Sky, meant the Salford story became well-known not just in the UK but across the world.
"I watched the series before they were anywhere near the Football League and they were really good as well," he says.
"It's quite strange because you're watching these guys and how it works, and the next thing you know you're at the training ground and seeing all the bits. It's sort of a weird experience but quite a fun one at the same time."
But after joining the club in July on a season-long loan, Burgess now has the inside track on life at Moor Lane. And the 24-year-old is loving it.
The amount of attention Salford get has made them a target of the rest of League Two. But so far sitting in 11th on the ladder, just seven points off the playoff spots, they have adjusted well.
"I think we were on TV for the first game of the season, and it was the same in the League Cup," Burgess says.
"You can imagine some clubs asking 'Where's our coverage?' But it is good, it's a different sort of challenge. You're only going to get that here because it's that club that wants to get where it wants to be. Other clubs are pretty established. It's different but good in a way."
Considering their stature and football knowledge, you might expect the Class of 92 to be at Moor Lane every day analysing and advising every aspect of the club. But they are hands-off owners who don't meddle in the day-to-day running.
Chris Casper, a former Manchester United youth-teamer who played alongside Giggs, Scholes, Butt, Beckham and the Nevilles, is their eyes and ears, acting as the sporting director of Salford.
"They've got other jobs on the weekend, they're either coaches or pundits, so they don't get too much chance to come along," Burgess explains.
"But they've got people in place who do, who are there all the time. They've got people in place like Chris Casper. They've got a really good relationship so I don't think they actually have to be there as much.
"It's kind of weird one as you'd think with them having a football background they'd be there all the time, but it's not the case, as they are the owners.
"At a normal football club you'd never see the owners. They obviously want us to do well, they're always paying attention and keeping an eye on us and all the rest of it, but with other jobs it's hard for them to be there all the time."
Many have expected Salford to struggle this season, as the competition improves and the professionalism increases. But once again the Ammies have shown real fighting spirit and punched above their weight.
"There's got to some kind of stabilising at some point because it's hard to go and get back-to-back promotions every year," Burgess says.
"But at the same time it's a weird one as it's a small club at its highest level, and that will always be remembered, but here it's kind of – we've done that, what's next?
"It doesn't really get spoken about, looking at what we've achieved. It's more what can we achieve next. That's the attitude around the place so it's quite good."
Could we one day see a Manchester derby between Salford City and the Red Devils? In football anything is possible.