The hit series has regularly starred sporting icons
18:55, 20 Oct 2019
The Simpsons has featured some extremely high-profile guest stars over the years.
The likes of Michael Jackson, Britney Spears, Elton John, Paul McCartney, Simon Cowell, Ellen DeGeneres, Katy Perry, Mark Zuckerberg, Lady GaGa and Tony Blair are just a tiny fraction of the prominent figures from our cultural zeitgeist who have appeared on the show.
Inevitably, a bunch of stars from the world of sport have also lent their voices to the incredibly popular series - and we've given ourselves the unenviable task of choosing its 10 most impressive sporting coops.
This list is, of course, entirely subjective, so feel free to disagree and give us your own thoughts on the subject! Let's get to it (in order of appearance)...
Joe Frazier (boxing)
The late heavyweight boxing legend Joe Frazier actually made two guest appearances on The Simpsons - both in very small roles as himself.
The first was hosting an awards ceremony in 1992's 'Brother, Can You Spare Two Dimes?' and the second came in 2006's 'Homer's Paternity Coot', when he was standing outside the Smoke Damage Outlet Store.
Michael Buffer (ring announcer)
I 4got, I was also the broadcast anncr in THE HOMER THEY FALL episode of SIMPSONS-20 yrs ago!❤️the King & Tyson guys
Iconic ring announcer Michael Buffer has worked in boxing, professional wrestling and a variety of other sports, but his appearances on The Simpsons might just be a career highlight!
Buffer appeared as himself in the 1996 episode 'The Homer They Fall', announcing Homer Simpson's hugely mismatched fight against heavyweight champion Drederick Tatum.
Pete Sampras (tennis)
Tennis superstar Pete Sampras appeared on The Simpsons alongside a number of other prominent players of the sport, all of whom played themselves in the show (with Andre Agassi narrowly missing out on a place on this list).
The episode in question was 2001's 'Tennis the Menace', when they ended up playing in Krusty the Clown's tennis tournament, having originally been members of the crowd.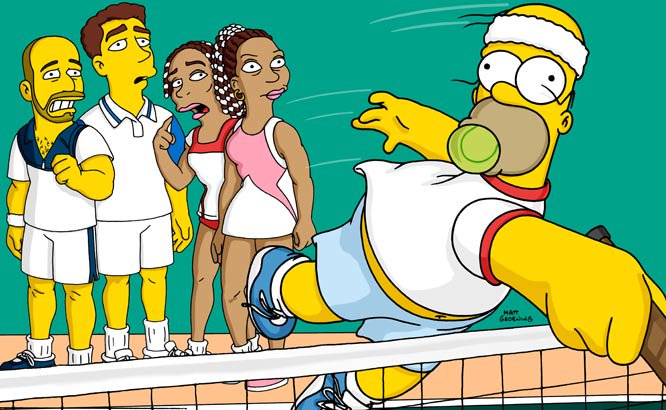 Venus and Serena Williams (tennis)
How could we separate these two? They simply had to come as a package given their status as surely the most successful siblings in sport.
They appeared as themselves in that same episode as Sampras and Agassi - 2001's 'Tennis the Menace', in which they went from being part the crowd at Krusty's tennis tournament to actually playing in it, replacing original participants Homer, Marge, Bart and Lisa Simpson.
Tony Hawk (skateboarding)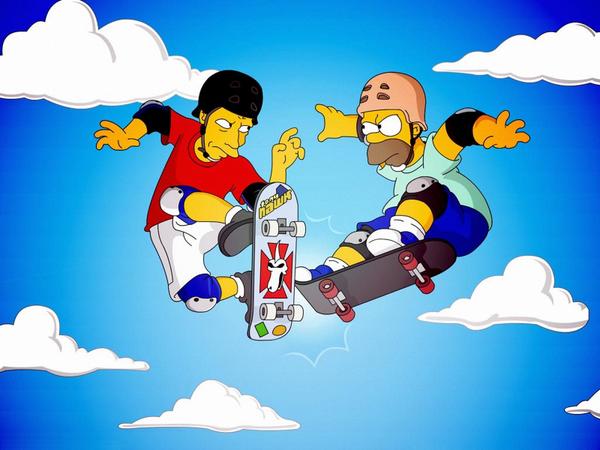 Skateboarding luminary Tony Hawk is arguably the most influential man in extreme sports history . He truly is a pioneer in every sense of the word, so he was certainly quite a coup for The Simpsons.
He played himself in the 2003 episode 'Barting Over', when Bart became legally emancipated and moved out of his family home, only to find that Hawk was one of the residents of the new building he'd moved into.
Tom Brady (American football)
Tom Brady is one of, if not the, greatest quarter-backs in American football history, and he remains a top player to this day despite the fact he is now 42 years old.
The New England Patriots star simply had to make this list, having appeared in The Simpsons alongside a number of sports stars in the 2005 episode 'Homer and Ned's Hail Mary Pass', in which he sought out Homer to teach him how to do an elaborate victory dance.
LeBron James (basketball)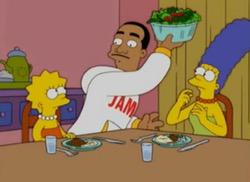 LeBron James is up there with the most famous basketball players in history and he's still performing to an extremely high standard for the Los Angeles Lakers to this day.
He appeared in The Simpsons alongside the aforementioned Tom Brady in 2005's 'Homer and Ned's Hail Mary Pass', when he played himself and was amongst the plethora of sports stars who needed Homer's help to improve their celebration dances.
Ronaldo (football)
FILM: The Simpsons (18x17, 2007)
ACTOR: Ronaldo
SHIRT: Real Madrid 2006/07 Home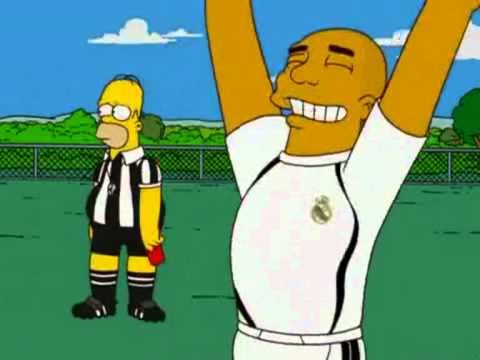 While Pelé has appeared in The Simpsons, he was voiced by series regular Hank Azaria, so Ronaldo (the Brazilian one!) remains the only football player (of the association variety) to have ever lent his voice to the show (Cristiano appeared in the Nike: Write the Future commercial alongside Homer, but had no lines).
Ronaldo voiced himself in 2007's 'Marge Gamer', accusing Lisa of diving during a football match . While it was a huge coup for the show, it has to be said that Ronaldo was a truly TERRIBLE voice actor.
Wayne Gretzky (ice hockey)
Cross another accomplishment off the list for the Great One: Wayne Gretzky will guest star on The Simpsons Dec. 4th: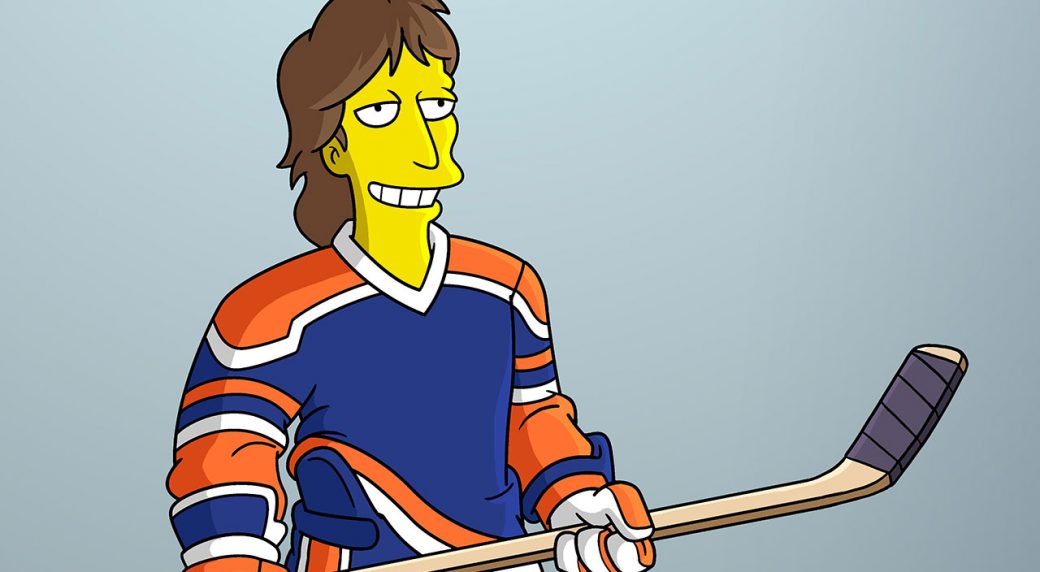 Wayne Gretzky is, undoubtedly, the most famous ice hockey player of all time - and, arguably, the best ever, as well - so we simply had to find a place on this list for him.
Gretzky played himself on The Simpsons in the 2016 episode 'The Nightmare After Krustmas', when he appeared in Maggie Simpson's nightmare alongside Santa Claus, the Abominable Snowman and Jack Frost at the North Pole. He did, however, only have four words to say.
Shaquille O'Neal (basketball)
Los Simpson: Daniel Radcliffe y Shaquille O´Neal, en la nueva temporada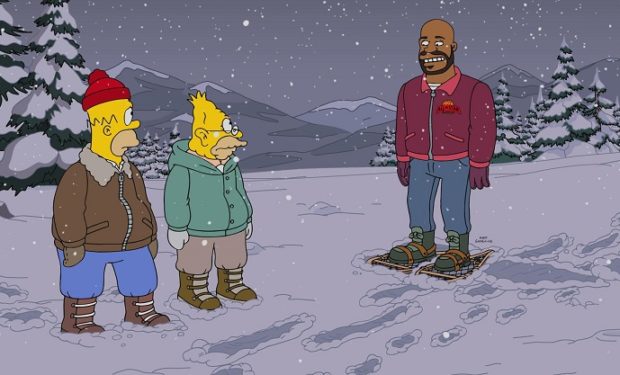 Only Michael Jordan trumps Shaquille O'Neal in terms of legendary status amongst basketball players , and the second most iconic basketballer of all time has indeed appeared in The Simpsons.
Shaq voiced himself in the 2017 episode 'Gone Boy', when Homer and Abe Simpson bump into him whilst looking for Bart in the snowy forest. Interestingly though, he had been mentioned in the show a couple of times before and was also seen in 2011's 'Love is a Many Strangled Thing'.