The then-22-year-old German made his debut at Circuit de Spa-Francorchamps in 1991.
09:31, 31 Aug 2019
It's all eyes on Spa Francorchamps as the Belgian Grand Prix, the 13th race of the 2019 Formula One calendar, rolls around.
Stavelot has been the setting for many a thriller; 1998 notably produced one of the most infamous - and expensive - crashes in F1 history. At a cost of an estimated $13million, David Coulthard triggered the accident on the very first lap in extremely wet and misty conditions. Lasting 15 seconds, the crash saw 13 of the 22 cars becoming involved, with more debris spewing over the course of the race than a Mad-Max-esque apocalyptic wasteland. With only one spare car per team, four drivers were unable to make the restart.
It wouldn't be the last time Coulthard was front and centre, the Scot angrily confronted by a raging Michael Schumacher after the German ploughed into the back of Coulthard's McLaren-Mercedes, which was occupying the main racing line.
This occasion, the title fight may be lacklustre with Mercedes' Lewis Hamilton clear of the pack and well on course to retain his title and bag his sixth World Drivers' Championship. Hamilton will be hoping for his second win in three seasons to extend that lead; in 2018, the Brit had qualified in pole position but ultimately finished second to Sebastian Vettel, unable to capitalise on taking his three wins on the circuit to four and share bronze with Kimi Räikkönen and compatriot Jim Clark.
Like most F1 records, the Belgian Grand Prix belongs to Michael Schumacher - an eventual six-time winner in Belgium and in 1991 it provided the stage for his debut.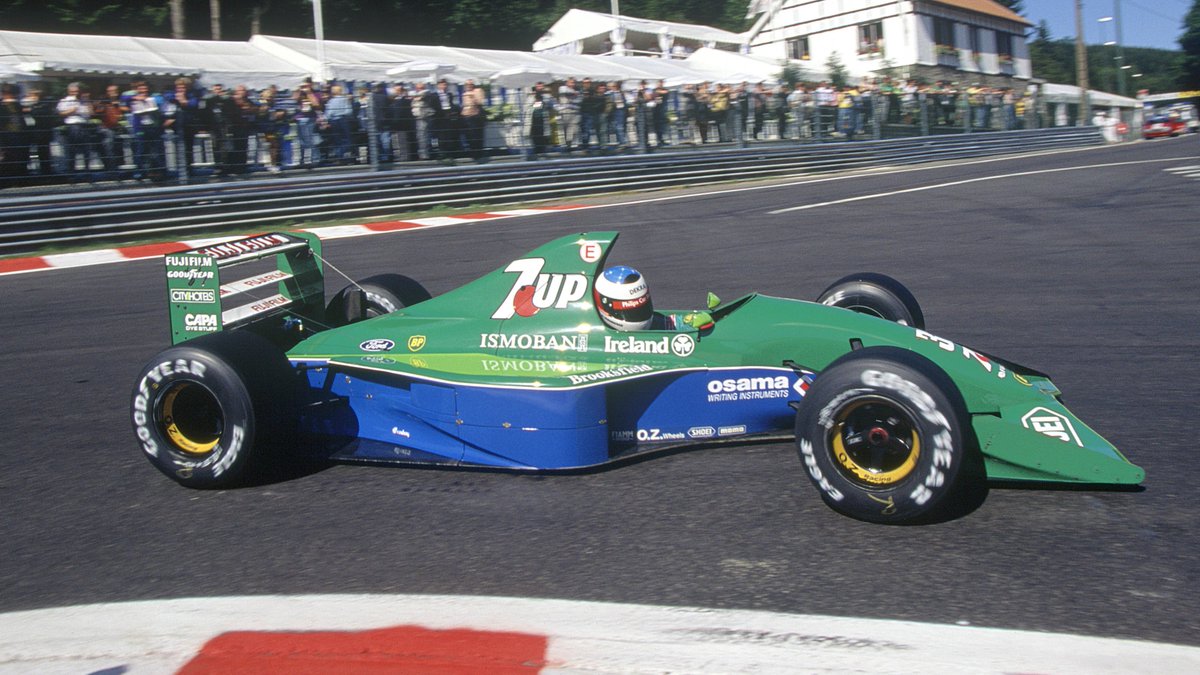 Schumacher made his Formula One debut with the Jordan-Ford team at the 1991 Belgian Grand Prix, driving car number 32 as a replacement for Bertrand Gachot.
Gachot was imprisoned in HMP Brixton for pepper-spraying a London taxi driver, a trial which had garnered mass support from the motorsport world. Spa Francorchamps was even adorned with graffiti showing allegiance with the Frenchman.
The then 22-year-old Schumacher, still a contracted Mercedes driver, was signed by Eddie Jordan - his team enjoying their maiden season - after Mercedes paid Jordan £150,000 for him to make his debut in place of the absent Gachot.
Jordan was quoted as saying; "People thought I'd been clever to hire him, but I hadn't: I took him because of the money. I wasn't even sure I could spell his name."
Schumacher finished seventh in qualifying, despite not having tested the track beforehand and purely seeing it through a cycle, not only set the team's best grid position that year but generated a whole lot of excited chatter about the emergence of this new talent.
Unfortunately Schumacher would have to retire on the first lap of that '91 race, but it would be just another season before he got his first win on the circuit. Poignantly, the Belgian Grand Prix was also the setting for Schumacher's record-smashing seventh World Championship before his permanent retirement in 2012.