Innovative kit salutes pioneering record label
10:38, 14 Oct 2019
You could be forgiven for thinking the football shirt release season was well behind us. After all, the shops are full of Halloween tat and the clocks go back soon.
But Coventry City have surprised everyone with one of the most eye-catching and innovative kits of the year... in October.
The club's new third kit is a fantastic tribute to the legendary Coventry-based record label 2-Tone which spawned acts which dominated the early 80s like The Specials, The Beat and Madness.
Featuring the black and white chequerboard design which adorned thousands of single and album sleeves, the new kit, manufactured by Hummel, was worn for the first time on Sunday in a defeat against Tranmere at St Andrew's in Birmingham.
Apart from being the home of many of the greatest recordings of all time, 2-Tone, which celebrates its 40th birthday this year, was a label which championed racial equality and multi-culturalism. Its message would appear to be more relevant than ever in these strange times we live in. Ghost Town, the haunting commentary on crumbling city centres by the label's most famous act The Specials, carries a message which is just as potent as when it went to number one in 1981.
Our Matchday Programme is a 2 Tone special - featuring Liam Kelly, Mark Robins and Brandon Mason on this incredible special cover!
#PUSB
⚫ ⚪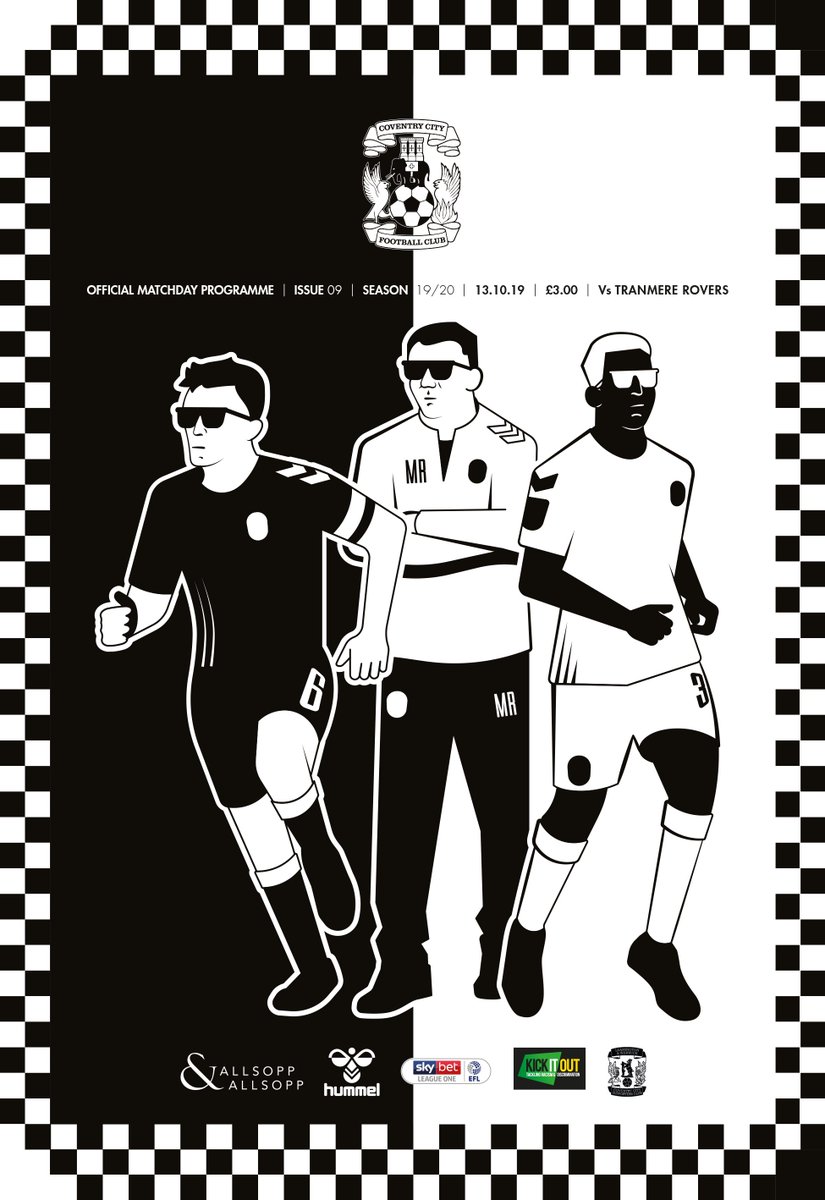 The 2-Tone Coventry shirt also features the anti-racism Kick It Out logo and the club showcased 2-Tone artwork on the cover of Sunday's matchday programme. In addition, before the game, the stadium speakers blasted out a 2-Tone playlist featuring the likes of Bad Manners, The Selector and The Beat as well as seven songs by The Specials.
The club has been hailed for its innovation and the black and white shirt quickly sold out on its release. More shirts are on the way but pre-orders are being strongly encouraged with fans of not just Coventry but 2-Tone desperate to get their hands on this inspired crossover.
It represents something of a triumph for Hummel whose home and away shirts for the Sky Blues this season won widespread acclaim. The Danish company supplied Coventry through the 1980s, producing some iconic kits which are highly sought after to this day.
A framed shirt will be donated by the club to Coventry's Music Museum and the club's chief executive Dave Boddy explained: "2-Tone music was iconic locally and nationally, and is an important part of Coventry's history. As another important part of our City's history, we are proud to pay tribute to 2-Tone and its impact with this new kit."
The new Coventry City Third Kit is revealed, commemorating 40 years of 2 Tone!
#PUSB
⚫ ⚪