Oasis' debut album was released in 1994.
10:30, 29 Aug 2019
The Manchester music scene has always been synonymous with football. Mani from the Stone Roses has never hidden the fact that he's a big Red. Johnny Marr is a staunch Blue, while Morrissey claims he grew up mesmerised by George Best and in 1991, "Sit Down," by local band James, became a Red Army anthem despite their bassist Jim Glennie being a City fan.
But when Definitely Maybe hit our shelves in August 1994 probably the most Mancunian of Manchester bands in the last 30-years, Oasis, made no apologies for declaring their undying love for Manchester City at a time when wearing your club's colours wasn't necessarily the coolest thing to do.
The summer of '94 was something of a watershed moment for football. The newly formed Premier League had just seen Manchester United crowned champions for the second successive season while the World Cup in America was taking place without any home nation representation. Meanwhile, in the world of music, there was about to be a seismic shift.
Upon its initial release, Definitely Maybe went straight to number one in the UK charts - at the time was the fastest selling debut album in history - and along with the likes of Blur and their offering, Parklife, helped to revitalise the British pop music scene in the nineties.
But as well as capturing the legacy that is Oasis in 52 minutes of style and swagger, the album also re-drew the boundaries when it came to popular culture and particularly music's, until now, slightly uncomfortable relationship with football.
"In 20 years' time, people will buy 'Definitely Maybe' and listen to it for what it was. That's what is important." NG, August '94.
#DefMaybe25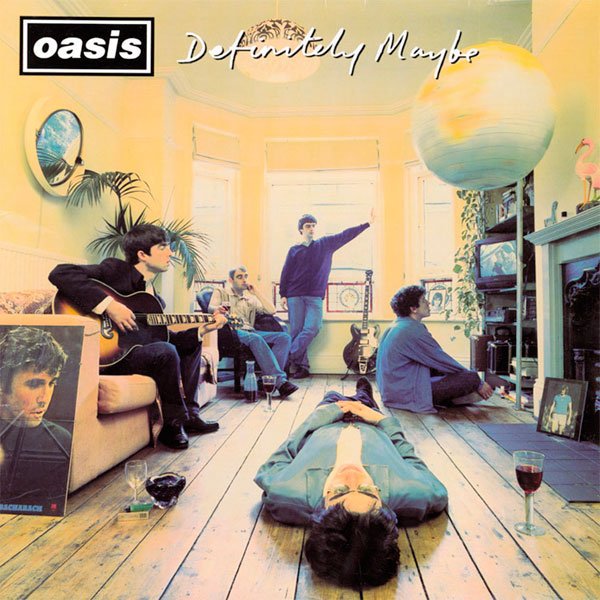 For much of the 1980s, despite providing the backdrop to generations the length and breadth of the country, music looked slightly awkwardly over its shoulder at football in an era when violence, racism and tragedy often marred the national sport.
Other than the tartan-clad Rod Stewart, few musicians dared to admit they liked a game which was so often linked with much of society's ills and, for various reasons, was often ignored by the mainstream media with barely any live games being shown on television as much of the country appeared to turn its back on what is now all-too-often referred to as the beautiful game.
However, the arrival of the FA Premier League in 1992, along with Sky's blanket coverage of what they quickly branded a "whole new ball game," suddenly made it okay to like football again and for the brothers Gallagher, they needed little encouragement to tell everyone about their allegiance.
With the almost overnight fame which their debut masterpiece brought you'd have been hard pressed to find a promotional picture or band poster which didn't have the pair draped in the colours of their favourite team who at the time, were far from the most popular in the land.
City had finished 16th in the Premier League the season before the arrival of Definitely Maybe, having bounced up and down between the top flight and England's second tier for much of the late '80s and early 1990s, while the club's last trophy had come almost two decades before at Wembley when Denis Tueart's overhead kick defeated Newcastle in the final of the League Cup – their most recent title win was way back in 1968.
It was 20 years ago today...Oasis at Maine Rd - check out the classic Umbro jacket
@NoelGallagher
is wearing!
#MCFC
Nevertheless, City's faltering performances and the emergence of their near, much more successful neighbours at the time, to become the best side in the land did little to dampen the band's enthusiasm for their team.
Though this wasn't just a Manchester City love-in, it was a public declaration of affection for football by a group of young, working class men at a time when those who are now seen as established and long-serving fans of the game hadn't even picked-up a copy of 90 Minutes magazine let alone a team to support.
On the album's cover there are nods to Manchester United legend George Best and City star Rodney Marsh while on the inside artwork Liam is reading a newspaper and on the back page is Leicester's Steve Walsh celebrating his winner in the 1994 play-off final against Derby County.
By the time the band played two sold out nights at Manchester City's old Maine Road stadium in April of 1996, like that of Oasis, football's popularity had exploded and the ticket for those shows, of course, featured Noel and Liam fully decked-out in typically baggy Manchester City Umbro attire which was so typical of the time.
By now football had become a national obsession which everyone from Zoe Ball to Angus Deaton wanted a piece of, with the likes of FHM, Loaded and TFI Friday only fuelling the fire - if you didn't like football then there must be something wrong with you.
Suddenly everyone was a fan. Shed Seven were featured in 90 Minutes magazine talking of their love for York City, Welsh band Super Furry Animals used Reading and Cardiff Maverick Robin Friday on the cover of their album: "The Man Don't Give a Fuck," in 1997; while you barely saw "Sporty Spice" performing a somersault without wearing the shirt of her beloved Liverpool in the mid-1990s as girl power swept the nation.
For better or for worse, 20-years on and football is in a very different place from when four men from Manchester strutted onto the music scene in over-sized and equally garish football shirts, and whether that change would have taken place without the help of Messrs Gallagher, Arthurs and McGuigan is up for debate.
Of course, nobody would bat an eye-lid now if they saw a pop-star on the front cover of whatever music publications still exist wearing a football shirt, though the irony is that if it were the blue of Manchester City, they would probably be accused of being a glory hunter who had no interest in the game 10 years ago.
As for whether Oasis brought about this cultural revolution or simply jumped on the bandwagon we'll never know; but what we can be sure of is that the summer of 1994 witnessed a perfect storm in the worlds of both music and sport from which a certain generation who remember it all too well are yet to recover.