We count down 10 of the best and brightest rebels of the past decade
07:01, 27 Dec 2019
At The Sportsman, we love a good maverick. An absolute chief who plays by their own rules, doesn't stand any bulls**t and generally makes life a hell of a lot more interesting.
As 2019 comes to an end and brings the curtain down on a topsy-turvy decade, we take a gander at the top 10 irresistible rebels who we haven't been able to take our eyes off.
Zlatan Ibrahimovic - FOOTBALL
We'll start with 'The Lion' himself. Since the start of the decade, Zlatan Ibrahimovic has provided his inimitable self to five top football clubs spanning from the US west coast to his usual stomping patch of Italy. He topped the all-time Paris Saint-Germain goalscoring charts in his four years in the French capital, gave a bit of swagger back to Manchester United ('Manchester, Welcome To Zlatan' in a sly dig at the infamous Manchester City/Carlos Tevez campaign) and sold his wares with exceedingly aesthetically pleasing goals in the MLS. That should be expected of the man who took out a full page ad in the LA Times as he moved to the Galaxy, stating simply: "Dear LA. You're welcome."
He's provided the stories, the entertainment and the most outrageous, flamboyant, audacious goals well into his 30s as one of the most Marmite men of the millennium. At the start of the decade he released his autobiography, in which, amongst other things, he slammed his former manager and "spineless coward" Pep Guardiola in scathing style ("When you buy me, you are buying a Ferrari. Guardiola filled up with diesel and took a spin in the countryside. He should have bought a Fiat") and talks about being drunk in a bathtub at Juventus.
Now where's Part II?
Tyson Fury - BOXING
December 2015: In a year in which he beat Wladimir Klitschko to take the WBA, WBO, IBF and IBO crowns, Tyson Fury is banned from Sports Personality of the Year after making offensive homophobic and sexist comments. Seven months later, Fury vacates his titles and doesn't fight professionally again for nearly three years. December 2018: Tyson Fury is welcomed back onto the Sports Personality of the Year stagehaving taken part in the Fight of the Year, a culmination of a mental and physical recovery that involved battling, amongst other issues, alcohol and drug problems. Fury bouncing back off the canvas after being floored by Wilder in the final round in that fight in Los Angeles remains one of the most astonishing moments in the sport's recent history.
The Gypsy King has restored his credibility and has even turned his hand to WWE!
OTD, 2018:
@Tyson_Fury took Deontay Wilder's best shot in the 12th and rose from the canvas 🤯
An ICONIC moment 🙌

Megan Rapinoe - FOOTBALL
This list is full of characters, but none have so successfully defied a president. USA captain Megan Rapinoe just doesn't take any s**t. In 2016, Rapinoe knelt in solidarity with NFL player Colin Kaepernick and, as the World Cup kicked off this summer in France, the recently-impeached Donald Trump told the US women's soccer star to "win before she talks" after Rapinoe she wouldn't be "going to the f**king White House" in the event of another US success.
Leading USA to their fourth trophy on the biggest stage? Joint-recipient of the World Cup Golden Ball AND Golden Boot? FIFA Best Player in the World? The Ballon d'Or?
Yeah, she's won. And, boy, can she talk.
🇺🇸🏳️‍🌈 Megan Rapinoe...
- Stands up against Donald Trump
- Champions LGBT players
- Speaks out against FIFA's equality
- Wins the golden boot
- Captains America to their 4th World Cup
#USAvNED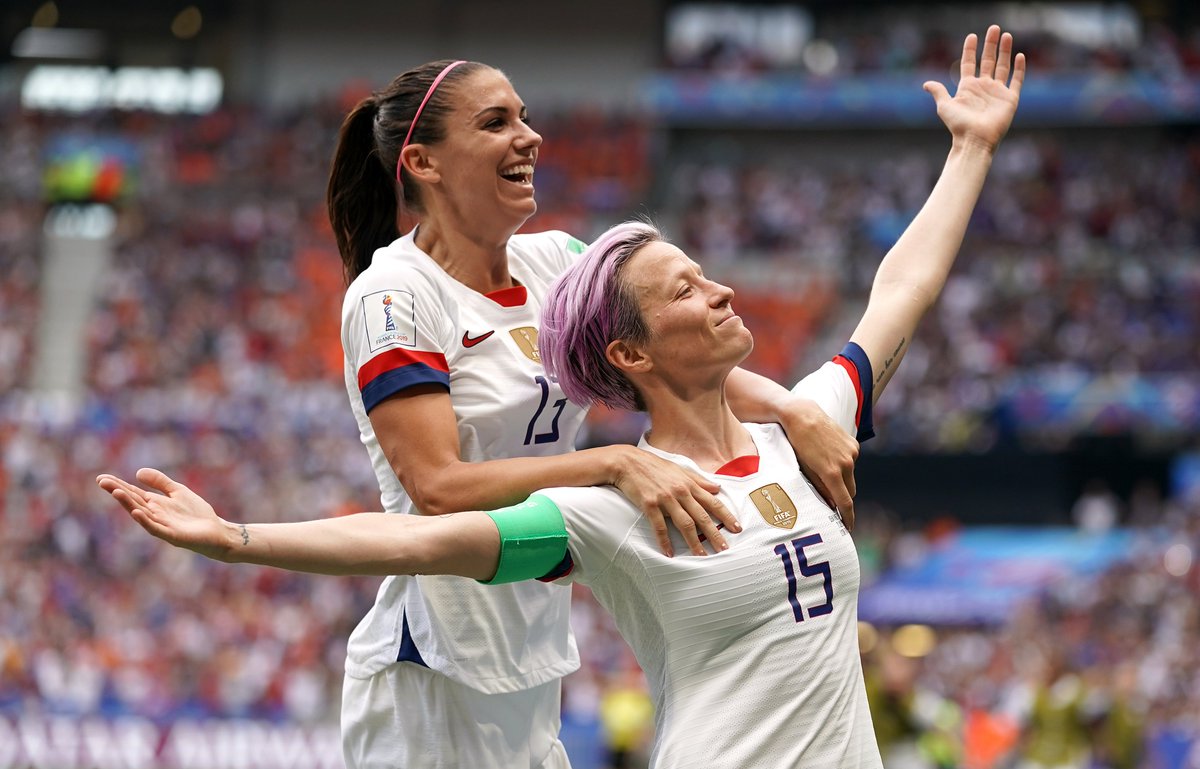 Conor McGregor - MMA
"I'd just like to say from the bottom of my heart, I'd like to take this chance to apologise… to absolutely nobody!" declared 'The Notorious' after defeating Eddie Alvarez for the lightweight title in 2016 and become the first 'double champ' in UFC history. Has anybody had more of a rollercoaster decade than Mr Conor McGregor? At the beginning of the 2010s the Irishman was an apprentice plumber. Today he is the richest MMA fighter of all time, worth well over $100million and more than double his nearest competitor.
Unabashedly insulting and a real riler of rivals - His "Who the f**k is that guy?" single-handedly destroyed Jeremy Stephens' standing in one fell swoop - McGregor is a magnetic force, a titan of trash talk.
Of course, there's also his one-time unrivalled prowess inside the Octagon that reached its apex in beating Jose Aldo inside 12 seconds. Then there's smashing up Khabib Nurmagomedov's bus, rocking mink, and helping create one of the events of the decade by taking on (and losing to) Floyd Mayweather in a boxing ring ("All together now, f**k the Mayweathers!") Don't even get us started on those Burger King commercials.
Ronnie O'Sullivan - SNOOKER
The only snooker player to have reached 1000 career breaks, the Rocket has been burning for nearly three decades now and he is no less entertaining. From being able to tell when he's sulking because he decides to play left-handed, or cashing out at 146 after finding the £10,000 for a maximum break insulting, to trying to convince us that he was slowing down when only taking 12.5 seconds per shot for a 42-minute best of seven match. At 44 years old, here's to the next 10 years of simply the best player to have ever picked up a cue.
"I give up... I'm useless at breaking!"
@ronnieo147 reveals the thinking behind his unusual opening break at the
#NIOpen
🔴 Watch the
#HomeNations
LIVE on Eurosport
📺 - Eurosport 1
📱💻🖥 - Eurosport Player:
Mario Balotelli - FOOTBALL
At the beginning of the decade, you couldn't move for the increasingly ridiculous stories that were conjured up as Mario Balotelli became the latest flamboyant purchase along the limitless Manchester City conveyer belt. He was busy paying for everyone's petrol at an Esso, driving into a women's prison just to have a snoop, being fined £300,000 for throwing darts at youth players, and setting off fireworks in his house after fronting a fire safety campaign. Billed as City's answer to Eric Cantona, the Italian ultimately failed to light up the Premier League as expected, though he did provide the assist (the only one he achieved in the EPL) for that Sergio Aguero goal and tainted his legacy a bit further with a sorry spell at Liverpool (just the one Premier League goal there). Now back playing in Italy with Brescia, Balotelli is still box office.
Nick Kyrgios - TENNIS
In this beautiful era of Rafael Nadal, Novak Djokovic and Roger Federer, you cannot fail to be entertained by Nick Kyrgios stealing the column inches. Hanging in a pub hours before a match, on-court tantrums to make John McEnroe blush, a bevvy of beauties regularly pictured on his arm and more suspensions than a Halfords. "I guess crazy and Nick Kyrgios in the same sentence does actually make sense," said Mark Petchey at one point. It's a shame the Australian hasn't yet managed to back up his mouth, chair-throwing and racket smashing with a Grand Slam, but, at 24 years old, maybe Kyrgios' time will come.
Nick Kyrgios aces Nadal with an underarm serve!
#Wimbledon
Sonny Bill Williams - RUGBY LEAGUE/RUGBY UNION/BOXING
Sonny Bill Williams has participated professionally in exactly the same amount of sports as he has names. Williams is only the second New Zealand international to have played both rugby league and rugby union. He's also not half bad at boxing either. The Kiwi holds an unblemished 7-0 bout record in the ring to go alongside his brace of World Cups with the national union side, in 2011 and 2015.
This year Williams also conceded his own problems with alcohol prior to converting to Islam in 2009 while playing for French rugby union outfit Toulon. "I chased girls. I drank alcohol, spent lavishly and thought I was someone that I wasn't. I lived that life and, in my experience, what did it give me? Hollowness and emptiness in my heart."
The 6ft 4in, 17st 5lb man-mountain has brains as well as brawn, enrolling at university for an Applied Management course in his native country at the ripe old age of 33. Imagine him in Freshers' Week!
Marcelo Bielsa - FOOTBALL
El Loco makes his own rules. Managerial maestro Marcelo Bielsa has brought his cult following and his bucket to five different club sides since 2011, swooping in, instilling his own unique brand of music and leaving almost as swiftly as he came. Critical and analytical almost to a fault, the Championship is lucky to have him. Leeds United, not the most popular club, gained a whole dollop of respect from the football community after Bielsa ordered his side to deliberately concede a goal to Aston Villa at Elland Road, a goal that ended the Whites' hopes of automatic promotion. But it is Spygate, the saga of espionage and dubious tactics that truly qualifies Marcelo the maverick. After a Leeds staff member had been caught sneaking in to have a gander at a Derby training session, Bielsa unabashedly admitted to having done it across his career. With Leeds subsequently ordered to pay £200,000, Bielsa produced the wonga from his own wallet. What a man.
Marcelo Bielsa instructed his Leeds players to let Aston Villa score after Leeds scored when a Villa player was injured.
#LUFC
#AVFC
For more, head here:
Diego Maradona - FOOTBALL
A contender to be considered as the greatest football player of all time, Diego Maradona is the greatest sporting maverick of every decade since the 1980s, more mad s**t has been firmly on the Argentine's agenda since 2010. This decade started with manager Maradona marauding it down the touchline as he took his Argentina side to the World Cup in South Africa and by 2018 he was caught looking rather chemically-altered, swearing at a host of Nigerians, and then collapsing in his box (it was the wine, he promises) as La Albiceleste scraped a 2-1 over the Super Eagles at Russia 2018.
Rick James' mantra has never been more real: Cocaine's a hell of a drug.
Maradona's just finished his latest spell in management, taking charge of Gimnasia for two months, a job which also involved him at one point taking charge from a throne pitchside and bringing a priest to the training ground to get rid of bad spirits. His managerial travels have also taken him to the Middle East, Mexico and Belarus at clubs you have probably never heard of.
Keep on surviving, El Diego.