Sir Alex Ferguson is developing a film about his life but there are others whose stories should be told
06:55, 15 Nov 2019
Sir Matt Busby and Howard Kendall have both been the subject of new documentary releases this week, and there are strong rumours that Sir Alex Ferguson will be next in the list of legendary managers to have his life put under the spotlight on the big screen.
The slew of manager biopics got The Sportsman thinking. What about the really fascinating managers who have become notorious for very different reasons? Could the nonconformist mavericks be stars of the screen as well as icons of the touchline?
We have a few suggestions below for the movie moguls, and even select actors who could fulfil the main role...
Rudi Gutendorf
'Restless Rudi' Gutendorf passed away in 2019, having lived to the ripe old age of 93. Mind-boggingly, the German manager coached a ridiculous number of clubs across almost half a century.
His first job in management was at the age of 29 with Blue Stars Zurich in 1955, and his final role came with the national team of Samoa in 2003 aged 77. His career took him to five continents, coaching a stonking 55 teams in 32 countries. That's 16% of the planet's nations!
This is a man who was the national coach of Rwanda when the country - and squad - was split in two over a brutal civil war, and became Chile boss just as the nation was becoming the subject of an uprising, staying in the country despite the German ambassador's advice to flee. When the Soviet Union boycotted a game during the troubles, Gutendorf's Chile side kicked off anyway in front of 15,000 fans in a stadium in which citizens were being held by those working for coup leader Augusto Pinochet. The referee ended the game once La Roja had walked the ball in and declaring a 1-0 win for the home side.
Gutendorf later said of his career:
I was always working with the poorest of the poor. Why did I do that? That's a good question. My wife always asked me that too. I think it was some sort of mission for me. Above all, I probably felt it was the right thing to do.
Who wouldn't want to watch this modern-day Phileas Fogg scamper across the globe on the silver screen? He coached five different countries in 1981 alone, for crying out loud! That's like managing football clubs on your gap year!
"I can't remember all the clubs I've managed," Rudi once admitted. No wonder, mate!
Actor to play him: Meryl Streep (come on… there's a stunning resemblance!)
Béla Guttmann
Born in Budapest to a pair of dance teachers, Guttman was a highly successful footballer, having a stellar playing career that saw him win a gold medal at the Olympics in 1924 and play in the USA and Austria. The Hungarian Jew survived the devastation of the Holocaust and the fascists in power in Hungary by hiding in an attic.
After the Second World War, he began a celebrated managerial career that eclipsed his time as a footballer. A pioneer of 4-4-2, Guttmann took Benfica to back-to-back European Cup wins in the early 1960s. But when he asked his bosses for a pay rise after his magnificent run, he was told where to go. His response was to place a curse on the club which has even outlasted him.
"Not in a hundred years from now will Benfica ever be European champions," declared the coach as he quit the club, and the Portuguese side has lost seven straight European finals in the 57 years since with a variety of catastrophic let-downs along the way. Only 43 more years to wait, Benfica fans!
We've now got the perfect combo: Stephen King meets Nick Hornby, by way of Manoel de Oliveira.
Actor to play him: Edward G. Robinson (yeah we know he's dead)
Claude Anelka
Most of us are probably familiar with The Damned United, which chronicled Brian Clough's infamous 44-day tenure at Leeds United. Our pitch? 'The Rotten Raith Rovers', documenting Claude Anelka, brother of former France international Nicolas, at the Scottish club in a two-month period after the summer of 2004.
Anelka pumped £300,000 of his own money into the club with the aim of taking them to the promised land of the First Division, anointing himself manager. Anelka had a francaise frenzy, picking up purported stellar talent from his homeland. He drafted in Hamed Sacko and Rudy Pounosaamy from FC Capricorne, Amar Benaissa was recruited from Choisy Le Roi, and Karim Khir was signed from Lausanne Sport. Mehdi Eloujdi came from US Ivry, Moussa Qatarra joined from AS Orly, and free agents Maurice Mendy, Jules Tchimbakala and Herve Ebanda were also recruited.
Anelka, who is also a DJ, left the club after one draw and seven losses and, as of 2019, Raith Rovers are meanwhile back in the third tier.
Actor to play him: What's Nicolas up to?
3⃣ | Raith Rovers (2004/05)
AKA the "Claude Anelka season". The Frenchman somehow finagled his way into the Rovers and stuffed them full of his compatriots, some of whom had never played 11-a-side football before. It ended in relegation, of course, but what a laugh! What a club!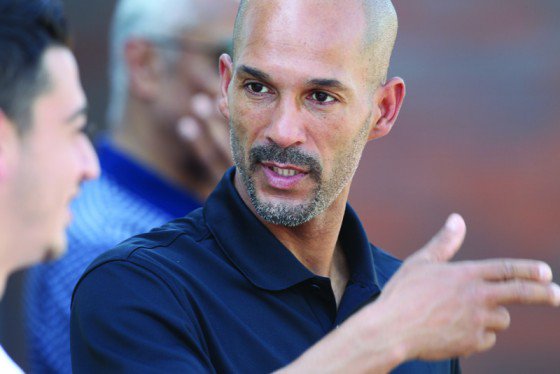 Major Frank Buckley
Venture back into the first half of the 20th Century and Major Frank Buckley should be considered as majestic a character as a Marcelo Bielsa or Ian Holloway.
The Major is one of the few people to have played for both Manchester United and Manchester City, finished managing in the year our old pal Restless Rudi began, and like Gutendorf, the unconventional Buckley has a stunning story to tell.
Having once bought himself out of the army for £18, he was later severely wounded at Devils Wood in the First World War. Returning to England, the Major coached Norwich City, Blackpool and Wolverhampton Wanderers. His influence was said to have had an affect on such figures as Busby, Clough, and Bill Shankly, while he is also credited with discovering Wales legend John Charles. But that's only the beginning of his story.
Buckley would call out the fire brigade to water his clubs' pitches, and even demanded his players go ballroom dancing. He once reportedly planted monkey glands into the Wolves team to spunk them up ahead of the 1939 FA Cup final against Portsmouth.
Did it work? Did it hell! Wolves lost 4-1.
Actor to play him: John Malkovich
Marcelo Bielsa
You just knew he would appear on this list didn't you?
The most influential football manager in the world today, a person who has inspired the devotion of fanatics worldwide to cult-like levels, the mere mention of his name likely to give a hipster hiccups. The man they call 'El Loco'.
Marcelo Bielsa has never been one to stay too long at one club, but everywhere he goes he brings some rather, let's say, unorthodox procedures to his game, with ridiculous levels of scrutiny. The Argentine is famed for sitting on an upturned bucket rather than in the dugout, but it was also noticed while he was managing Athletic Bilbao that every time he left his sedentary position he would take exactly 13 steps before coming to a stop. Now that extreme-level superstition!
Upon arriving in England to take up the job at Leeds United he presented a full dossier of each Championship game from the previous season. Then there's the #SpyGate saga of 2019, his deliberate concession of a 'fair play' goal which denied Leeds a chance of promotion to the Premier League, his come-and-have-a-go 3-3-1-3 formations, and his decision to walk out on Lazio after just two days which led to the Roman club attempting to sue him for €50million.
Ultimately, however, his methods have resonated and been adopted across the footballing planet. Get this film made!
Actor to play him: Get Gene Hackman out of retirement