Some of the greatest names in sport have been characterised in famous publications
16:00, 03 Nov 2019
On countless occasions over the years, stars from the real world have appeared in comic books - Barack Obama appeared alongside Spider-Man and Eminem came together with the Punisher in Marvel Comics, for example.
A number of sports stars have also been immortalised in comics, so The Sportsman has decided to take you through 10 of the best examples.
Let's get to it...
Muhammad Ali
DC officially turn the lights out on January with this SPINNER RACK SPOTLIGHT on perhaps the greatest single comic book ever produced, Neal Adams magnum opus, SUPERMAN vs. MUHAMMAD ALI, Jan. 31, 1978! A wonder to behold. Got mine at the liquor store near my house.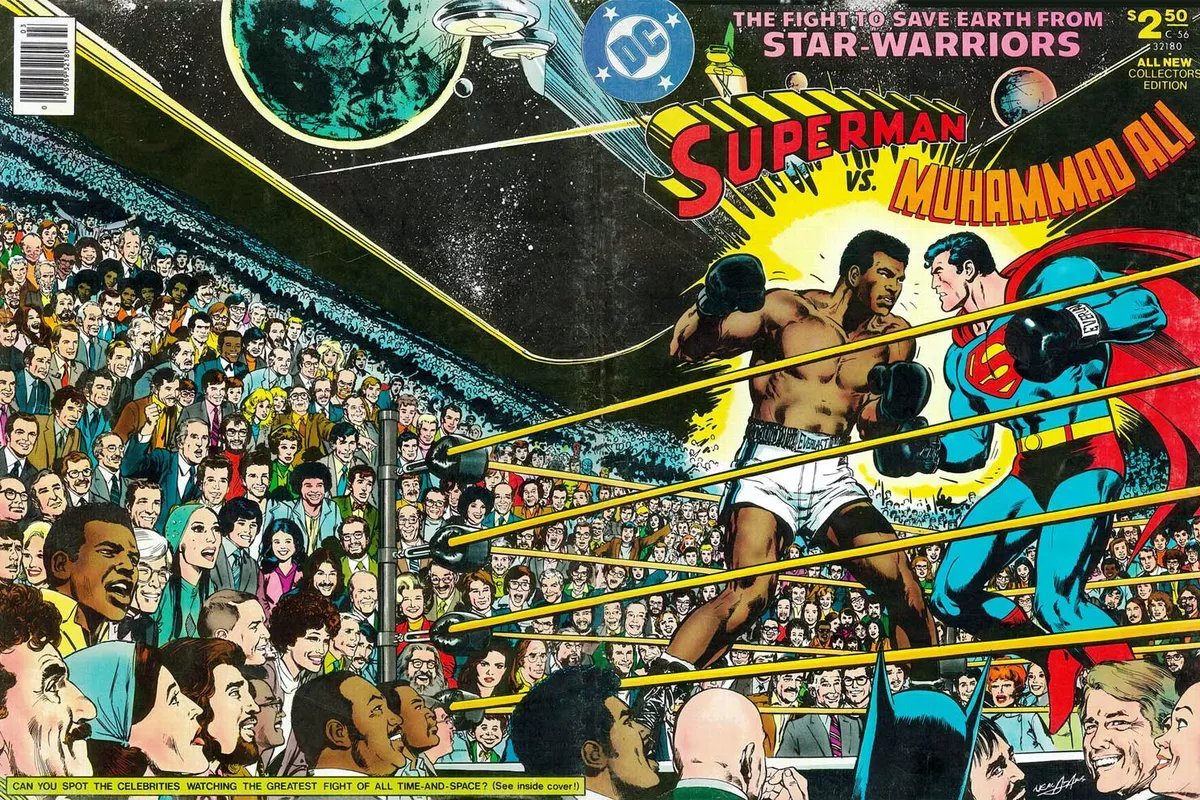 This is probably the most famous example of a sports star appearing in a comic book - and it occurred in DC Comics back in 1978.
The comic was called Superman vs. Muhammad Ali - and while it did see the two forced to face off in a boxing match (which saw Ali winning comfortably as Superman was depowered at the time), it also saw the iconic pair teaming up to fend off an alien invasion.
Charles Barkley
Charles Barkley admonishes Godzilla for breathing fire on the basketball in the middle of their game, 1993.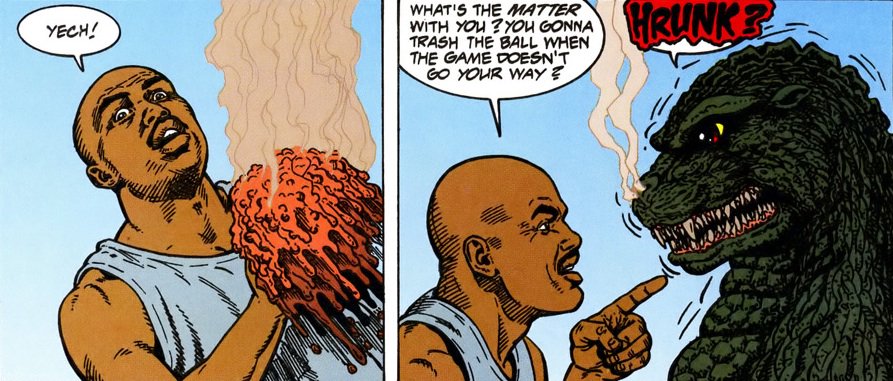 Yes, this really happened.
In 1992, Nike ran a TV commercial in which a giant-sized version of NBA star Charles Barkley challenged Godzilla to a game of basketball on the streets of Tokyo.
A year later the commercial was adapted into a comic by Dark Horse, with the location being switched from Japan to California.
Harlem Globetrotters
3 Harlem Globetrotters Comic Books Whitman & Gold Key: $9.95End Date: Aug-21 06:16Buy It Now for only: US $9.95Buy it now | Add to watch list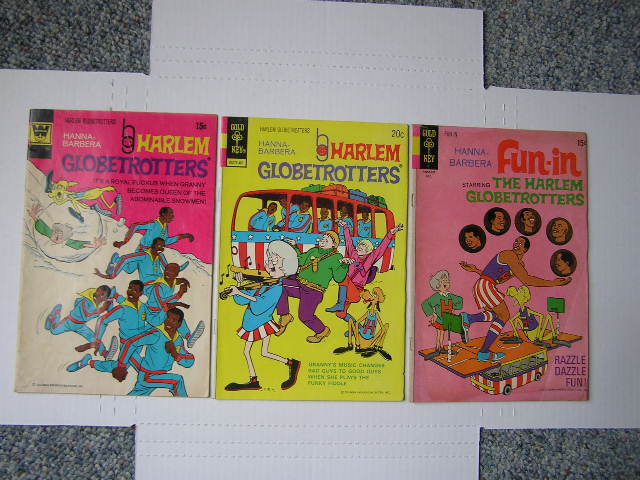 The Harlem Globetrotters are, of course, a world famous exhibition basketball team - and they've appeared in all kinds of different media over the years.
In 1970, Hanna-Barbera and CBS productions produced a Saturday morning cartoon based on the team. It ran for two years and, in 1972, Gold Key Comics launched a comic adaptation of the show, which ran for 12 issues.
Jessica Ennis-Hill
She's finally made it. Golden girl Jess immortalised in The Beano as 'Ennis The Menace'
http://t.co/A6ydDLIu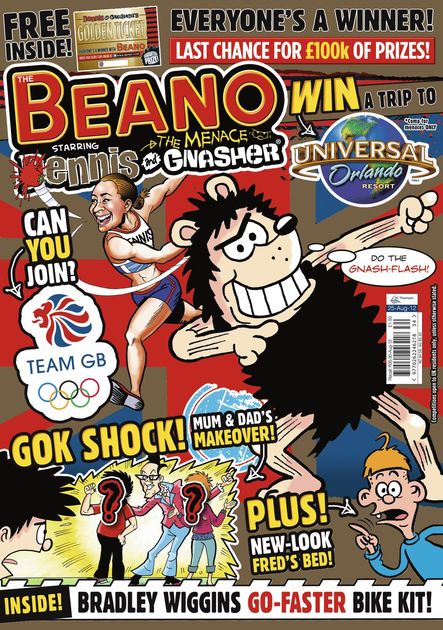 Unfortunately, there haven't been many female athletes immortalised in comic books, but one who has is Jessica Ennis-Hill.
The British Olympic heptathlon gold medalist appeared in a special London 2012 issue of The Beano - an issue on which she was the cover star - calling herself "Ennis the Menace". The issue saw her "out-menacing" Dennis the Menace himself!
Lionel Messi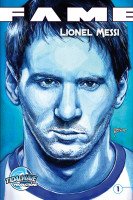 Lionel Messi is currently the best footballer on the planet - and quite possibly the greatest player of all time - so it's hardly surprising that he's appeared in a comic book.
In 2017, Fame: Lionel Messi was released - which was essentially a comic book telling the story of Messi's glittering career, from his roots in his native Argentina to the years of success he's had at the Camp Nou with Barcelona in Spain's La Liga.
Other football superstars who had comics in the Fame series included Diego Maradona, David Beckham and this next man...
Cristiano Ronaldo
Cristiano Ronaldo will play a superhero in a cartoon series he's producing 🎨
It'll be called Striker Force 7.
👉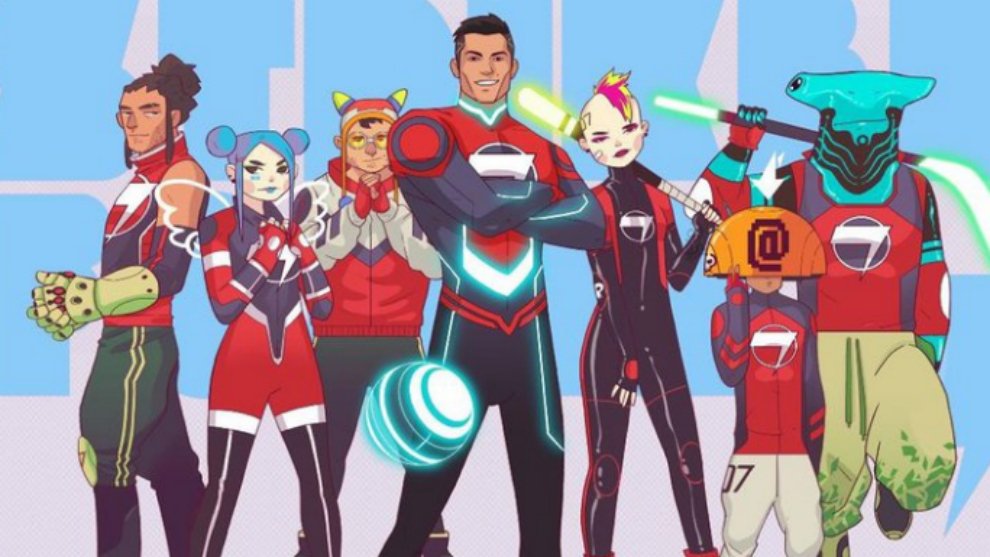 Not to be outdone by his long-time rival, Cristiano Ronaldo has also appeared in comic book form - and not only in the Fame series.
Ronaldo has also appeared in superhero form in the Striker Force 7 comic books, which released earlier this year and are based on an upcoming animated series of the same name. Ronaldo is expected to voice his superhero character, who leads the titular team in the show.
Pelé
The rivals pele v banks valiant comic 1974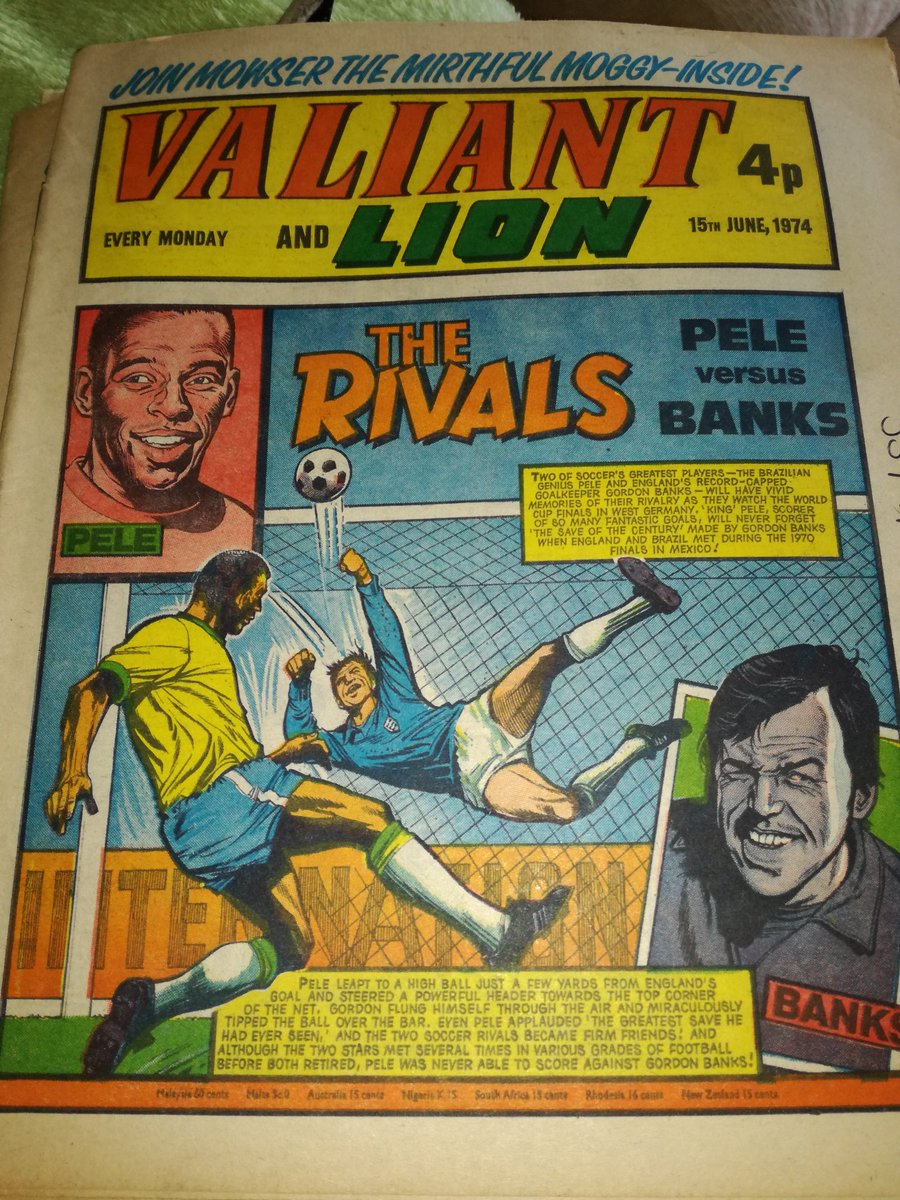 Along with the aforementioned Messi and Ronaldo, Pelé remains one of the footballers considered to be amongst the best to have ever played the game - and he's also appeared in comic books.
Not only was he given his own graphic comic novel - 2017's Pelé: The King of Soccer - he has also made appearances in the likes of Valiant and French publication Tintin l'Hebdoptimiste.
Babe Ruth
Babe Ruth Sports Comics, 1950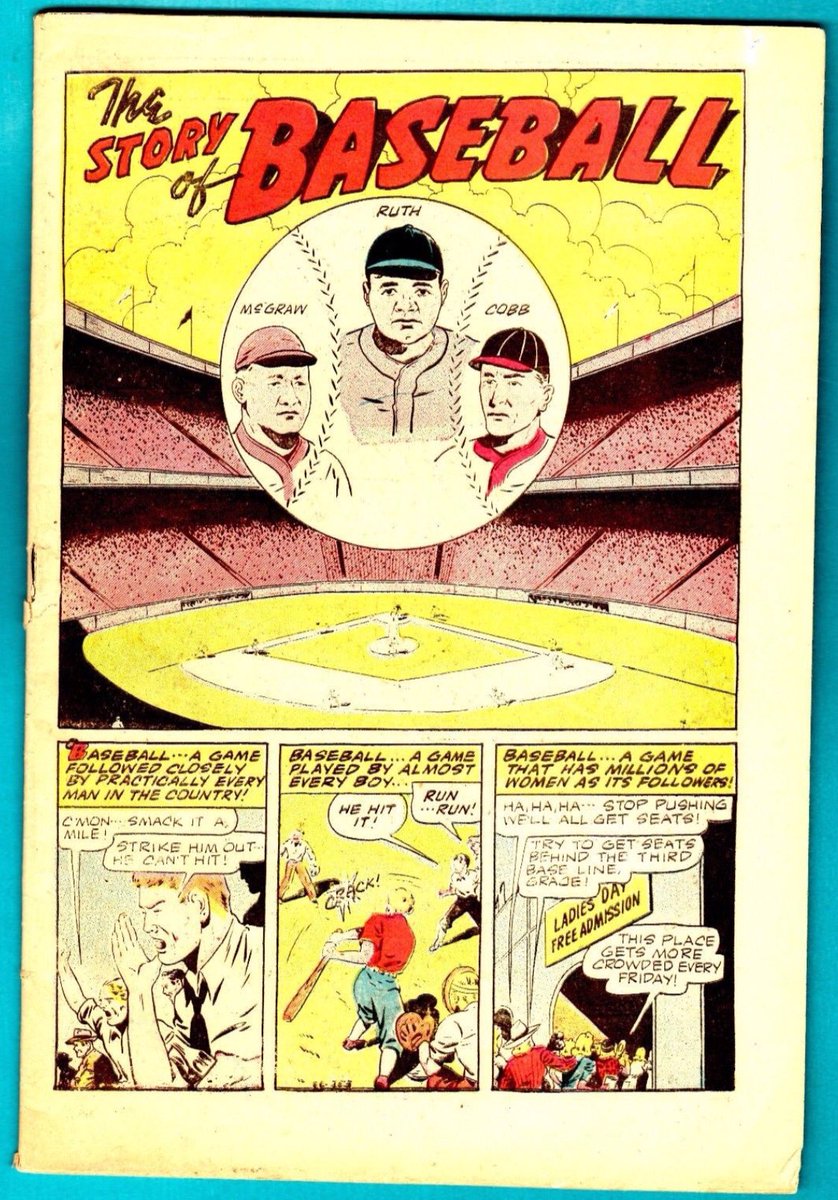 Babe Ruth is the most iconic baseball player of all time - so much so that he had his own series of comic books back in the late 1940s and early 1950s.
Harvey Comics' Babe Ruth Sports Comics ran from 1949 to 1951 and featured sports-based stories, as well as a comic book version of Ruth himself - and the legend has also made brief appearances in other comics, such as MAD Magazine and Action Comics.
Michael Jordan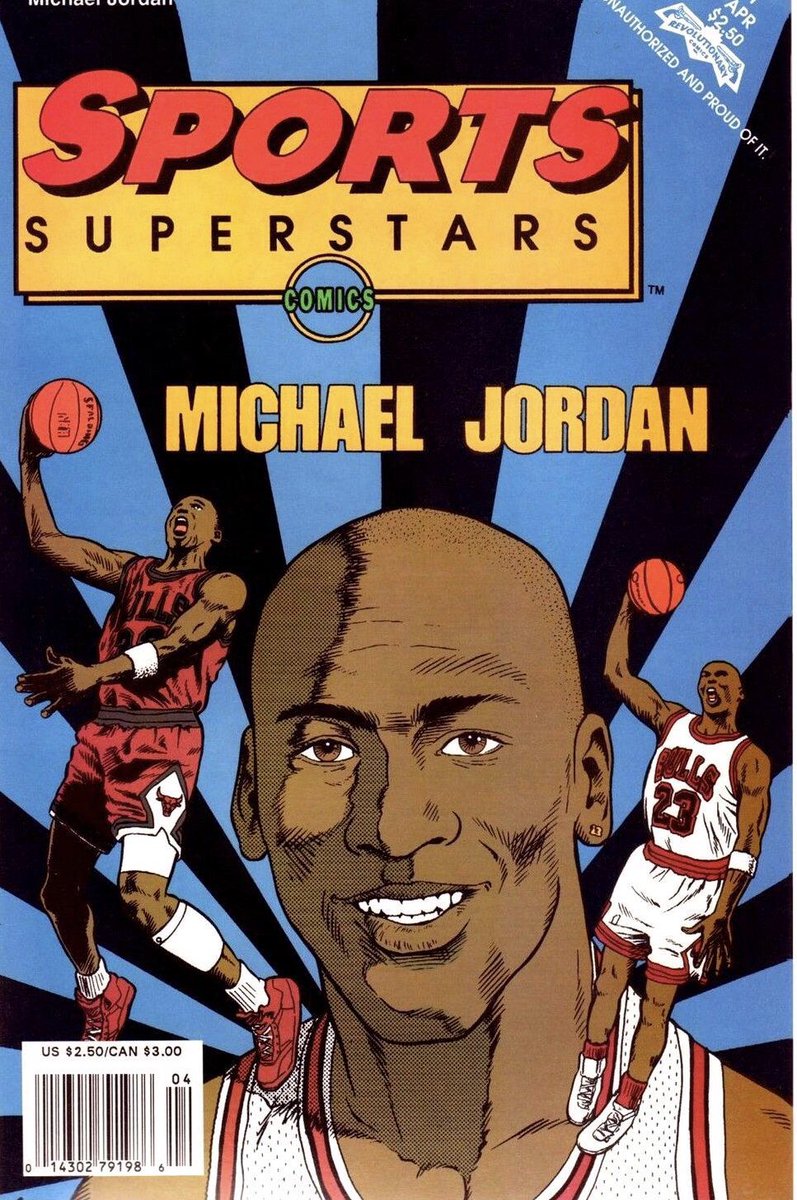 Michael Jordan is to basketball what Babe Ruth is to baseball - the sport's most famous player. It's no surprise, therefore, that he's appeared in comic books.
Jordan was the star of Sports Superstar Comics #1 in 1990 - the first in a series of comics that also went on to feature the likes of Mike Tyson, Joe Montana, Magic Johnson, Wayne Gretzky and many more sporting icons - and he's also appeared in MAD Magazine and Disney Adventures.
Alf Ramsey
The day Sir Alf Ramsey met Roy Race of "Roy of the Rovers" fame,back in 1981.@EnglandMemories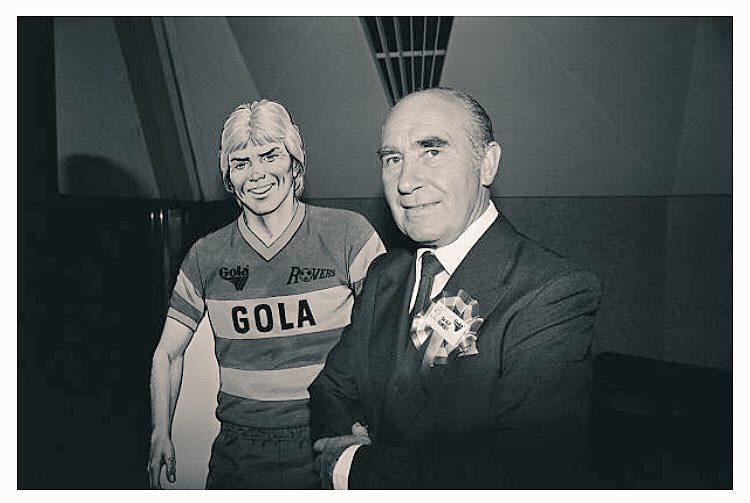 Roy of the Rovers is a British institution. It's been both a comic strip that featured in newspapers and a comic book in its own right - and it's featured a number of real stars from the world of football.
The most notable of them is none other than England's World Cup-winning manager Alf Ramsey - when he stepped in as Melchester Rovers' caretaker manager after Roy Race was shot.
Other footballing stars to appear in the comic include the late Emlyn Hughes, Bob Wilson and Malcolm Macdonald.