Be quick or you'll miss them...
14:01, 28 Sep 2019
Two years after Justin Gatlin certified himself as the villain of athletics by beating Usain Bolt to the World Championship title amidst the deafening silence of the London Stadium, he will look to defend his title. The 37-year-old has already confirmed that the 2020 season will be his last on the track, with a gold medal at the Tokyo Olympics viewed as the perfect way to round off his career.
But he will have serious competition, both next year in Japan and this week in Doha, for his crown. We've taken a look at the sprinters to watch at the World Championships this week.
Christian Coleman
The fastest man in the world this year and the favourite to take home the gold medal in the 100m, Christian Coleman looks like he is the man to beat in Qatar. Having recorded a time of 9.81 seconds in California in June, the 23-year-old is looking to do the 100m and 200m double this year.
Having set the world record for the 60m last year, his powerful start is his strength and although he is the clear favourite for the 100m, he will likely need to break his personal best of 19.85 to win the 200m.
Noah Lyles
Perhaps the most disappointing news for sprint fans is the fact that Coleman's great rival, Noah Lyles, has chosen to focus on the 200m and not participate in the 100m. The 22-year-old is expected to double up at the Olympics next years but for now, he has Bolt's world record in his sights having run 19.50 this year.
Like Bolt, he is a born entertainer and the athlete to watch at these games. A win for Coleman in the 100m and Lyles in the 200m would set up a mouthwatering match-up in Tokyo.
Zharnel Hughes
The European champion represents Britain's best hope of a medal in the men's sprint events. Born in Anguilla and now living in Jamaica he has been getting quicker and quicker and at the age of 24 is now approaching his peak. The Brit is coached by Glen MIlls, the same man who oversaw Usain Bolt's career and fellow Jamaican Yohan Blake.
The fastest man in history is one of Hughes' fiercest critics on the track as he told BBC Sport: "Even now he [Bolt] is retired, he'll sometimes show up with a stopwatch and be on my case saying, 'That was too slow,' or 'Get out harder'. He watches my Instagram stories as well so I know he's watching and supporting me." Also a trained pilot, Hughes will hope to fly on the track and secure himself a medal in Doha
Adem Gemili
It has been about near misses in recent years for Gemili who finished fourth in the 100m two years ago in London, finishing just 0.05 seconds behind Bolt as he missed out on a medal. In Rio 2016, he came even closer to a medal, again finishing fourth by three thousands of a second in the 200m.
Improvement is again needed here to contest for a medal but Gemili has shown he can produce on the world stage and it is exciting that Britain could have two names in the 100m final.
It was a good race last night in Zurich. I can't complain. It is all you, God. None of me and all of you.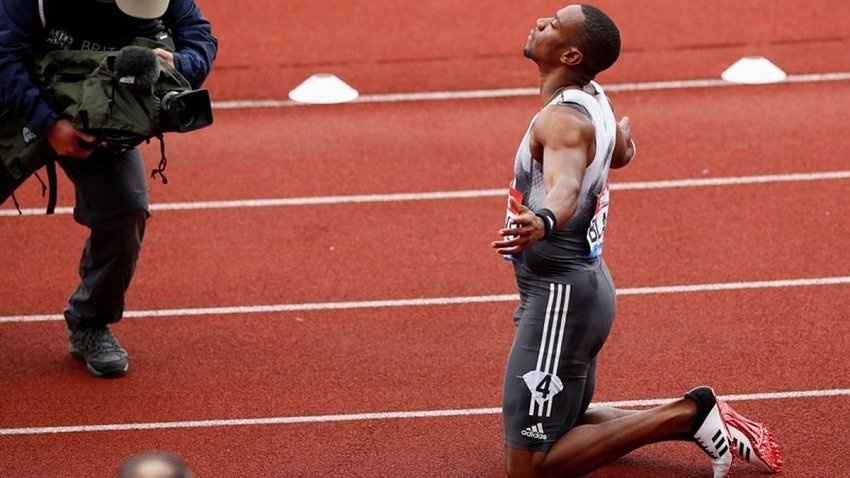 Yohan Blake
The 29-year-old Jamaican who looked like the next best thing at London 2012 has not quite filled his potential since 2014. He was the man who pushed his countryman Bolt all the way at those Olympics as he won two silver medals and a gold in the relay but since then he struggled with injuries.
With his pedigree and experience, he could contend for a medal if he matches betters his season's best time, but is unlikely to come close to gold.
Andre De Grasse
The Canadian's comeback after an injury-hit couple of years could be complete in Doha. Having won a bronze and a silver at the Rio Olympics, he was flying heading into the 2017 Championships before a late hamstring injury forced him to pull out, but the 24-year-old has the ability to go well here.
He may fair slightly better in the 200m than the 100m but he has gone under ten seconds this year in the shorter event although his impressive stamina is likely to put him in medal contention for the 200m. De Grasse at his best is brilliant to watch and will hope to be able to recreate his form from three years ago here.