Dave "the Rocket" Ryding used to love to party.
But the 35-year-old Team GB skier from Chorley, in Lancashire, quickly ditched that fun lifestyle in a bid for Olympics success.
And now his dreams could become a reality in Beijing next month as Britain's newest – and arguably unexpected – skier could make himself a hero on the biggest stage of all.
Until last Saturday, no British skier had even won a gold medal in the 55-year history of the Alpine World Cup.
Former party boy Ryding changed all that with his stunning slalom victory in Kitzbuhel, Austria.
He pocketed a cool 100,000 euros for his breathtaking triumph on the slopes, but more than that Ryding proved that Team GB have a real gold-medal prospect.
"There's life in the old dog yet," he joked after his memorable showing. "I'm 35 now but I never stopped believing, I never stopped trying.
"I always believed I could do it, I always thought I can do this but my races were getting less and less and doubt is always there.
"My team never stopped believing, they kept pushing me. More than I would like sometimes. "My fiancee always supports me, my family is always there and I'm not the easiest to deal with all of the time. I hope they are popping a Prosecco at home.
"I had so much emotion when I finished. It means the world just to hear some Brits and people cheering.
"I don't have a home race but there's always some Brits in the Alps because we love skiing. We love to party as well."
But after a welcome victory celebration, Ryding knows the hard work starts now as he guns for that elusive Olympic goal medal that every Team GB athlete craves.
Beijing will be his fourth Olympics and, even though is accustomed to the pressures of performing at the highest level, there is now a weight of expectation on his shoulders after his World Cup gold success.
It's GOLD for
@daveryding
in the Kitzbühel Slalom
@fisalpine
World Cup!!
BRITAIN'S FIRST EVER ALPINE SKIING WORLD CUP GOLD - laying down a marker for
@Beijing2022
next month!
👏👏👏👏👏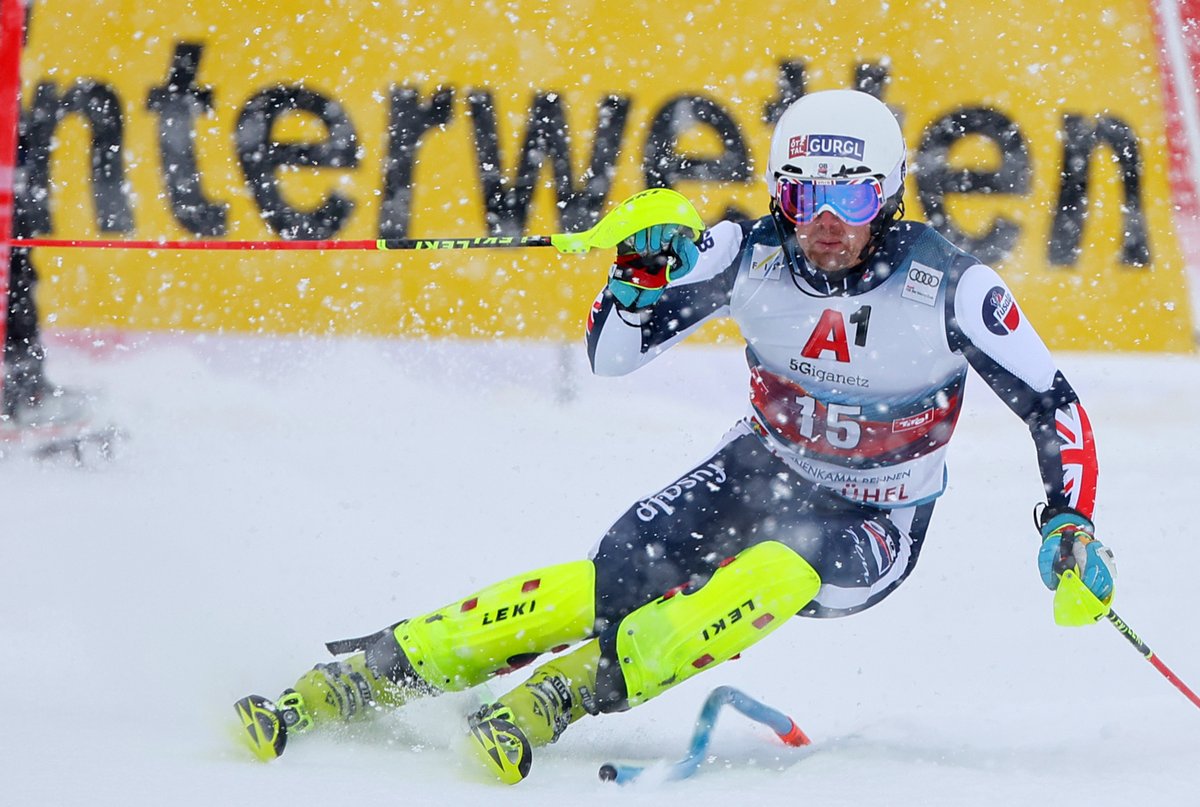 He achieved two World Cup podiums and finished ninth in the men's slalom at the 2018 Games in Pyeongchang.
And as part of a 21-strong British ski and snowboard squad – Team GB is 50 athletes in total – Ryding is now our most realistic hope of landing a medal.
It's been a long road for Ryding, whose skipped après-ski drinking sessions could be the greatest sacrifice of his career.
"In my twenties, I didn't go out partying," said Ryding.
"I've always done my training and I think that does pay off in later life. I'm doing better numbers in the gym and running than I've ever done.
"I get the odd joke about being the old guy, don't get me wrong, but I enjoy that as well!
"I trained my whole life to get into the top 30 in the world and now I'm there, so why not carry on.
"I've learned how to be committed and now it's a way of life. I get up some mornings and can't be arsed to go to the gym - but I just roll out of the door and I never miss a session.
"I'm 34. But I feel good, and I'm still here. Coming to the top later means my motivation is still right up there."
Ryding learnt to ski aged six and started his skiing life on a dry slope in Pendle, Lancashire.
But he found his calling on the mountains and soon realised he had the ability to compete against with the best.
However, even if he doesn't win gold in Beijing – or even medal – then he can be rightly proud of his career thus far.
"I don't define myself by the Olympics but I would love to cap it off with a good Olympic result."
"I don't take the World Cup as any less than the Olympics, I treat every race as my Olympics and do or die, life or death.
"Thinking about it that probably isn't the best thing, because you put too much pressure on yourself!
"When I'm feeling good, I don't feel pressure because I'm expecting to do well. But you can't be at your best for the whole season and you're going to have dips.
"I've just got to go in the start gate and go again, because that's what all the top skiers do."