Amadou Krubally is vying to compete in the Skeleton event at the 2022 Games
13:18, 16 Oct 2019
"Hello! My name is Amadou Krubally. I'm dreaming of my country, The Gambia, to compete for the first time at the Winter Olympic Games 2022 in Beijing."
We love a dreamer here at The Sportsman. And there's no doubt that Amadou Krubally is dreaming, and dreaming big. He wants to make history by becoming the first Gambian to compete at the Winter Olympics, according to insidethegames.biz
The West African country - which is smaller than Yorkshire - made its debut at the Summer Olympics in 1984, and has participated at every occasion since but remains without a medal. However, it's never competed at the Winter Olympics - a situation Krubally is determined to rectify.
Think Cool Runnings, but solo. For Krubally has chosen the Skeleton as the event to take him to Beijing 2022.
Yes, Krubally is planning to propel himself skull first to reach speeds of up to 80 miles an hour (FYI, the national speed limit in The Gambia is 43mph) on an 80 to 120cm sled down a sinfully scary 1.9km long ice-track, with a vertical drop of 120metres.
Having been inaugurated in 1928, the Skeleton is one of the oldest events at the Winter Olympics. There are just 16 competitive tracks globally, with a new one ready to be added after being specially constructed in China.
For his mission, which he himself has conceded as "crazy", Krubally has formed the organization IceGambia, in a country that enjoys nine hours of sizzling sunshine in December.
He said: "I decided to do Skeleton, which means throwing myself down an ice channel on a small board, head-first. I founded IceGambia, a federation that lets me be a member of the official Bobsleigh & Skeleton organization."
Krubally's mission has one fairly big stumbling block. For a country that pays a minimum wage of 50 Dalasi a day (around €1.13), Krubally needs to raise €15k to help realise his dream. He's launched a Go Fund Me page to help.
"The only thing that is missing are the funds for this season," Krubally says on his page.
He's got the backing of Africa's first male Skeleton athlete, Akwasi Frimpong, who competed for Ghana at the Winter Olympics in 2018 in Pyeongchang, South Korea.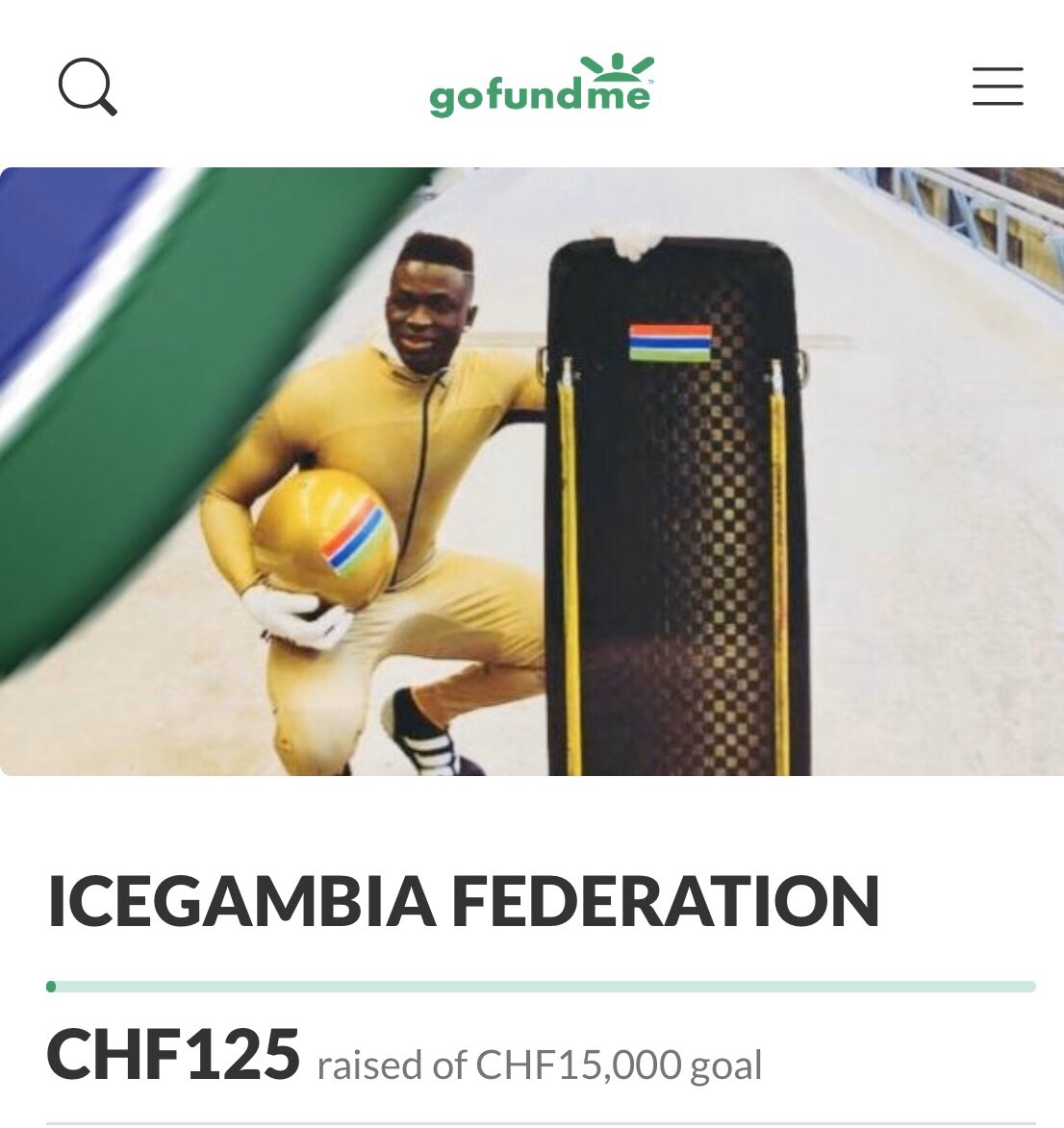 "Please help support the crazy idea of a crazy guy doing a crazy sport just to see his country compete," added Krubally.
"With €15,000 I can do the whole season (Europe Cup/International Cup) and qualify for the Winter Olympic Games.
"Help me write history!"
We couldn't agree more, please help crazy, crazy Krubally write history right here: https://www.gofundme.com/f/icegambia-federation