The build-up to Tokyo 2020 has begun
11:49, 07 Oct 2019
The controversy-stricken World Athletics Championships came to a close on Sunday evening with Great Britain winning five medals in total - their lowest tally since 2005, although it isn't all doom and gloom for Team GB thanks largely to two female athletes. Meanwhile, two sprinters from Bahrain and America have set themselves up for a stellar 2020.

Here are five things we have learnt from this year's championships.
Katarina Johnson-Thompson on course for Tokyo gold
One of the stand-out performances in Qatar was Katarina Johnson-Thompson winning the biggest title of her career to date. The 26-year-old set personal bests in four out of seven events in the heptathlon to claim gold with 6,981 points, the sixth-highest score in the history of the sport.
The triumph has now placed Johnson-Thompson on a trajectory to add an Olympic title to her resume in less than 12 months time. It will be her third appearance in the Olympics after finishing 14th in 2012 and sixth four years ago.
"This is a dress rehearsal for next year, but I don't want to think about it, I just want to have a break and reflect," she said after winning the world title.
One of those backing the Liverpool-born athlete for Olympic glory is Jessica Ennis-Hill, a former gold medallist in the heptathlon herself. She believes the latest triumph will make Johnson-Thompson an even more formidable force in the discipline, issuing a warning to her rivals, who include current Olympic champion Nafissatou Thiam.
"Once you win the first world title it gives you confidence and self-belief. It impacts how you perform in the next competitions and how people look at you." Ennis-Hill told the BBC.
"Thiam will fight back and fight harder at the Tokyo Olympics but Kat will have the massive edge she's never had before."
Since its Olympic debut back in 1984, only twice has a British athlete won gold in the heptathlon. Denise Lewis was the first in 2000, followed by Ennis-Hill in 2012.
Honestly I can not believe what happened last night. WORLD CHAMPION 😭
PB & New British record 6981 what the hell!
Thank you everyone for all your support and messages over the years!!!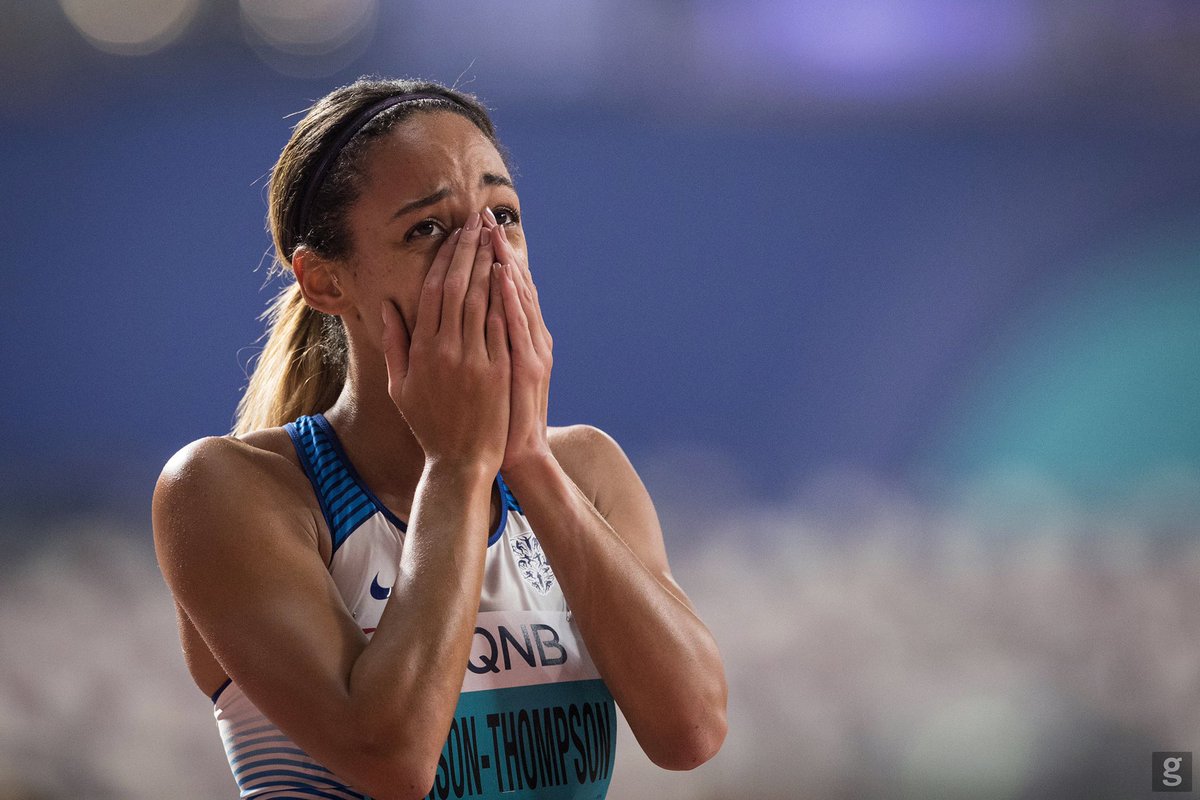 Salwa Eid Naser is an all-time great at 21
Salwa Eid Nasser stunned the field in the 400 metres final by running faster than any other woman has done for more than three decades. She crossed the finish line in a time of 48.14 seconds. Only Jarmila Kratochvílová in 1983 and Marita Koch in 1985 have run faster.
"I still can't believe the time," Naser said. "When I saw it, I went completely crazy. I was training so hard but I never expected to run this fast."
The Nigerian-born athlete switched her allegiance to Bahrain five years ago at the age of 16. She has now won 19 consecutive 400-metre races since July 2018, an emphatic record for somebody who has a weakened left ankle after being involved in a car accident as a child.
Naser compares herself with American sprinter Allyson Felix, the first and only athlete to have won 13 gold medals at the World Championships.
"Allyson Felix is my role model as I see similarities," explained Naser. "I was really looking up to her and I still look up to her, she's an amazing athlete."
Shaunae Miller-Uibo, who is the reigning Olympic 400-metre champion, was one of many to recognise her rival's triumph in Doha. She finished runner-up in the race with the sixth-fastest time in history.
"I let her get away too much on the kerb. I can't compete with her with that sort of time," Miller-Uibo said. "She was too far away."
Naser is the first Asian woman to win the 400-metre world title.
Asher-Smith has revived sprinting in the UK
For years the focus of sprinting in British athletics has been placed on the men. However, that has all changed thanks to Dina Asher-Smith. The 23-year-old is the first British woman to win a global sprint title thanks to her gold in the 200 metres, proclaiming afterwards:
The Olympics is less than a year away, we have already been thinking about it. I don't think there's any time we're not thinking about the Olympics. Doing well in Doha was part of the plan and in thinking about Doha you're thinking about the Olympics as well.
Asher-Smith also claimed silver medals in the 100 metres and 4x100-metre relay, becoming the first British athlete, male or female, to win three medals at the same championships - something she was unaware of until achieving the milestone.
"I did not know that but in all honesty that wouldn't even be a conceivable idea if not for the teamwork," she replied. "The relay is a team event. You can't do that on your own. So thank you, ladies."
Many are hoping the Londoner's triple success will help inspire a new generation of female sprinters in Britain. During her time in Doha, she ran 10.83 seconds in the 100 metres and 21.88 seconds in the 200 metres, both of which are national records.
#Doha2019
... what a Champs it's been! I'm sorry I've been so slow to come on Twitter - I've been trying to stay in the zone for the relays despite being so unbelievably happy 😂
I'm the World Champion!!!
It hasn't sunk in and feels very surreal! I've dreamt of this forever😭😍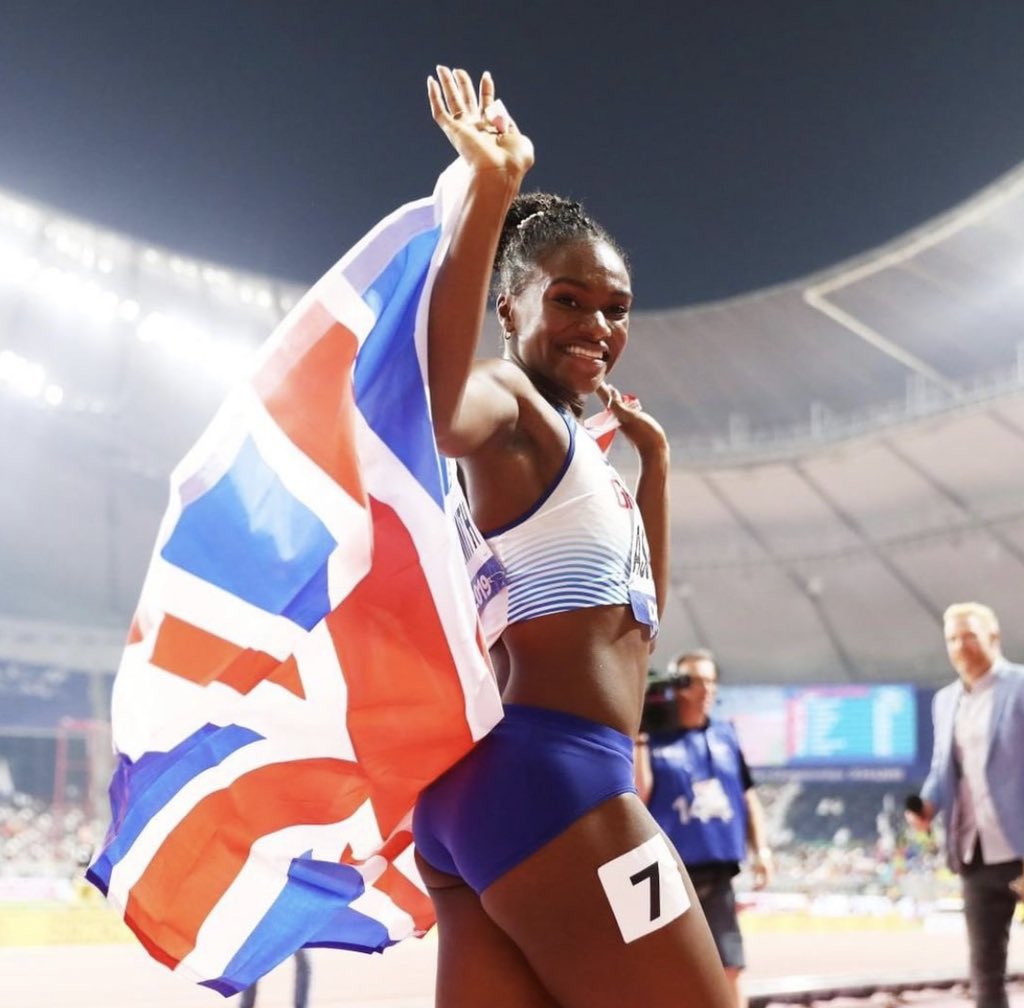 Noah Lyles is the heir to Bolt
When the formidable Usain Bolt retired, there was a void left in the world of athletics. One person stepping in to fill his footsteps is newly crowned 200-metre champion Noah Lyles, a 22-year-old American who has the word 'ICON' tattooed above his rib cage. It is something he aspires to be.
"If you want to see me do great things, you have to let me do it the way I have to do it," Lyles said during an interview with The Associated Press.
Few can question Lyles' confidence. Earlier this year he ran a 200-metre race in 19.5 seconds, the fourth-fastest time ever. He also has a personal best in the 100 metres of 9.86 seconds. Lyles is aiming to strike gold in both of those events in Tokyo next year, something Bolt achieved in 2008, 2012 and 2016.
"I'm definitely going after the 100-200 double," he declared. "I know everybody is asking that, but don't worry. Tokyo is it. This time, we got the gold in the 200m, so this goal - overall - is taken care of.
Now we're going to go for that double gold - maybe even the triple - for Tokyo.
The objective is easier said than done. One of those standing in his way is compatriot Christian Coleman, who has won eight out of nine 100-metre races he has participated in this year.
Lyles also won a gold medal in the 4x100-metre relay.
Sebastian Coe doesn't like criticism
Besides the records on the track, the championships were not without their problems. On some nights there were poor attendance, which the IAAF has partly blamed on Qatar's ongoing blockade. During the first weekend, 40% of runners in the women's marathon failed to finish due to the climate conditions. Furthermore, some voiced concerns over the environmental impact of the venue.
BBC presenter Gabby Logan grilled IAAF CEO John Ridgeon about the problems, prompting a social media storm and an unexpected attack from Sebastian Coe, the head of the governing body of athletics.
"It's very easy to sit there and make all sorts of Gabby Logan-type judgments over three or four days and clear off back to Match of the Day," said Coe.
"But it's really important that we see the long-term development of our sport," he added. "That's not going to be done because we have challenges over ticketing in a stadium for three days. The problem I've got with that is it's the way our sport is being portrayed by some of the people in that studio."
Coe's remarks have raised eyebrows, especially when suggesting that Logan focuses on football reporting when she has covered numerous sports for the BBC, including multiple Diamond League events.
In relation to Qatar's questionable human-rights record, Coe also hit back at critics, saying that it is important that the sport gets promoted around the world. Qatar will also host the 2022 World Cup.
"It is really important that the sport moves around the world, and that it cannot forge its relationships based on political structures or transitory political systems." Coe argued.
"We would not have sporting relationships if we predicated on that. That is why sport will continue to work and sweat as hard as it does to make social change.
"We are not competitors, we are collaborators, and organisations that are smart are actually partnering as they realise they can elicit that change."
As an athlete, Coe won the Olympic 1500-metres title in 1980 and 1984. He has been the head of the IAAF since 2015.
But it is safe to say that athletics chief will not be on Logan's Christmas card list.